Emad Mekay, IBA Middle East CorrespondentTuesday 25 July 2023
The country has always held a position of strategic importance, with potential EU membership suggesting a commitment to the rule of law. Following President Recep Erdogan's recent re-election, Global Insight assesses some of the stances the increasingly authoritarian leader is likely to adopt.
The initial feud looked irreparable. The Foreign Minister of the United Arab Emirates, Abdullah bin Zayed al Nahyan, accused a major Ottoman commander, who is still widely honoured in Turkey, of looting a historical library in the holy city of Medina during the First World War. The slight invited an indignant response from Turkish President Recep Tayyip Erdogan who described the minister as 'delirious' and 'pitiful'. 'When our grandfathers were defending Medina, where were yours?' Erdogan said then.
That was in 2017. Now, six years later, and following Erdogan having won a third term in Turkey's hotly contested presidential election, the two countries signed business deals worth $40bn over five years. After his inauguration on 3 June, Erdogan received UAE ruler Mohammed bin Zayed Al Nahyan in Ankara, the first head of state he met in his new term. Cameras showed them exchanging niceties about football. MbZ, as the UAE ruler is popularly known, noted that his brother Mansour, who is the UAE Vice President, fully owns Manchester City FC. Erdogan smiled.
I can only hope that some of Erdogan's actions were motivated by the elections, and once he won them, we can focus on what is best for his country and his allies

Slawomir Uss

Chair, Central Regional Group, IBA European Regional Forum
Turkey's election results have left much of the world puzzled as to what direction Turkey will take over the coming five years on issues such as the refugee crisis, NATO membership, the war in Ukraine and the status of rights and liberties in the country. But if there was one episode that gave a clue as to what Erdogan's third term would look like, it would be his about-face vis-à-vis the UAE and Saudi Arabia, two countries that spearheaded a near war against Turkey's policies in the Middle East. Now, the two countries appear to have finally found the right formula, and deal, for a détente with Turkey. For Ankara, the message was clear: interests eventually trump ideology.
'Erdogan is an unscrupulous car dealer', says Anne Ramberg, Co-Chair of the IBA's Human Rights Institute. 'Autocrats without principles do deals of self-interest and money talks.' Ramberg referred to how Erdogan clinched a similar deal with the Europeans before. Responding to rising anti-immigrant sentiment in Member States, the EU in 2016 agreed to pay €6bn in aid to Turkey for limiting Syrian migration to Europe, with additional promises to update the customs union and jumpstart stalled talks over Turkey's EU membership.
New pragmatism
More signals that Erdogan may be pushing ideology to a backseat came a few days after his win, as he announced his new cabinet and its pragmatic voices, such as the new central bank governor. The president later agreed to step down from his contrarian fiscal position of persistent low interest rates.
This newly discovered realism from Erdogan didn't come naturally but was rather forced after he witnessed signals of resistance to his problematic policies both at home and abroad.
His victory was a close call. His campaign and that of the opposition both exposed the disillusionment many Turks were beginning to have with their 69-year-old leader, who has been in office for nearly two decades. On the eve of the election day, there was a near unanimous consensus that the once-indomitable Erdogan appeared more vulnerable than at any other time of his long career, and that his grip on power may loosen as he confronted the tightest presidential race in Turkey's recent history.
For one, he faced an exceptionally united opposition, constituting the best shot in years at unseating the incumbent leader. He had faced criticism of his government's slow response to the devastating earthquake of 6 February that preceded the elections and killed nearly 50,000 people. He was being blamed for breaking away from the traditional parliamentary system. There was unprecedented resentment among the country's 87 million people at the state of the plunging economy, the lira crisis and high inflation.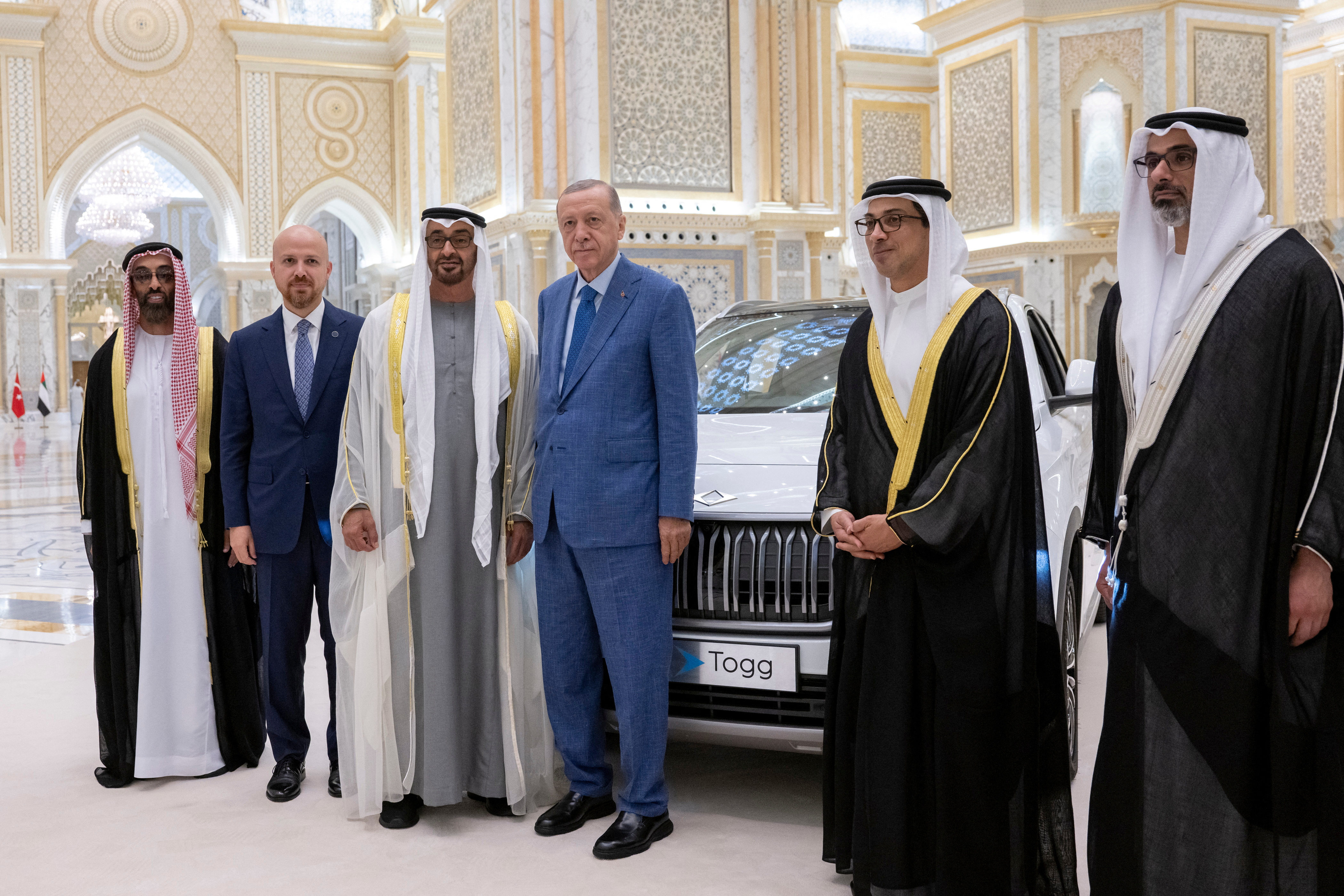 Sheikh Mohamed bin Zayed Al Nahyan, President of the United Arab Emirates and Recep Tayyip Erdogan, President of Turkey, meet at an official reception, at Qasr Al Watan in Abu Dhabi, United Arab Emirates, 19 July 2023. Abdulla Al Neyadi/UAE Presidential Court/Handout via Reuters
At one stage, polls had Erdogan trailing his opponent, Kemal Kilicdaroglu, by ten points. Kilicdaroglu was largely favoured to win by most analysts. Overall, things looked so menacing for Erdogan that his campaign had to make several policy concessions believed unthinkable a few years earlier. Responding to mounting anti-immigrant sentiment among Turks, Erdogan, who had welcomed refugees on ethical grounds, said he was now ready to repatriate hundreds of thousands of Syrian refugees.
He also vowed to avoid further damage to the economy. The country faces one of its worst cost-of-living crises under crushing inflation. He is in dire need of foreign funds. Inflation in November reached 85 per cent and was at 40 per cent on the eve of the elections in May – factors that are likely to make him more amenable to strike further deals and make compromises.
He later appointed 41-year-old Princeton-educated Hafize Gaye Erkan to head the central bank and reinstated Mehmet Simsek, an internationally respected former banker, as finance minister, after five years out of government. While these cannot yet be considered credible policy shifts, they still hint at Erdogan's newfound realisation he needs to temper his positions. The country has indeed reverted to raising interest rates, but analysts still say it wasn't fast enough.
The cash-laden Gulf countries Erdogan is making amends with tend to require orthodox economic policy in return for their much-needed largesse, further suggesting that Erdogan is likely to budge in his new term.
In most of his second term, Erdogan's assertive policies invited negative publicity in most of the international media and tension with Europe and the US. His half-hearted support for the West's position on the war in Ukraine has discouraged Ankara's friends, threatened the country with isolation and weakened its diplomatic clout.
The winning card
But with all those challenges, Erdogan still defied the gloomy forecasts and won the nation's top office. His headwind didn't stem from policy but rather from election shrewdness – something his critics still fail to acknowledge – alongside his utilisation of identity politics and from the main opposition's repeated incompetence. Instead of seizing the opportunity of the Erdogan fatigue in Turkey, the campaign of the opposition Republican People's Party (CHP) took the bait of identity politics he threw at them. They unwittingly managed to galvanise Erdogan's conservative base, made up largely of conformist, dispossessed and rural Turks who believe that the elite from Ankara and Istanbul look down upon them and upon their beliefs. Erdogan's campaign capitalised on those fears. In one instance, his campaign helped circulate a video of Kilicdaroglu standing with his shoes on a prayer rug, which Muslims are expected to keep clean. The incident was interpreted as a sign of disrespect.
They also helped make viral videos of young women in headscarves bursting into tears as they said they feared that a rejuvenated ultra-secular government, as represented by the CHP, could force them to take off their headscarf like in the past. Disturbing scenes of young Turkish women having their headscarves pulled by the secular activists in the 1970s and 1980s resurfaced online.
Any person who claims refugee status […] may not be rejected, returned, expelled, extradited […] to the country where his or her life, integrity or freedom are threatened

Ariel Orrego Villacorta

Secretary, IBA Immigration and Nationality Law Committee
Erdogan further outflanked Kilicdaroglu by playing to nationalist feelings, his main merchandise, after Kilicdaroglu received support from a Kurdish party. By employing the media and the control that comes with incumbency, Erdogan shifted the debate from his shortcomings on the economy to his success in foreign policy and military advances in Azerbaijan, Libya and Syria.
But Erdogan's election victory, along with the unprecedented challenges at home, still offer an opening to start over. Erdogan's 'transactional' posture offers a path forward over many sticking issues. 'I can only hope that some of Erdogan's actions were motivated by the elections, and once he won them, we can focus on what is best for his country and his allies', says Slawomir Uss, Chair of the Central Regional Group of the IBA European Regional Forum.
Sticking issues
One such issue is Sweden's bid to join NATO. Hungary and Turkey have both delayed Stockholm's membership, a position with major geopolitical implications.
From its side, Ankara still remembers that Sweden had placed an arms embargo to protest Turkish incursions into Syria in 2019. Ankara was also angered by a series of Quran-burning events in Sweden, and by the country giving refuge to sympathisers of the Kurdistan Workers' Party (PKK), which calls for an independent state for the Kurds away from Turkey.
On the eve of a NATO summit in Vilnius on 11 July, the US, the largest contributor to the 31-member alliance, looked like it was the best-positioned country to offer Ankara a reasonable deal. After a long opposition, Erdogan finally said his country was willing to drop its threat of a veto against Sweden's accession. The deal Erdogan got was that, in exchange for Sweden's NATO accession (seen as essential following Russia's invasion of Ukraine), the US would offer to return to Turkey the F-35 Joint Strike Fighter programme and approve sales of F-16s. Sweden is expected to pass laws that would limit PKK influence and penalise terrorist activities against member states. Furthermore, NATO accepted to a special representative for counterterrorism, a Turkish requirement.
The lack of rule of law in Turkey is far from the democratic values that have to be upheld in order to become a member of the EU

Anne Ramberg

Co-Chair, IBA Human Rights Institute
Ramberg, former Secretary of the Swedish Bar Association, says she does not expect to see major changes in Sweden, especially on the legislative front. 'In my view, it is not possible since Erdogan claims that Sweden will have to extradite individuals that according to our legislation cannot be sent to Turkey. And the requests from Ankara to introduce terrorist legislation is not possible to do if we shall uphold our constitution, the rule of law and human rights', she says. 'When it comes to the burning of the Quran, we might formally do some adjustments in the law without interference of the rule of law. But it is a very difficult decision indicating that Sweden should surrender to blackmailing. The freedom of religion and the freedom of expression are both to be respected. A sensitive issue can arise when the different interests are to be considered.'
Ukraine may be another problematic question for Turkey and the West. Erdogan stood up for Putin's expansionism in the Caucasus, Libya, Syria and, to a degree, Ukraine – his policies fell short of backing Western sanctions. With a downward economy, Erdogan cannot afford to dispense with Russian trade, tourism or energy. But if he is to dig Turkey out of the current hole, he'll need the direct help of the Europeans and the Americans, who are his main trading partners. The US can further use its influence in the Gulf countries to prod them to step in further if Turkish–Russian trade ties were to be impacted.
'I believe that global security is in Turkey's best interest, and global security cannot be based on supporting Russia which short-term may bring some benefits, surely not long-term', says Uss.
The highly divisive issue of immigration, which was a central issue in the campaigns, is likely to be an area of compromise too. Kilicdaroglu appeared in many cities on posters that read 'Syrians Will Go' – a popular position. While Erdogan's AK Party camp didn't flat-out call for the expulsion of all of Turkey's 3.6 million refugees, Erdogan kicked back by promising harsher policies. At a minimum, Erdogan will probably tighten his previously open-arms policy by limiting refugee access to basic services, such as healthcare and education and by imposing movement restrictions.
On the campaign trail, Erdogan said one million Syrians will be 'voluntarily' returned to Syria as he is likely to move to normalise relations with Syria's dictator, Bashar al-Assad. It is not clear yet how or when that will happen, particularly as human rights groups cite international law in saying Syria is still far from safe for refugees who face jail and torture on their return. Already social media videos are popping up showing panicky refugees at Turkish airports pleading for help against extradition as they face threats of being forcibly returned by the Turks to dictatorial regimes, particularly in the Middle East.
Ariel Orrego Villacorta, Secretary of the IBA Immigration and Nationality Law Committee, suggests that countries may not be completely free to do as they wish when dealing with refugees since international conventions govern how they treat refugees who enjoy the protection of the United Nations High Commissioner for Refugees and the right of non-refoulement and provisions of the Geneva Convention.
Villacorta, who is based in Peru, says 'that any person who claims refugee status […] may not be rejected, returned, expelled, extradited […] to the country where his or her life, integrity or freedom are threatened'. That also covers persons who have been 'forced to flee their country of nationality or habitual residence due to the massive violation of human rights, foreign aggression, internal conflict, occupation or foreign domination, or due to events that seriously disturb public order', which are all conditions that still exist in Syria.
One area that so far appears to be an exception to Erdogan's newfound expediency is rights and liberties. Erdogan's authoritarian tendencies have long kept rights groups on edge. His win didn't change that position.
Turkey ranks 116th in the 2022 World Justice Project Rule of Law Index, which measures rule of law in 140 nations. The country's worst factor in influencing the rank was the lack of constraints on government powers. The ranking has been sliding since 2016, when a military faction tried to oust Erdogan's government by force. He used the coup attempt to crack down on journalists, activists and lawyers who are said to have backed the coup attempt.
Ramberg predicts that the lack of rule of law in Turkey is likely to continue to thwart its foreign policy and prevent it from joining the EU, which is a longstanding ambition for the country. Talks, which started in 2005, have repeatedly been interrupted over Turkey's rights record.
'I doubt that Turkey could become a member of the EU for a long time; if ever', she says. 'The lack of rule of law in Turkey is far from the democratic values that have to be upheld in order to become a member of the EU.' Ramberg says that while money and aid could sometimes win concessions, they rarely do so when it comes to rights and liberties. 'I do not believe in Erdogan's ambition or interest in giving up power in order to increase rule of law and respect for human rights', she says.
Emad Mekayis a freelance journalist and can be contacted at emad.mekay@int-bar.org
Image credit: Turkish President Tayyip Erdogan looks on after a press conference during a NATO leaders summit in Vilnius, Lithuania 12 July 2023. REUTERS/Kacper Pempel