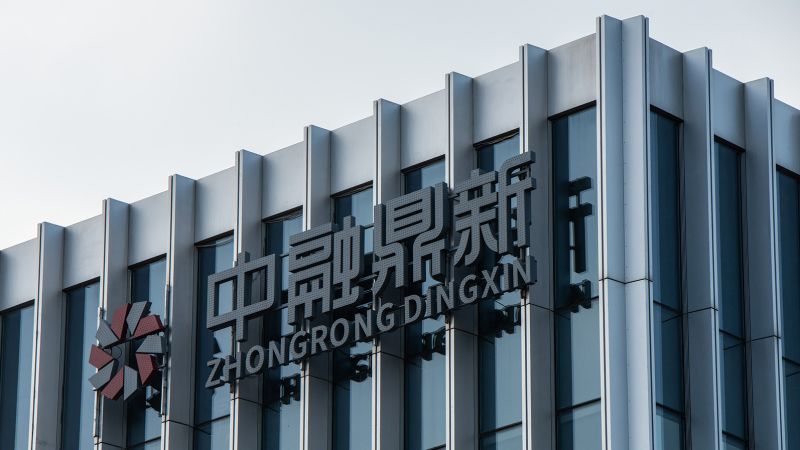 Hong Kong/Beijing
CNN
 — 

A major Chinese investment trust has missed payments to corporate investors, sparking a rare protest and adding to concerns that a slump in China's property market could trigger a wider financial crisis.
At least three Chinese companies — Nacity Property Service, KBC Corporation and Xianheng International Science and Technology — said in separate stock exchange filings in recent weeks that Zhongrong Trust had failed to pay the interest and principal on several investment products. The scale of payments missed exceeded 110 million yuan ($15 million), according to their statements.
Zhongrong Trust, which managed $87 billion worth of funds for corporate clients and wealthy individuals as of the end of 2022, is one of thousands of wealth management firms in China that offer relatively high levels of return to investors.
They are considered part of the "shadow banking" industry, a sector that forms an important source of finance in China. The term usually refers to financing activity that takes place outside the formal banking system, either by banks through off-balance-sheet activities, or by non-bank financial institutions, such as trust firms.
A mysterious and enormous part of China's financial landscape, the "shadow banking" sector has come under the spotlight as concerns from global investors swirl about the future of the world's second biggest economy.
Worries about Zhongrong have grown this week since the appearance of social media videos showing a protest outside its office in Beijing.
About a dozen angry demonstrators were recorded chanting slogans and demanding payment related to investment products issued by the company, according to videos posted on social media app Douyin and WeChat seen by CNN. The videos appear to have been uploaded on Wednesday and Thursday.
The company hasn't responded to a CNN request for comment.
On Monday, Zhongrong issued a statement saying "criminals" had sent false notices to customers about the cancellation of investment products. It warned investors to be vigilant of fraud, but has not commented on the issue of missed payments to investors.
Zhongrong is linked to the Zhongzhi Group, one of China's largest private conglomerates with operations in financial services, mining and electric vehicles. The group's core financial units have more than one trillion yuan ($138 billion) of funds under management, according to a statement posted on its website in December.
News of Zhongrong's missed payments set off panicked responses on social media, as it appeared to confirm online speculation from earlier this year that Zhongzhi Group had suffered a liquidity crunch and stopped repayment on some of its numerous investment products.
In recent days, investors have poured into the online forums hosted by the Shanghai and Shenzhen stock exchanges, asking many listed companies whether they had any exposure to Zhongrong's products.
Investors were afraid of "contagion" spreading to the country's $2.9 trillion investment trust industry, Citi analysts wrote in a Wednesday research report. That's because the industry has long been exposed to China's troubled real estate sector, currently mired in its worst ever slump.
But "systemic risks" were limited, the analysts added, and possible trust defaults were unlikely to bring about China's "Lehman moment," a reference to the 2008 collapse of the bank that marked a major worsening of the global financial crisis.
According to the China Trustee Association, the total exposure of all trust funds to the property sector was estimated at 1.13 trillion yuan ($154 billion) by the end of March, accounting for about 5% of the total value of trust funds in the country.
"It is fair to say that given the latest developments related to Zhongzhi, its subsidiaries, and other wealth management firms, this 1.13 trillion yuan worth of funds … is now under great threat," Nomura analysts said in a Monday research report.
"The turmoil is likely to cause further headwinds to [economic] growth," they added.
One video posted on WeChat, which was later deleted, showed a man dressed in a red vest emblazoned with Zhongrong's logo using a bullhorn to speak to the agitated group outside the company's office.
"Let me explain. We can't make any public announcement now," he said. "The main reason is that we are still actively checking our underlying assets, and we are trying our best to recover the assets for you. Now if we disclose the underlying assets for a certain product, it might cause a dramatic shrinking of the assets. We can't do this because this is being irresponsible."
CNN has been unable to confirm the man's identity.
In other videos that appear to be taken from the same protest, the demonstrators chanted: "Return the money."
The missed payments underscore how China's prolonged property downturn may be spilling over to its trillion-dollar financial industry.
Zhongrong has invested about a tenth of its funds, worth about $10 billion, in the real estate sector, according to its 2022 annual report. Companies in its portfolio include troubled property firms Evergrande, Kaisa Group and Sunac China.
All three have struggled with a cash crunch and defaulted on their debts in the past two years.
Last year, Zhongrong extended payments on several of its real estate trust products, saying that the companies couldn't repay their debts.
The latest "wave" of trust defaults is likely to cause some "substantial ripple effects" for the broader economy, according to the Nomura analysts.
As investors in these wealth management products tend to overwhelmingly be middle and upper-middle class people, any defaults or even concerns caused by delayed payments could further dampen consumer confidence, they said.
This group tends to have much greater spending power than the national average, so their reduced spending could have a particularly acute impact on private consumption, the analysts added.
Corporate investors are also likely turn more "risk-averse" and curb their near-term borrowing or capital spending, becoming even more cautious with business expansion decisions, the Nomura analysts added.
On Tuesday, official data indicated another month of tepid growth in China. Consumer spending, factory production and investment in fixed assets all slowed further in July from a year ago, according to the National Bureau of Statistics.
The possible trust defaults by Zhongrong have renewed investor concerns about the quality of Chinese banks, according to the Citi analysts.
"We expect more trust defaults due to the ongoing property sector downturn, but we think it unlikely to lead to a 'Lehman moment' scenario," they said.
Most trust products are closed-ended, which means they can only be repaid at maturity, and hence are not vulnerable to panic selling.
They said Zhongrong's potential default was not a new problem, but was a delayed manifestation of past property-sector stress with limited risks for the wider banking system, they said.
In addition, thanks to new regulations launched in 2017, the traditional banks have curbed their off-balance-sheet business, including trust products.
Property-related trust products only accounted for 0.3% of the financial system's assets by the first quarter of this year, according to data from the China Trustee Association and the People's Bank of China.
"Even in a stressed scenario of widespread trust product defaults, we think the contagion risk for [Chinese] banks would still be negligible," the Citi analysts said.
[ad_2]