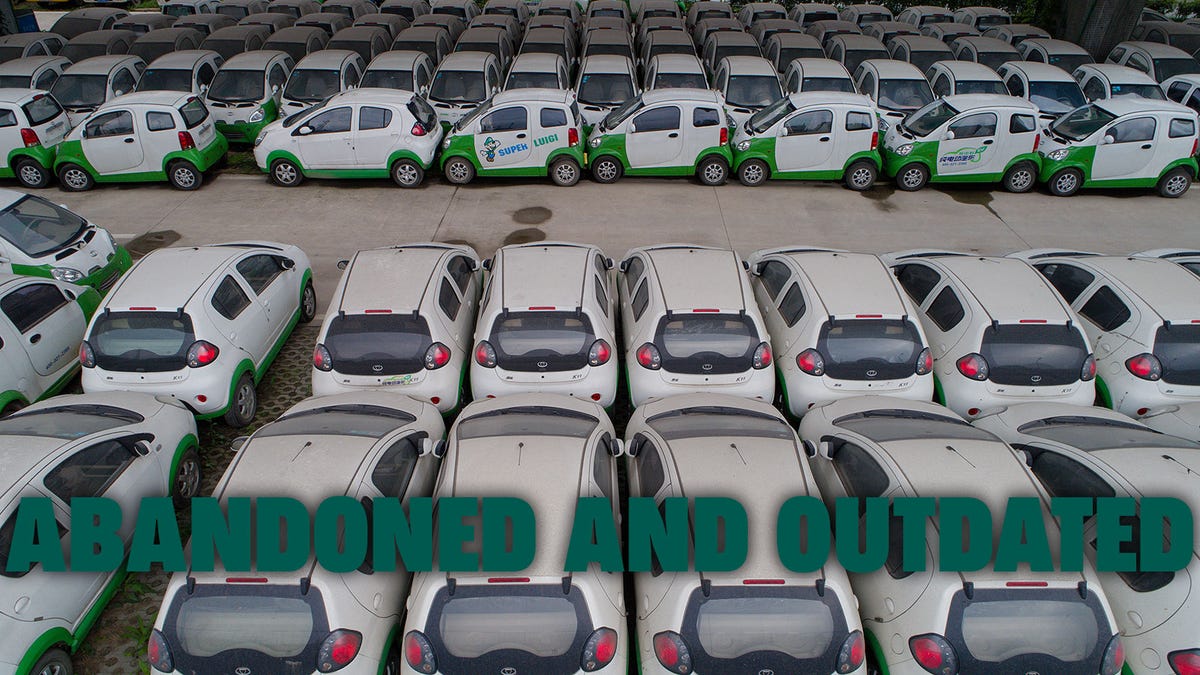 As electric vehicles have gotten more capable, their adoption across the U.S. has been spreading, and now around 14 percent of new car sales are electric. But while adoption was slow to take hold Stateside, there are some countries where EVs sold like hot cakes from day one. This means that now, there are outdated cars piling up as people swap over to more efficient and reliable new cars.
Even EVs Can't Get A Break From The Heat
According to a new report from Bloomberg, this is exactly what's happening in China, where government subsidies encouraged automakers to give EVs a go. These first cars were pretty simple: they could only manage around 100 miles per charge and were pretty thin on features.
However, a raft of government subsidies meant that individuals snapped these cars up, and ride-hailing companies across the country bought in and leased various models to drivers as they chased success.
But in the years since, China's EV industry has boomed, and now there are cars out there that can easily manage well over 200 miles on a charge and others that come with all the luxury trimmings you could hope for. What's more, starting a taxi company has proved much trickier than many thought, and lots of ride share businesses in China have gone under. As such, people are looking to offload their old EVs. As Bloomberg reports:
The cars were likely deserted after the ride-hailing companies that owned them failed, or because they were about to become obsolete as automakers rolled out EV after EV with better features and longer driving ranges. They're a striking representation of the excess and waste that can happen when capital floods into a burgeoning industry, and perhaps also an odd monument to the seismic progress in electric transportation over the last few years.
This mass offloading of outdated EVs has saturated the market with cars that people don't want to buy. As a result, the cars are piling up in vast automotive graveyards. Bloomberg reports that "pools of unwanted battery-powered vehicles have sprouted up in at least half a dozen cities across China."
In these EV mass graves, cars are sat with nobody to look after them, tend to or even drive them, which means nature is slowly taking over. Bloomberg reports of cars with plants growing out their engine bays, and others that are surrounded by thick vegetation with no hope of escape.
All these abandoned vehicles are raising questions about how EVs can be safely disposed of. They're filled with rare earth metals that are environmentally intense to extract from the Earth, and other materials that can be toxic. As Bloomberg explains:
The graveyards are a troubling consequence of that consolidation. Not only are the sites an eyesore, getting rid of EVs so quickly reduces their climate benefit considering they're more emissions-intensive to build and only produce an advantage over combustion cars after a few years. Each of the vehicles' spent batteries also contain precious ingredients like nickel, lithium and cobalt — metals that could be recycled to make China's EV industry more environmentally friendly.
Bloomberg doesn't put a definitive number on the amount of cars that are abandoned in these sites, but talks of fields filled with more than 200 cars and at least one that is home to 1,000 outdated EVs.
Now, the companies Bloomberg spoke with about the abandoned EVs did claim that not all the cars were left there to rot. Geely told the report that some of its cars were just being stored until mid-August. After this date, the roadworthy models would be sent to other cities around China where they would be put to work.
But still, if we are to adopt EVs on a mass scale around the world, we need to figure out a plan for what to do with these cars when their battery life is exceeded, or when we're all told that a pivot to hydrogen power might actually be a better idea. Plowing billions into equipment that could quickly be outdated seems just as wasteful as sticking with your gas-powered car for a few years longer.
You can read the entire Bloomberg article here.
[ad_2]