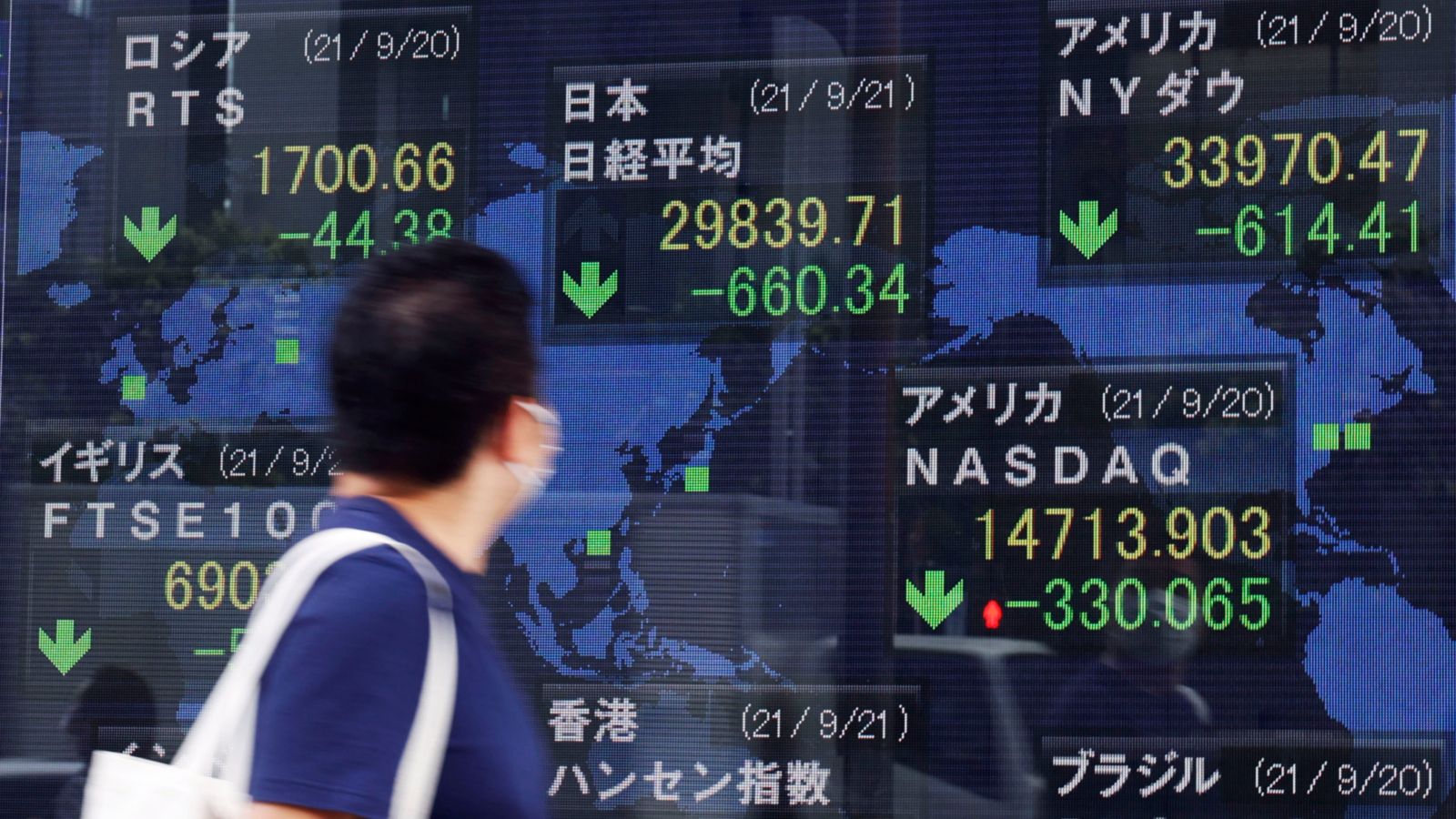 Signs have emerged that the slowdown in China's property market could lead to contagion in the broader economy, as Evergrande files for bankruptcy protection.
Chinese authorities have unveiled fresh measures aimed at propping up investor confidence in the country's stock market.
The main securities regulator, the China Securities Regulatory Commission, said it would introduce a number of measures aimed making it easier to trade.
These include cuts in the cost of trading, via a reduction in the handling fees charged by brokers, as well as a relaxation of the rules governing share buybacks – making it easier for companies to buy back their shares.
The regulator indicated it is also looking into extending trading hours for the country's stock and bond markets and a possible cut in stamp duty on share trades.
The measures follow sharp reverses this month in both stock and bond markets amid a weakening of confidence among investors.
The CSI 300 index of large cap stocks has fallen by nearly 6% during the last fortnight and is showing a loss for 2023 so far while in Hong Kong the Hang Seng index, which is full of Chinese stocks, has this week suffered its biggest weekly fall in two months and is now in bear market territory (in other words it is down by more than a fifth from its most recent peak).
This loss of confidence reflects a number of factors – most of which are bound up in China's deteriorating economic outlook.
It emerged last week that the world's second largest economy has lurched into deflation, the phenomenon in which prices consistently fall, depressing spending by households and businesses.
How will China's economy affect UK?

Growth is faltering, with activity depressed in both services and manufacturing, while China's big exporters are under pressure amid weakening demand from the West.
This is partly a reflection of consumers spending more on experiences, such as travel and eating out, than on manufactured goods, since economies reopened after the pandemic.
The youth problem
Consumer confidence in China itself remains weak, partly because of deflation, while there are also growing concerns about the levels of youth unemployment in the country.
Read more:
Economic headache caused by China deflation – and worldwide effects
Falling prices in China might just be bad for everyone
While the headline unemployment rate in China in June – the latest month for which figures are available – stood at 5.3%, for those in the 16-24 age bracket it is currently 21.3%, having risen in each of the last six months.
The government has since said that it will stop publishing separate figures for youth unemployment but the increase raises the risk of social unrest in some of China's big cities.
The problems partly reflect rising expectations among China's young – of whom 11.6 million graduated from college or university this year – who are increasingly reluctant to take up the often tiring physical work that their parents did.
They would prefer to work in more highly-paid roles but, due to the sluggish growth in the broader economy, not enough of these jobs are being created.
So many young graduates are opting instead either not to work or to take up a series of short-term roles that see them drifting in and out of the labour market.
The People's Bank of China sought to respond to some of these issues this week by cutting a number of its key interest rates.
Property market concerns
But the latest lurch downwards in markets this week reflects an additional factor, namely fresh concerns over China's property market, once a major driver of growth in the economy but now a drag on it.
While a number of major property developers have defaulted on their debts in recent times, last week brought news of problems at Country Garden, China's biggest private housebuilder.
The company reported a 60% year-on-year fall in sales for July and also admitted it had missed more than $13m worth of interest payments on its bonds – which it is now seeking to find. The news came as a shock because Country Garden was regarded as a more conservatively run business than its rival Evergrande – which has been teetering on the brink of collapse for two years.
Unlike Evergrande, which was aggressively run, Country Garden had lower debts.
China's economy slips into deflation

However, the company – which specialises in affordable housing – has been caught out by its more prominent positioning in smaller and less developed cities in China, where house prices have fallen more rapidly during the last year or so than they have in the large conurbations.
Evergrande, meanwhile, has overnight applied for bankruptcy protection in the US courts as it seeks to restructure its billions of dollars' worth of debts.
The woes at Country Garden, in particular, have revived fears that problems in China's property sector could result in contagion to the broader economy and, in particular, the financial sector.
There is also a danger that they further depress sentiment towards the housing market, where activity has been stifled in recent months, despite attempts by the authorities late last year to stimulate activity.
Some analysts suspect the situation at Country Garden, which was today dropped as a constituent of the Hang Seng, may not be all bad news if it prompts the government to introduce fresh economic stimulus.
Jennifer McKeown, chief global economist at Capital Economics, told clients this week that Beijing could be expected to backstop Country Garden if its problems looked like spiralling into a full-blown credit crunch.
But she added: "The far bigger issue which the Country Garden turmoil highlights is that China's construction sector is in structural decline which policymakers will be unable to prevent.
"This will contribute to a slowdown in its GDP growth to 2% by 2030, which is a key theme that has long shaped our long-run global forecasts."
There are already signs that the slowdown in the property market is leading to contagion elsewhere.
One of the reasons why the authorities announced market-friendly measures today is that a row has erupted around Zhongrong International Trust, a wealth management business, which has missed payments on a number of investment products during the last month.
Up to 30,000 investors are thought to have been affected and the missed payments could be as high as $27bn.
It is an unpleasant cocktail of events.
Two years ago, when problems around Evergrande blew up, there was widespread talk of China suffering a 'Lehman moment'.
That looked misplaced at the time – but it is no surprise to see such talk circulating once again among investors.


[ad_2]