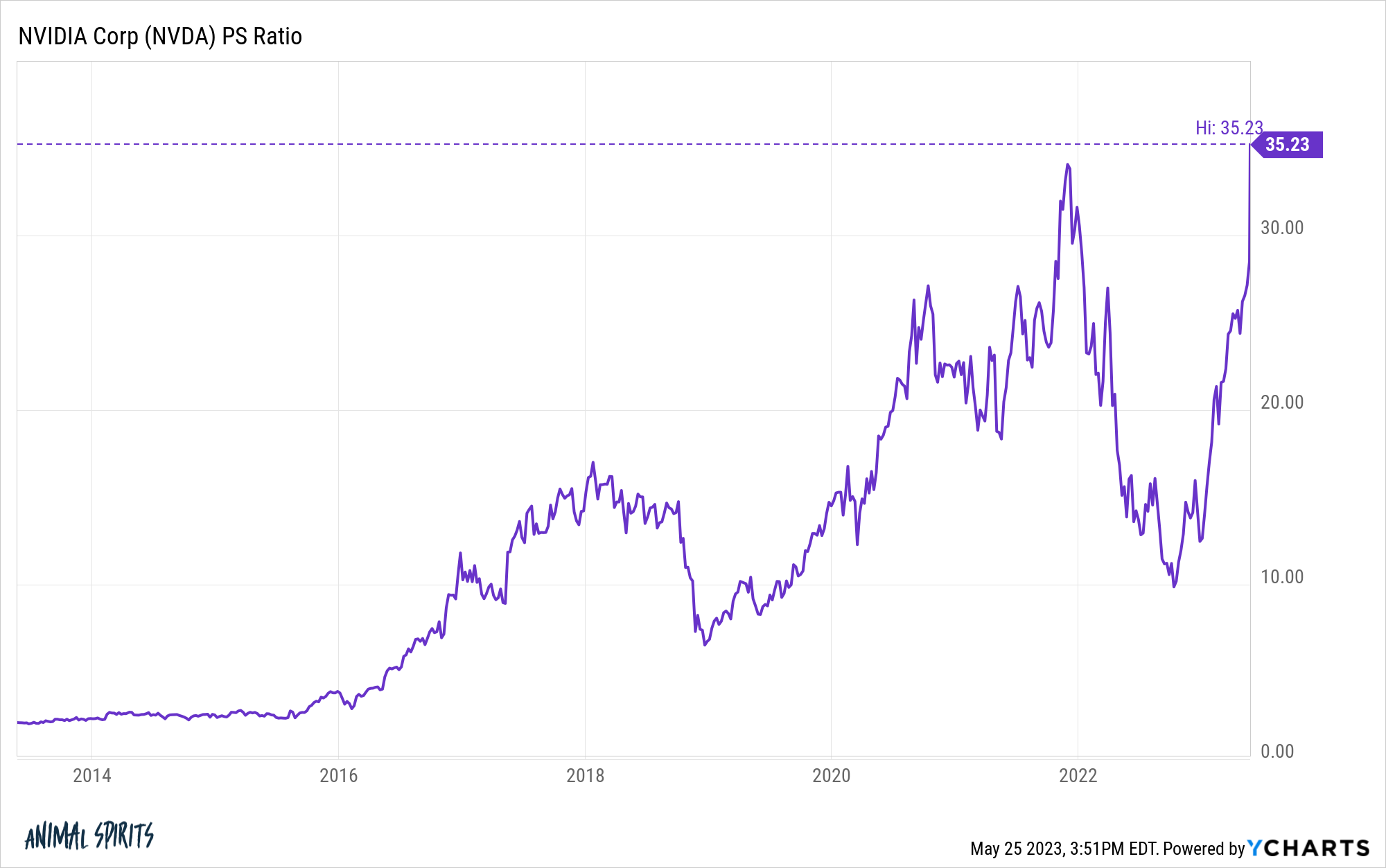 As of Wednesday's close, NVIDIA had a market cap of $755 billion.
Just one day later, the chip maker had a market cap of $939 billion.
A day's worth of $184 billion alone is bigger than Nike, Comcast, Disney and Netflix.
It's hard to believe that this is a stock that lost two-thirds of its value from its all-time highs in the tech crash last year.
Those losses were all but erased after the stock's 24% one-day gain that followed the stock's breakout report.
The reason for NVIDIA's absurd share price return becomes glaringly obvious when you look at how many times AI was mentioned on the analyst call;
By my count (with a little help from Quartr ), AI was mentioned 100 times more by management and analysts during the call.
The AI ​​boom seems to have come out of nowhere, but now that everyone is aware of the potential, that's all we hear.
One of the analysts covering the company noted. "There's a war going on in artificial intelligence, and today Nvidia is the only weapon vendor out there. So we're seeing this huge jump in revenue as a result."
If we use the price-to-sales ratio as a valuation tool here, investors aren't exactly waiting for future sales to come.
The stock is now trading at more than 35 times sales.
To put this number into perspective, look at the highest P/S ratios of Intel (16.9x), Oracle (27.3x), Cisco (38.9x), and Qualcomm (30.8x) during the height of the dot-com bubble;
To be fair, NVIDIA just reported over $7 billion in quarterly sales, and over $11 billion for the next quarter.
But it's clear that investors are already starting to appreciate the potential benefits of artificial intelligence.
Steve Cohen spoke at a conference last week about AI as a catalyst for stock market growth;
Steve Cohen said investors are too worried about a market downturn and that focusing too much on the odds of a recession could cause them to miss the "big wave" of opportunities created by artificial intelligence.
"I predict: we are going up." Cohen, founder of hedge fund Point72 Asset Management and owner of the New York Mets, said Tuesday at the SALT iConnections New York private conference event at Citi Field, according to people who heard him speak. "Actually, I'm pretty hot."
I don't claim to be an expert on artificial intelligence, but I've read a few threads about it on Twitter and even a quote from Bill Gates:
The development of AI is as fundamental as the creation of the microprocessor, the personal computer, the Internet, and the cell phone. It will change the way people work, learn, travel, receive healthcare and interact with each other. Entire industries will be reoriented around it. Businesses will differ in how well they use it.
If it makes us even 50% efficient and effective, as some proponents predict, it seems inevitable that it will lead to a bubble.
We can't help ourselves when it comes to new and exciting technology.
The creation of fiat currencies and new types of capital investment led to the South Sea Bubble in the 1700s.
The introduction of trains led to the railroad craze of the 1800s.
An explosion of new consumer and investment products led to the Roaring Twenties.
The advent of the Internet led to the dot-com bubble of the 1990s.
Each of these innovations ended up changing the world in many ways. But the speculation that took place in the early stages of those innovations led to a huge upswing and painful downs to get there.
There are no guarantees when it comes to financial markets, but human nature is the only constant in all market environments.
If AI really is as transformative as Bill Gates and others believe, it's hard to see investors reacting to it in a cool and calm manner.
I could be wrong. Maybe it won't infect the entire market. Maybe there will be a few stocks like NVIDIA that will benefit.
But I'd be surprised if we don't get another asset bubble in the next decade if AI lives up to the hype.
Whiten.
Michael and I talked about the potential of the AI ​​bubble and much more on this week's Animal Spirits:
If you like the stylish Animal Spirits Tropical Brothers shirts that we carry, you can buy them here. Proceeds from each sale go to No Kid Hungry.
Here's what I've been reading lately.