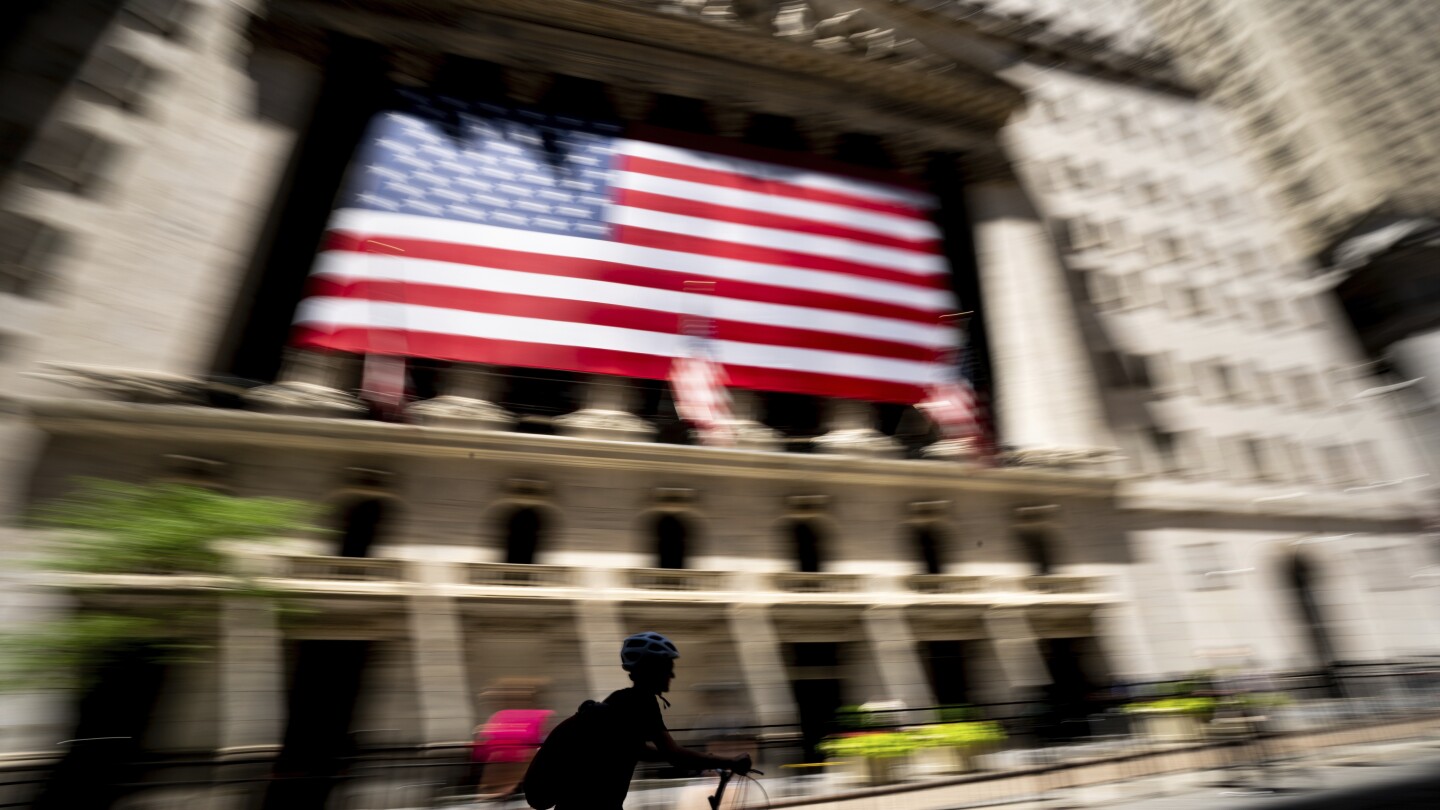 NEW YORK (AP) — Wall Street is limping Friday toward the close of a third straight losing week.
The S&P 500 was down less than 0.1% and heading for a weekly loss of more than 2% like other U.S. indexes. The Dow Jones Industrial Average was up 15 points, or less than 0.1%, at 34,489, as of 2:50 p.m. Eastern time, and the Nasdaq composite was 0.1% lower.
August has been rough for the stock market, which has given back close to a third of the S&P 500's torrid gains for the year's first seven months. That's in part because a swift rise in yields has forced investors to reconsider whether stocks got too expensive, particularly after critics warned the market rose too far, too quickly.
Stocks were holding a bit steadier Friday after yields eased a bit. After topping 4.30% a day before and nearing its highest level since 2007, the 10-year Treasury yield fell back to 4.25%.
Stock markets elsewhere in the world sank more sharply, as higher yields globally crank up the pressure. Higher yields mean bonds are paying out more in interest, but they also make investors less willing to pay high prices for stocks and other investments that are less stable than bonds.
The narrative in the stock market may be poised to flip from "buy the dip" during the first half of the year, when traders saw moments of weakness as opportunities to buy low, to "sell the rip" in the second half of the year, according to Bank of America investment strategist Michael Hartnett.
In a BofA Global Research report, he pointed specifically to how the trend may follow Microsoft, one of the big seven tech-oriented stocks responsible for the majority of the S&P 500's gains earlier this year.
The group called the "Magnificent Seven" has been under pressure recently because technology and other high-growth stocks are seen as some of the biggest losers of higher rates. Several of them are down more than 10% from their highs earlier this year.
Microsoft slipped 0.1% Friday. Meta Platforms dropped 0.8%, and Tesla sank 1.5%.
Yields are on the march in part because a string of data has shown the U.S. economy remains resilient. While that suggests the economy may avoid a long-predicted recession, it also forces up expectations that the Federal Reserve may keep its main interest rate higher for longer.
The Fed last month hiked the overnight interest rate it controls to the highest level since 2002, as it tries to smother high inflation. High rates work by slowing the economy bluntly and hurting prices for investments.
Traders had been hoping that the Fed was done hiking rates and would begin cutting them early next year. Inflation has already come down considerably since its peak last summer.
But economists say the last bit to get inflation down to the Fed's target may prove the most difficult. And a suite of reports on the economy recently, including surprisingly strong sales at U.S. retailers, has suggested upward pressure still exists on inflation. Traders have since ratcheted back their expectations for rate cuts through the end of 2024, according to data from CME Group.
The next big event for markets could be Fed Chair Jerome Powell's speech late next week at an event at Jackson Hole, Wyoming.
Besides making borrowing more expensive for everyone from homebuyers to multinational corporations, higher yields make the stock market look more expensive unless companies suddenly earn much more in profits. And while companies have reported better earnings for the spring than feared, it hasn't been enough to stop the market's slide.
Ross Stores jumped 5.1% for the largest gain in the S&P 500 after it reported stronger results for the latest quarter than Wall Street had forecast.
Applied Materials also reported stronger profit than expected, and its stock rose 4.1%.
Estee Lauder fell 2.5% despite reporting stronger profit and revenue than expected. Its profit forecast for its upcoming fiscal year fell short of Wall Street's estimates.
Even after their August swoons, major U.S. stock indexes still look expensive, said Mark Haefele, chief investment officer at UBS Global Wealth Management, "and a wide set of outcomes for markets is still possible."
In markets abroad, stocks slid across Europe and Asia.
Worries have been high about China, whose economic recovery since removing anti-COVID restrictions has faltered. Property developers in the world's second-largest economy are under particularly heavy scrutiny.
Evergrande Group, a giant real-estate developer, is asking a U.S. court to approve a restructuring plan for foreign bondholders as it tries to avoid defaulting on $340 billion in debt.
Stocks in Hong Kong tumbled 2.1%, and the Hang Seng index is already down 10.6% in August alone.
——
AP Business Writers Matt Ott and Yuri Kageyama contributed.


[ad_2]