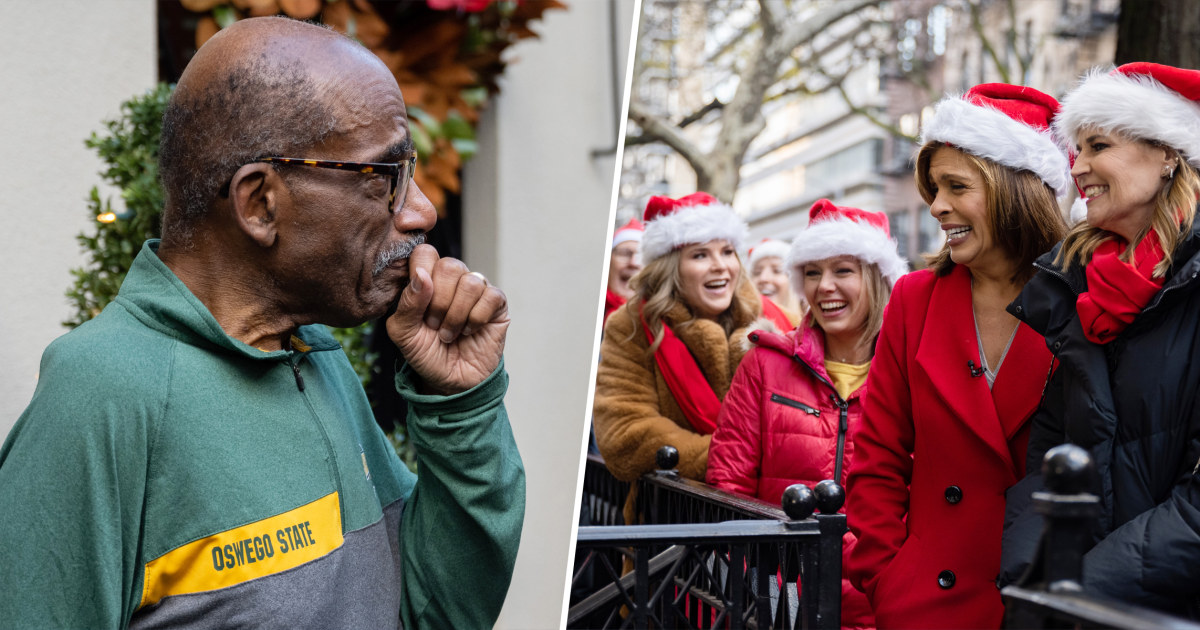 Grab a tissue and get ready for tears of joy!
Today's Al Roker is back home and on the road to recovery after spending four weeks in the hospital. But he's not ready to go back to Studio 1A just yet.
So this week, the entire TODAY family gathered at Al's doorstep with holiday cheer to help keep their favorite weather person feeling happy and bright.
The plan was to gather all the anchors, producers, crew and security from today and sneak up to Al's house and belt out the Christmas carols that everyone had been missing so much.
Now, you might think that scheduling a large crowd on short notice would be a nightmare. But that was the easy part. When the plan was announced, all anyone wanted to know was where and when.
The tricky part was the logistics of getting a large crowd of people decked out in Santa Claus hats to Al's location unannounced.
While the anchors and crew were practicing their songs a short distance from their destination, Al and his wife, Deborah Roberts, were returning from a doctor's appointment and were about to be driven by the TODAY gang.
Thankfully, Deborah was surprised and sent a message to the group to move to another block.
Once Al returned home, everyone rushed to the door, Savannah Guthrie and Hoda Kotb rang the doorbell and began a heartwarming event full of smiles, tears and songs.
Al opened the door, having an emotional reaction to seeing and hearing all his friends. But once they had a round of "Jingle Bells" his signature was revealed.
"It's amazing you did it without a fan," he said with a sly smile.
But after giving up all the laughter, Al got serious.
"I missed you all so, so much, all these faces." "It means the world to me and our family and Deborah, who is my rock. Thank you so much. I really appreciate it."
"It was one of the funnest moments we could ever think of (for all of us)," Savannah said of the surprise. "Everybody was in tears, and it was so beautiful and so wonderful to see him."
And Al was just as happy to see them.
"It was special, it was intense," adds Al's 3rd hour TODAY pal Shinelle Jones. "You can only feel love."
Al could hear them all raising their voices to deliver another song of the season: "Al Be Home for Christmas."
"I love you more than you will ever know," he said.
Reflecting on the special moment today, Dylan Dreier said, "This place means a lot to Al. All of us going out there and rooting for him — it was emotional and he appreciated it."
After the episode aired, Al shared his gratitude on his Instagram page.
Words can't express how much I love my @todayshow family for coming to do a little tune, including a special rendition of "I'll be home for Christmas."
Of course, this isn't the first time Al has seen his TODAY friends in recent weeks.
During a video-call visit to the show earlier this week, Al mentioned that he had frequent visitors during his stay at NewYork-Presbyterian Hospital.
The 68-year-old said: "You guys were terrible coming to the hospital. "I think Hoda was called an honorary doctor. She comes literally. She did a 'ho-dini' like she was there.
Al has been going through what he refers to as a "tough stick" lately.
In November, he was admitted to the hospital due to blood clots in his lungs and legs. For the first time in decades, Macy's forced him to miss the Thanksgiving Day parade. And after returning home briefly for Thanksgiving, Al returned to the hospital where he spent his final weeks.
But through it all, everyone knows he's rooting for him.
"It gives you a deep sense of gratitude for this outpouring of prayer and praise," he said. "I am a very lucky person."