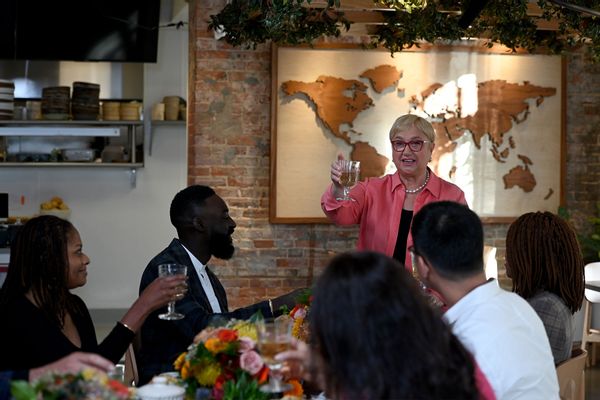 In Italian, Italian-American, restaurant communities – and beyond – Lydia Bastianich is a true icon.
Another community she is proud of? The immigrant community.
An icon of the Italian-American experience and leader of a "food family" that stretches across industry and time, Bastianich is a bedrock of ingenuity and talent. She has been instrumental in the development and expansion of Italian and Italian-American cuisine over the years and has also been one of the leading women in restaurant kitchens since the 1970s.
To put it simply, she is a legend.
Ten years ago, I met Lydia at a cookbook signing at a local grocery store's grand opening (impossibly wearing a messenger cap, but that's neither here nor there). She was warm and kind, I smiled and snapped a quick photo and I was on my way, but her generosity and openness came across — and that quality came through tenfold in this conversation, where we talked about Lydia's upcoming PBS special, "Lydia." Celebrates America: The Flavors That Set Us Apart.
We talked about how immigration shaped her childhood, her favorite foods from her youth, the various chefs and personalities involved in special events, and the incredible importance of immigrants to our country, from culinary potential to generalizations.
The following interview has been slightly edited for clarity and length.
The migrant experience is a very important, personal and impactful one. – But it varies from person to person and each story is very layered and complex. Can you tell me about your childhood immigrant experience and how it influenced you both personally and in food and cooking?
After the end of World War II, we were Italians trapped in the newly formed communist Yugoslavia. There was a shortage of food. We eat most of it at Grandma Rosa's and Grandma Giovanni's. I was a small child and I would help them buy food for the family. I fed chickens, geese, milked goats, prepared feed for rabbits and helped slaughter pigs. We also had a garden that produced most of the seasonal vegetables, pulses, potatoes and turnips, wheat, corn and fruit. I helped with harvesting, pruning and drying for the winter months. I grew up with the smell of good seasonal foods all around me; Those memories are still with me today and I remember them now when I cook.
When I was 10 years old in 1956, my parents decided that they did not want to raise us under a communist regime; In addition to food shortages, we were forbidden to speak Italian or practice our Catholic religion. So, they decided to go back to Italy over the wire border. Undocumented, we were put in a refugee camp in Trieste, San Saba.
There, I spent two of my formative years, which shaped my character as I learned and experienced homelessness, as well as having to avoid caring for grandparents. I started cooking while working in the school kitchen with the nuns during the holidays. Because the food and the aroma brought back memories of that safe place with my grandmother.
When we were finally given permission to immigrate to the USA when I was 12, my life was greatly shaped by these events and memories and I carry those experiences with me in everything I do today. I understand what it means to seek help and the relief and satisfaction when people help. I understand the value of freedom and democracy, freedom of speech and freedom of worship. What I understand more is the act of thanking and giving back.
Lydia hosts guests at the Immigrant Food Event in downtown Washington, DC, "Lydia Celebrates America: The Flavors That Define Us" (Meredith Nierman/GBH and Tavola Productions).
If you will, there is this never-ending battle between trying to assimilate and at the same time holding on to customs, cultures, languages ​​and foods. CCan you talk a little bit about that balance?
I remember arriving in the USA when I was 12 years old, I felt out of place, I had no confidence, I couldn't speak the language and I didn't know anyone. I wanted to learn English as fast as I could and become an American as soon as possible so that I could flourish in my new country. I understand that America is my home now and I am thankful. As a child, after escaping and insecure life in a refugee camp, I had to stop; I needed a place to be my forever home. So I did my best to "be an American." It wasn't until I was more settled here that I began to reintegrate some of my heritage into my new life. I think it's a personal choice for any immigrant what to bring and what new things to embrace. But we should always be proud of where we come from and not be afraid to share our culture.
Lydia cooks with Chef Christine Ha during a visit to her Houston home, "Lydia Celebrates America: Flavors That Define Us" (WGBH Educational Foundation and Tavola Productions).
Christine Ha's story is incredible and inspiring. – What lessons did you take away from that conversation?
I think Christine is an extraordinary and strong woman who embraces life to the fullest. She has a strong desire to keep in touch with her Vietnamese roots, a feeling she has to do with the loss of her mother at a young age. In this way, she communicates by cooking what her mother taught her. This is the same lesson I learned on my travels: food is a way of connecting and serving the legacy of others who came before us.
The experience in Washington, DC seems terrible; What was it like eating food from so many amazing chefs representing such diverse and unique countries?
It was inspiring to see all those young chefs, now American, honoring their roots in the food they cook. I could taste their passion and the taste of their home in the food they prepared.
Lydia brings escarole and white bean soup to this year's final dinner at the Immigrant Food Festival in downtown Washington, DC, "Lidia Celebrates America: Flavors That Define Us" (Meredith Nierman/GBH and Tavola Productions).
Escarole Fagioli brings you to that dish: Why is that dish so special to you and your family?
This dish instantly takes me back to the comfort zone of my youth. Although the ingredients are poor, the taste and memories of this dish are rich for me.
---
Want more great food writing and recipes? Sign up for Salon Food's Newsletter The Bite.
---
What is it about Italian or Italian-American food that some people misunderstand?
Italian-American cuisine originated with the first Italian immigrants who arrived in America but were unable to access their cultural heritage. – Some vegetables, cheese, cured meats, etc. Instead, they made recipes that they loved and remembered, but with new ingredients that they found in America. On the other hand, traditional Italian foods such as prosciutto, balsamic vinegar, bottarga, etc. are regional delicacies and seasonal products found around Italy. Although the final dishes are not the same between the kitchens, they are created in the same spirit: to use seasonal ingredients and regional products wherever they are available.
Lydia adds the special sauce to Mile Montezuma's Venezuelan Ceviche, an immigrant dish. Washington, D.C. in "Lydia Celebrates America: The Flavors That Define Us" (Meredith Nierman/GBH & Tavola Productions)
I don't eat red meat anymore, but when I did, I loved Ropa Vieja! In that episode, there's a lot of discussion about music in addition to cooking. What are some areas of overlap between music and food, especially when it comes to honoring one's heritage?
Much like food, music tells a story, reflects the traditions of a culture, brings back fond memories and connects people through its beauty and joy. People identify and bond under the sounds and words of their songs.
Were there any particularly unique foods, recipes or ingredients among the enlightening conversations you had with so many immigrant voices and experiences?
Meeting and cooking with all these great people, they experienced many different flavors and new aromas. But one part that really touched me and made me feel like part of their family/tribe is the way they gather and share their food. . . It was liberating to eat sitting on the floor and pick up the food with my hands. . . I like to touch food with my hands. – Raw or cooked.
Lydia is ready to welcome guests to Immigrant Cuisine, Washington, D.C. for "Lydia Celebrates America: The Flavors That Define Us" (Meredith Nirman/GBH and Tavola Productions)
This is a tough one, but as an Italian-American cook, I have to ask! What would be your single favorite Italian or Italian-American dish, sweet or savory?
One of my favorite Italian regional dishes is linguini with white clam sauce. One of my favorite Italian-American dishes is Chicken Parmigiana. To me, these represent the pinnacle of every meal!
Many of the people you spoke to specifically live in rural areas. What have you learned about bridging the gap between rural communities and immigrants in your work and travels?
What I have found is that immigrants in rural communities are integrated into those communities where immigrants live in large, densely populated cities. Big cities have more challenges than small towns in many ways, so immigrants in cities create their own ethnic neighborhoods where they can feel safe and feel safe in numbers. Creating neighborhoods that sell food products that families are familiar with or worship experiences that are "like coming home" creates a sense of safety and community. I found that a helping hand was just as easily extended in small towns.
Lydia and the Last Supper guests gather for a photo after dinner at Immigrant Cuisine, Washington, DC, "Lydia Celebrates America: The Flavors That Define Us" (Meredith Nierman/GBH and Tavola Productions).
Is there anything else that stood out to you during filming that we didn't touch on, or anything that came up in relation to immigration that you think is worth noting?
It was especially fascinating to see how each of these communities welcomed their new members. It's not just how they first embraced them when they arrived, but how these communities followed through by helping new members secure funding and mentoring them all to become stronger as a community. This is one of the great features that America offers to all immigrants.
"Lydia Celebrates America: The Flavors That Define Us" airs Tuesday, May 30 at 9:00 pm ET on PBS stations (see local listings) and later that day on PBS.org and the PBS app.
Read more
About this topic