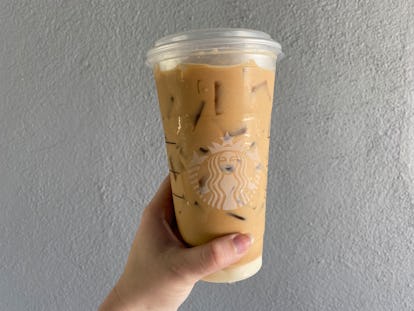 After BTS announced their hiatus in 2022, members of the South Korean boy band have been using their time off to focus on solo projects. Jungkook is the latest member to branch out with his debut single "Seven," featuring Latto. The song, which has both a clean version and a surprising explicit version, is already topping the charts, and deserves a spot on your summer playlist. While you're heading to the beach or preparing for a pool day, you'll want to pick up TikTok's secret menu Starbucks drink inspired by BTS' Jungkook's "Seven" to enjoy on your journey.
With lyrics like "Monday, Tuesday, Wednesday, Thursday, Friday / Seven days a week," Jungkook's single is about loving someone "night after night." Even in Jungkook's "Seven" music video, he is seen enduring an earthquake, rainstorm, and a flooding laundromat to convince his partner, played by Korean actress Han So-hee, how much he cares. For that kind of stamina, Jungkook must need a lot of caffeine, which is why the "Seven" Starbucks drink includes four shots of espresso.
It may not be the six shots that Pedro Pascal drinks regularly, but four is still more than your average latte. In addition to the four shots, the TikTok Starbucks drink also includes three pumps of white chocolate mocha sauce. So, even the math works out for this iced espresso drink: Four shots plus three pumps equals seven ingredients. Finish off your drink with a splash of cream and ice. As a devoted BTS ARMY member, I had to try the Jungkook "Seven" Starbucks drink for myself to what it tastes like, as well as how well it matches the song.
TikTok's Jungkook "Seven" Starbucks Drink Review
I first saw the "Seven" Starbucks drink as part of a summer K-pop drinks menu from TikToker @imasuckerfortae, and the Jungkook one definitely looked the most interesting. I recently tried Starbucks' iced white chocolate mocha for the first time as part of TikTok's secret menu "Back to December" drink inspired by Taylor Swift, and loved it. I had never tried the white chocolate mocha before, but consider me a stan now. It's definitely sweet, so if you're not into sugary Starbucks drinks, you may want to try something else. However, I feel like the white chocolate mocha sauce was just enough to undercut the bitter espresso taste.
While it took me a while to down all six shots of Pascal's Starbucks order, I almost couldn't put down the $6 Jungkook espresso drink. It was that delicious. I also tried this drink on a Monday after an exhausting weekend, so I needed the pick-me-up to get through the day, and the caffeine definitely helped. This Starbucks drink complements the theme of Jungkook's song, so the only thing missing was the Insta-worthy factor. It's not a bright color that secret menu items like Swift's "Lavender Haze" drink tend to go viral for, but that shouldn't deter you from trying it.
The Jungkook "Seven" Starbucks drink is flavorful and does its job to keep you going "every hour, every minute, every second" of the day. Order it, and you could just revive yourself like Jungkook does at his own funeral in the music video.


[ad_2]