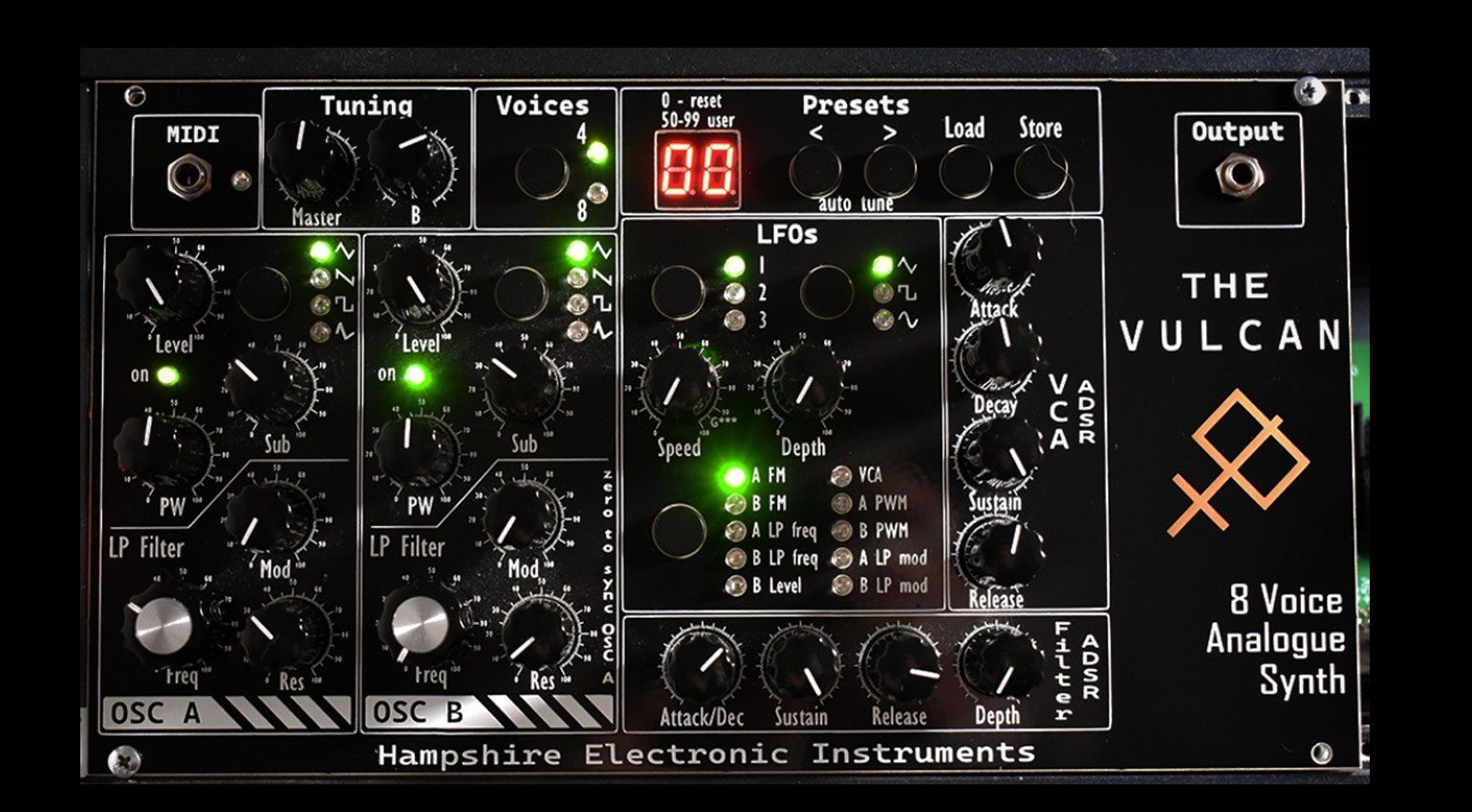 Hampshire Electronics The Vulcan ·

Source: Hampshire Electronics
Can you really squeeze an 8-voice analog polysynth into a reasonably sized Eurorack module? Hampshire believes electronics can, and it's called The Vulcan.
Vulcan
The Beast from Dreadbox or Cre8audio East doesn't seem to get any bigger than the Erebus kit. But the Vulcan is a 2-oscillator, 8-tone polycentric 100% analog signal path. It's important to know right away that you can play 8-tones with just one oscillator. Only when you switch to 4-voice mode, you can use both together. Everything appears to be where it should be so it's no problem to stick in. How do we play this in Eurorack?
As far as I can see there is one input for MIDI and a single output for audio. Hampshire Electronics bypassed everything that went wrong with the CV by making an MDI synth and standardizing the modules and signal lines behind the panel. That's not to say it's not versatile. There are three LFOs with 10 selectable destinations on the front panel.
What's really interesting is that each oscillator has its own low-pass filter, pulse width adjustment, and sub-oscillator. The filters can be connected to be the same or they can work completely independently. That can make for some interesting tonal combinations and unexpected movement.
Other features include phase control on individual oscillators, 4 waveforms, 2 envelopes and up to 99 presets stored behind the classic 2-digital display.
The layout is a little busy but not too crowded and a little tidy in places which can be fun or frustrating depending on how you order your life. The lack of patch points seems to be characteristic of Eurorack, but I guess you have to treat it as self-specific.
MIDI only?
It's not good to play through MIDI because we're used to using CV in our racks. I don't think anyone would bat an eyelid if Hampshire Electronics sent him a standalone synth with a box that could also be covered. But as a Eurorack module, it always has an answer to a MIDI question. The upcoming Knobula Chord Pilot will be a great companion for converting CV to polyphonic MIDI.
As a synth, there are many things to play. Watching the video (below) looks exactly as you'd expect. I love the freedom of oscillators and filters, the way you can manipulate them with LFOs gives a lot of scope. Hampshire Electronics hopes the Vulcan will be available after Christmas. There is no commitment yet to the price, but it will apparently be "reasonable". Having two amazing audio demo videos will be the key!