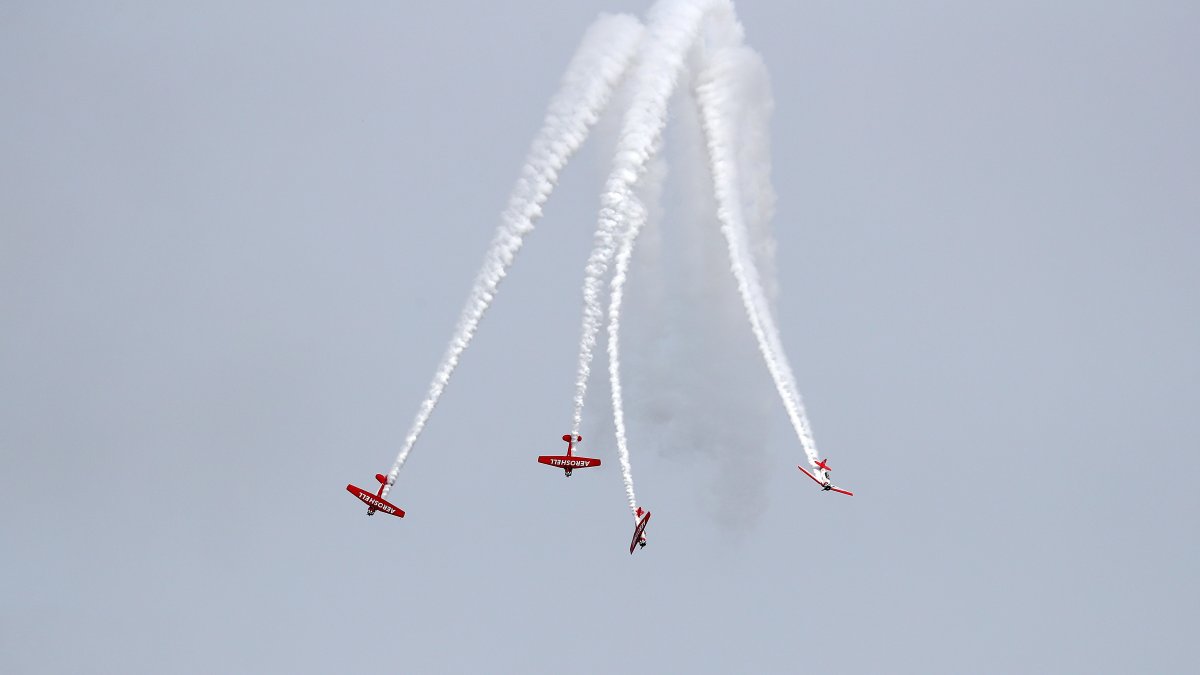 One of the city's favorite events of the year is nearly here: The iconic Chicago Air and Water Show.
The annual, free event, which began in 1959, originally started as an air show with an $88 budget. It has now grown to one of the largest shows of it kind, with tricks from high-speed civilian and military plots and aircraft, as well as boats, and dive and parachute teams.
"It's a wonderful event" said Air and Water show boss Dave Adams. "It's free. Families can come out, spend the day at the beach, look at planes go over the water, and look at the beautiful backdrop, which is our skyline."
Over one million spectators are expected to descend on the lakefront from Fullerton to Oak Street to watch the weekend show, with North Avenue Beach as the show's focal point, organizers said.
According to the City of Chicago, planes this weekend are scheduled to perform stunts over the water in a specified safety zone, and the event employs its own air traffic controller to oversee the downtown air space during show hours. The City of Chicago website says that the Chicago Air and Water show is "conducted in an extremely safe and conscientious way."
All aircraft participating in the show will take off from Gary/Chicago International Airport in Gary, and perform stunts over a specific section of Lake Michigan organizers said.
Here's a breakdown of what to know.
Chicago Air and Water Show practice schedule:
Rehearsal for the Chicago Air and Water Show takes place Friday from 10 a.m. to 3 p.m. — and it may be your best bet to see the show while also beating the crowds.
"Everybody knows the rehearsal show is a full show," Adams said. "So if you want to beat the crowd, today's the day to come."
According to Adams, the Thunderbirds are set to rehearse Friday from about 2:15 p.m. to 3 p.m.
Chicago Air and Water Show performers, lineup
Shows on Saturday and Sunday will also go from 10:30 a.m. to 3 p.m. According to officials, the lineup will be determined the morning of the show by the pilots.
"Performers are subject to change," officials said.
However, according to Adams, the Thunderbirds are scheduled to perform around 2:15 p.m. for about 40 to 45 minutes each day — including Friday.
"The Thunderbirds are coming back for the first time since 2018," Adams said. "They've choreographed a new show, and this is the first time the show will be on display."
Here's a list of the performers:
U.S. Air Force Thunderbirds
U.S. Army Parachute Team Golden Knights
U.S. Air Force F-16 Viper Demo Team
U.S. Air Force Heritage Flight Demo Team (P-51 Mustang)
U.S. Air Force C-17 Globemaster III Demo Team
U.S. Air Force/Air National Guard A-10 Thunderbolt II (x4)
U.S. Air Force/Air National Guard KC-135E Stratotanker
U.S. Navy F/A-18F Super Hornet "Rhino" Demo Team
U.S. Navy Legacy Flight Demo Team (A-4B Skyhawk & FG-1D Cosair)
U.S. Coast Guard MH-65D Dolphin Search & Rescue Demo
Susan Dacy; Civilian
Bill Stein; Civilian
Kevin Coleman; Civilian
Rob Holland; Civilian
Chicago Fire Department Air/Sea Rescue
Chicago Police Department Helicopter
Getting to the Show
The city recommends using public transportation to get to the show, as there will be no public parking at the beach over the weekend. Additionally, the CTA's no. 72 bus that typically stops at North Avenue Beach will be rerouted. However, the Millennium Park Garages have discounted pre-purchased parking and a shuttle from the garage to inner Jean Baptiste Pointe DuSable Lake Shore Drive. 
Additionally, the CTA is set to provide additional routes and buses, and Metra is set to provide extra service on four lines for those coming to the lakefront.   
More information about the 2023 Chicago Air and Water Show can be found here.
[ad_2]