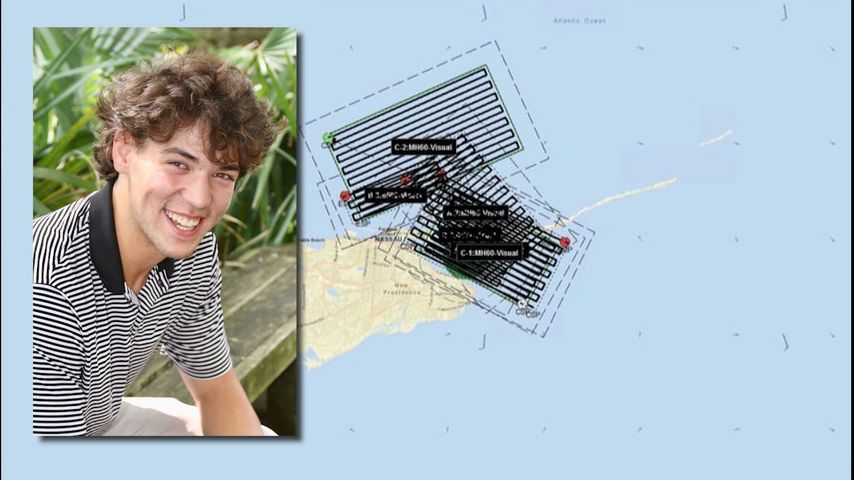 NASSAU – Agencies on Friday suspended the search for missing U-High graduate Cameron Robbins in the Bahamas "pending further developments."
A US Coast Guard representative confirmed to WBRZ that the Royal Bahamas Defense Force has called off the search and is not requesting assistance from the Coast Guard.
According to a report obtained by WBRZ on Friday, the situation was first reported to the Coast Guard around 9:55 a.m. Wednesday. Robbins reportedly joined Nassau-based Sunset Cruises charter Blackbeard's Revenge along with other recent students.
When the boat was south of Athol Island, 18-year-old Robbins jumped into 15-foot-deep water, prompting an extensive search involving several rescue boats and helicopters. The report notes that bad weather that night also complicated the search.
Athol Island is about 2 miles northeast of Nassau.
As of Friday, the search covered more than 221 square nautical miles. The graphics included in the document lay out the flight paths and additional elements for the aircraft used in the search.
The United Cajun Navy, which has been in contact with the Robbins family since Thursday, told WBRZ that the toddler's parents have flown to the Bahamas to join the search effort.
The Robbins family released the following statement to WBRZ on Friday:
Cameron is a strong boy, so we fully expect him to be back with us soon. Cameron loves his friends and family very much and is proud and amazed at the outpouring of support we have received. In the meantime, we will continue to focus on working to find him. Please keep Cameron in your prayers.

Gradweek, the company that organized the trip in the Bahamas, released its own statement to WBRZ.
to whom it may concern,
Our thoughts and prayers are with the Robbins family during this incredibly difficult time. Out of respect for the Robbins family's privacy, we feel it is inappropriate to comment on the details surrounding the night of the accident. Bahamian authorities have been conducting a thorough investigation of the incident and will be able to provide the correct information after completing their investigation.