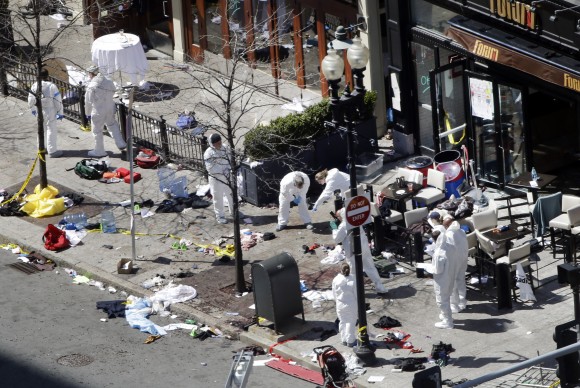 New

You can now listen to Insurance Journal articles!
Ten years ago, on April 15, 2013, two brothers placed pressure cooker bombs near the finish line of the Boston Marathon. The devices detonated within seconds of each other, killing three people, injuring more than 260 others, and causing property damage in the adjacent area.
Over the next few days police undertook a hunt for the bombing suspects in Boston and nearby suburbs. Gov. Deval Patrick requested all citizens in the area shelter in place and suspended public transportation.
During the police chase, the bombers killed a police officer.
One of the suspects, the older brother, Tamerlan Tsarnaev, was shot and killed. A day later, police captured the second brother, Dzhokhar Tsarnaev, in Watertown. He was later convicted and remains in jail appealing his death sentence.
The hunt for the suspects caused some additional property damage in the metro areas.
The resulting property damage raised the possibility that the federal Terrorism Risk Insurance Act (TRIA) would be triggered for the first time. Under the program, the government shares the costs of some property/casualty claims caused by terrorist acts.
Under TRIA, an event is not considered a terrorist act unless the U.S. Treasury, the Secretary of State and U.S. Attorney General all certify it as an act of terrorism. The act must endanger life and property and have been taken to influence the public or government policy. Also, TRIA is only activated if there is at least $5 million of aggregate property and casualty losses.
TRIA applies to commercial property/casualty claims only; personal lines, health insurance and life insurance are not part of TRIA.
TRIA was not triggered because the Treasury never certified the Marathon bombing as a terrorist event. The industry and public never learned why the Marathon bombing was not immediately certified as a terrorist event. As it turned out, at least one of the criteria required by TRIA — that P/C losses total more than $5 million— was never reached.
Insureds and private P/C insurers were on their own to settle claims.
Certification could have triggered terrorism exclusions that are found in many commercial insurance policies. Businesses with these policies would have needed separate terrorism coverage to fill the gap, which not many had. While TRIA requires insurers to make terrorism coverage on certain lines of property/casualty insurance (such as fire, workers' compensation, and liability) available to businesses, TRIA does not require them to buy it.
Nine months after the attack, the Massachusetts Division of Insurance (DOI), headed then by Insurance Commissioner Joseph Murphy, collected data from selected property/casualty insurance companies (top 25 insurers and the residual market insurer Massachusetts FAIR Plan) and provided some insight into how insureds and their insurers made out.
In an Insurance Journal interview in April 2014, Murphy said his department was not aware of any terrorism exclusions impacting coverages, "but hopefully one of the takeaways will be that businesses will realize that the threat of terrorism can occur."
The data call showed that among the 160 commercial property and business interruption claims, just 13.5% had separate terrorism coverage. No residential property claims had separate terrorism coverage. None of the commercial property, business interruption and residential property claims were impacted by a terrorism exclusion.
The DOI data call as of January 24, 2014 revealed that:
Health, property/casualty and workers' compensation companies combined were projected to pay $24.9 million for medical claims and property damage claims associated with the bombings.
The insurance companies had handled 207 bombing-related claims.
Total property/casualty losses (plus case reserves) totaled approximately $2.5 million. The average property/casualty claim size was $9,185.
100% of 45 residential property and personal auto claims had been resolved; 36 with payments and 9 without payments. Insurance companies paid more than $182,000 for damage to personal automobiles, homes, and associated personal property. The average claim size for residential property and personal automobiles was $2,889 and $10,394 respectively.
Almost 94% of the 160 commercial property and business interruption claims had been resolved; with 12 of 27 property claims ending in payments and only 65 of 133 business interruption claims closed with payments. Insurance companies paid about $2 million for damage to commercial property and business interruption.
Five persons had workers' compensation costs projected to be less than $200,000.
There were 1,702 persons with projected health care costs of approximately $22.8 million. The health-related claims were expected remain open.
The DOI did not consider life insurance claims which might have been made on behalf of the four individuals who were killed.
In part because of their experience after the Boston Marathon, some in the insurance industry have expressed concern about the Treasury's process for certifying a terrorist act under TRIA.
Some industry stakeholders maintained that the Boston Marathon bombing raised questions about the certification process because they viewed the event as a clear terrorist attack. It was unclear whether the event was not certified because it did not reach the monetary loss threshold for certification, which was unknown at the time, or because it did not meet TRIA's non-monetary requirement for establishing intent.
Risk managers urged the federal government to set a deadline for certifying if an event is an act of terrorism and also urged Treasury to use insurers' figures for estimating losses to speed up the decision-making.
The risk managers' group RIMS maintained that the uncertainty surrounding whether the attack would be certified left many policyholders in limbo. "Those that had chosen to purchase terrorism coverage were unable to have claims paid under that coverage as policies typically required the act to be certified," RIMS wrote to policymakers in 2015. "Likewise, those business owners who had chosen to forego terrorism insurance were at risk of having claims denied if the act was certified as acts of terrorism are generally excluded from standard property and casualty policies."
Boston Bombing Lesson: Risk Managers Urge Better 'Terror Act' Certification
Treasury conducted internal reviews after the Boston Marathon bombing in 2013, but did not publicly communicate that it was looking into the event or that it had decided not to formally review the event for certification. In its last public statement in September 2014, a U.S. Treasury spokesperson said, "The Secretary has not determined that there has been an 'act of terrorism' under the Terrorism Risk Insurance Act."
Treasury ultimately did not certify the event because insured losses totaled under the $5 million certification threshold.
Treasury's procedures for certifying an event do not include public communication of its internal review phase, a 2020 General Accountability Office (GAO) report confirmed.
Businesses, Insurers Tangle Over Boston Marathon Loss Payouts
Industry stakeholders told GAO that they were uncertain about the length of time Treasury would take after future events to communicate that it was considering certification. They would like improved communication from Treasury after an event to help provide certainty in paying policyholder claims and receiving reinsurance payments.
Treasury officials have acknowledged their procedures and the concerns, but, according to the 2022 annual report on TRIA by the Federal Insurance Office within Treasury, they prefer to maintain flexibility in how they respond to such events given that circumstances can vary widely.
Photo: This photo provided by the Maine Forest Service shows several locomotives and rail cars burning after a freight train derailed, Saturday, April 15, 2023, in Sandwich Academy Grant Township, near Rockwood, Maine. Three workers were treated and released from a hospital, and Canadian Pacific Railway will be leading the cleanup and track repair, according to officials. (Maine Forest Service via AP)
Topics
Claims