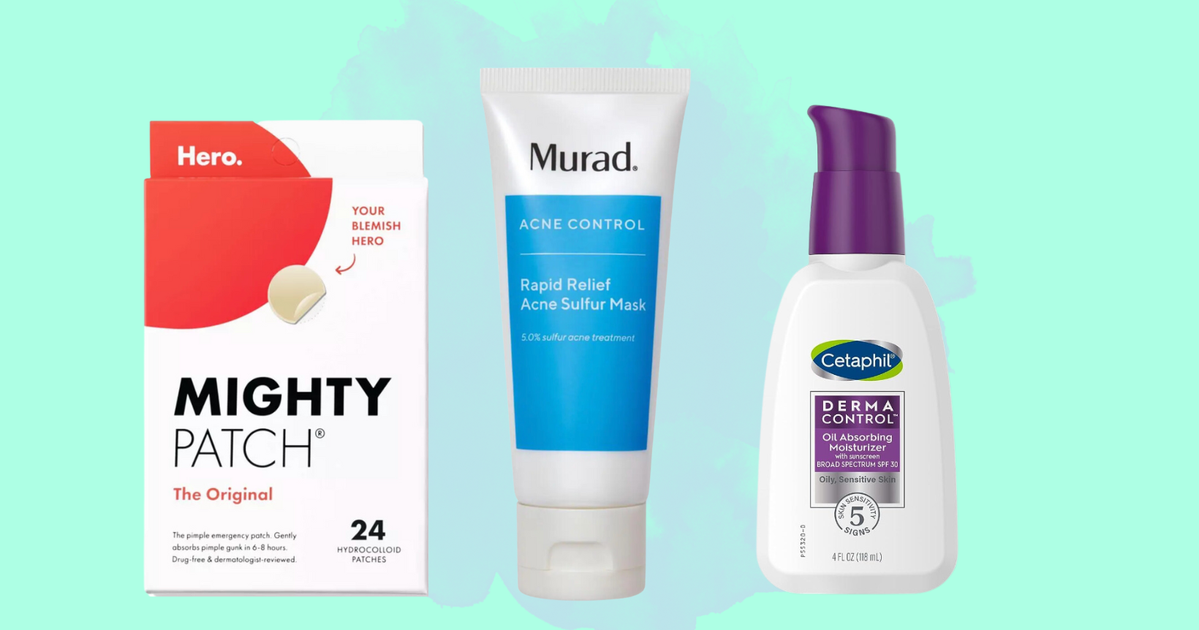 Skin issues like acne, blackheads, oily skin, dermatitis and more generally first surface during the teen years and can last into early adulthood. And while it might seem logical to lump all young people into a single category, there are ways in which teen boys' skin care issues differ from those of teen girls, and those differences should be taken into account when developing a skin care routine.
According to Dr. Brendan Camp, a board-certified dermatologist at MDCS Dermatology in New York City, "Teen boys tend to produce more oil due to higher levels of androgens." That excess oil can lead to acne breakouts, and as a result of higher levels of testosterone, the severity of that acne also tends to be worse in boys than girls.
Teens and young men should cater their skin care routines to these targeted issues in order to most effectively heal their skin. Luckily, this doesn't mean they have to adopt multi-step routines that feel cumbersome or annoying.
Finding a few key products with powerful active ingredients like salicylic acid, benzoyl peroxide and adapalene can help to reduce acne, irritation and overactive oil production while still keeping things feeling low-key and easy overall. "Salicylic acid is a beta-hydroxy acid that is lipophilic, meaning it can penetrate deeply into pores and clear them of excess oil. Benzoyl peroxide is a skin care ingredient with anti-inflammatory and anti-bacterial properties that is often found in acne products. Adapalene is an over-the-counter retinoid that can help regulate skin cell turnover and reduce the formation of blocked pores," Camp told HuffPost. They do so much heavy lifting that even the simplest routine utilizing these ingredients can make a noticeable difference.
So what's the ideal skin care routine for teen boys and young men with acne? Camp believes they should be using three to four core products daily. A good cleanser will help to clear the skin of excess oil, dead skin cells and product buildup, while a moisturizer can help to restore hydration and maintain the integrity of the skin's natural moisture barrier, which can sometimes be altered by ingredients in acne products. It may seem fussy, but it's worth incorporating chemical exfoliants into the routine as well. They can help facilitate the removal of dead skin cells from the surface of the skin, reducing the risk of clogged pores. Finally, sunscreen is an absolute must. Camp stated that aside from protecting skin from sunburns, premature aging and possibly skin cancer, "some active ingredients in acne products can make skin more sun-sensitive." It's an imperative part of the skin care process.
Camp was quick to emphasize that when it comes to treating acne, long-term results do not come quickly. "Acne treatments typically need to be used regularly for at least 2-3 months before deciding if they are effective or not. Do not abandon ship too early in the course of treatment if you do not see results because consistency is important to see improvement," he advised. 
There's no time like the present to practice patience and get a head start on a great skin care routine. Below, we've curated a list of skin care products for young men dealing with acne based on Camp's recommendations, plus a few tried-and-true editors' picks that are formulated with dermatologist-recommended ingredients. Snag some for the teen in your life and help kickstart a lifelong appreciation for healthy skin.
HuffPost may receive a share from purchases made via links on this page. Every item is independently selected by the HuffPost Shopping team. Prices and availability are subject to change. The experts we consulted for this story do not necessarily endorse the products ahead unless otherwise noted.
CeraVe Acne Control cleanser
Murad Rapid Relief acne sulfur mask
Face masks are for everyone, and those with stubborn or even painful acne will definitely want to find one that is appropriately formulated for their skin issues. Camp recommends this clay mask from Murad. "Sulfur, salicylic acid and kaolin clay are included in this face mask to draw out impurities, clear out pores and fight bacteria," he said.
La Roche-Posay Effaclar Duo dual action acne treatment
Spot treatments are also great for targeting breakouts, and Camp recommends this cream. "This product contains 5.5% benzoyl peroxide and lipo-hydroxy acid, a derivative of salicylic acid, to target individual pimples," he said. It's a great blend of powerful active ingredients.
PCA Skin Blemish Control Bar
Vanicream 1% hydrocortisone anti-itch lotion
"A popular in-office treatment for blemishes is a cortisone shot," Camp said. "While not marketed as an acne treatment, over-the-counter hydrocortisone cream can be used in a pinch to reduce the redness and swelling associated with a stubborn inflammatory acne lesion."
Cetaphil DermaControl oil-absorbing moisturizer
If there was only one product Camp could encourage young men to use, it's this oil-control moisturizer from Cetaphil. "While not specifically an acne treatment, this lightweight daily SPF 30 moisturizer has a matte finish to reduce the appearance of shiny, oily skin," he said. It's a great multitasking product that knocks out a couple other steps from a skin care routine, making it super convenient and (presumably) easy to remember.
EltaMD UV Clear SPF 46 sunscreen
Hero Mighty Patch pimple patch
Don't be afraid of the power of a pimple patch. According to Camp, "acne stickers like these reduce the size of blemishes by drawing moisture out of the pimple." It's an easy thing to slap on before bed without having to be fussy about breakout or lengthy multi-step skin care regimes.
Youth To The People mandelic acid exfoliant
[ad_2]