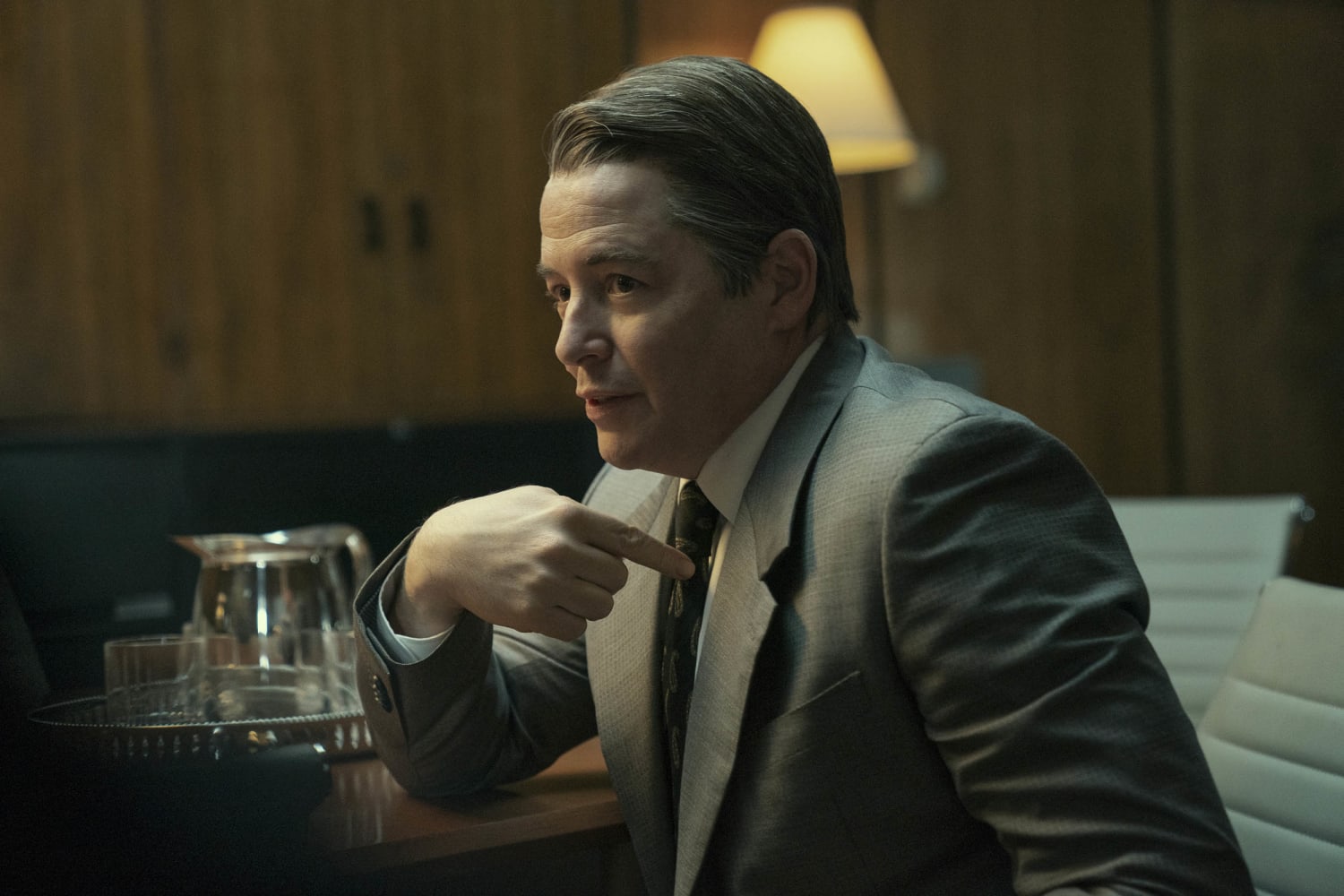 Netflix's "Painkiller" recounts the rise of Oxycontin, a highly addictive prescription drug manufactured by Purdue Pharma, and the people behind the drug — including Richard Sackler, the former president of the company.  
While the characters in the show are played by actors, several of them are based on real people, like Sackler, portrayed by Matthew Broderick.
Here's what to know about Sackler and the show's approach to telling the story of Oxycontin, according to "Painkiller" creator Peter Berg.
Who is Richard Sackler?
Richard Sackler was born in 1945 in Roslyn, New York, to Beverly and Raymond Sackler. Raymond Sackler, along with his brothers Arthur and Mortimer Sackler, acquired what became Purdue Pharma in 1952.  
Richard Sackler graduated from Columbia before getting his M.D. from the New York University School of Medicine, according to the Yale School of Medicine. He completed his residency in internal medicine at Hartford Hospital in Connecticut, according to Yale.
Sackler has had an active medical license as a physician/surgeon in Connecticut since 1974, according to the Connecticut Department of Public Health. It is unclear how many years he practiced medicine before he joined his family's business, Purdue Pharma.
Sackler was the marketing power behind OxyContin, which was approved by the FDA in 1995, and helped launch one of the biggest pharmaceutical marketing campaigns in history along with his uncle Arthur and father Raymond Sackler. 
"Painkiller" creator Peter Berg says he wanted to represent some of the "absurd" nature of some of the events Purdue hosted to try to market the drug in "Painkiller," particularly the dancing scenes throughout Episode Three.
"I started to unpack the reality of the Sacklers. It's a tricky unpacking because they're so secretive, he says. "But the more I learned, the more absurdly farcical the whole Purdue Pharma culture seemed — these bizarre retreats they would do in South Beach, Florida, where a bunch of giant OxyContin plushies would dance. They'd have bad entertainers singing songs about selling OxyContin. It all just seemed absurd to me."
"If you evaluate someone's talent based on their ability to make money, the Sacklers get A pluses. But if you look at the taste, and the morality, and the lack thereof, and sort of try and start adding it up, there's something almost absurd to me about them," he continues. "That's why you hear smoke alarms and you see giant dancing OxyContin plushies, and you see Richard and Arthur dancing with glee when they get the approval from the FDA." 
Sackler became president of Purdue Pharma in 1999 and by 2000, OxyContin was generating $1 billion per year in revenue. 
The same year, Sackler told a team of company representatives that "There is no sign of it slowing down," according to The New Yorker. 
In 2004, then-Attorney General of Connecticut Richard Blumenthal filed a complaint against Purdue after he wrote Sackler three years earlier about concerns over the abuse of OxyContin, according to The New Yorker. 
As profits grew, so did awareness of the epidemic, as a 2001 expose in the New York Times demonstrates. By 2019, Purdue Pharma was facing more than 2,600 lawsuits from governments and other entities, and the company filed for bankruptcy in September of that year, according to NBC News.
 Notable locations like The Metropolitan Museum of Art, The Guggenheim and The Louvre have since removed the Sackler name from their walls, which Berg says speaks to a different kind of justice outside of the legal system.
"Arthur Sackler, who was the architect of so much of this and Richard Sackler's mentor, knew and was very obsessed with legacy," Berg says. "He knew that putting the name Sackler up on museums and medical schools around the country, that that was your way of sort of hiding how you made your money and controlling the legacy narrative."
 "The totality of all of these shows, books and writings is that you walk out anywhere and start talking to someone to mention the name Sackler and people know," Berg continues. "I think that probably hurts quite a bit."
Where is Richard Sackler now?
The Supreme Court announced on Aug. 10 — the same day "Painkiller" premiered on Netflix — that it would pause Purdue Pharma's bankruptcy deal that would have protected members of the Sackler family from liability for lawsuits. 
As part of the deal, the Sackler family agreed to pay $6 billion that could be used to settle opioid-related claims, but only if the deal included complete release from any liability in future cases. Purdue Pharma pled guilty to criminal charges as part of an $8 billion settlement, per NBC News.
The Supreme Court ruled to put the deal on hold until it could take up the appeal, meaning the court will hear oral arguments in December and will make its own ruling on the deal next year.
A Purdue spokesperson said in a statement to NBC News the company is "confident in the legality of our nearly universally supported plan of reorganization, and optimistic that the Supreme Court will agree."
 At a 2020 Congressional hearing, David Sackler, former member of the Purdue Pharma board of directors and son of Richard Sackler, gave his family's perspective on the epidemic. 
"I want to express my family's deep sadness about the opioid crisis. OxyContin is a medicine that Purdue intended to help people, and it has helped and continues to help millions of Americans. Far too many lives have been destroyed by addiction and abuse of opioids, including OxyContin.
"There are many lawsuits that have blamed Purdue and my family for the opioid crisis. While we deny liability and are vigorously contesting these claims, we want to respond to the opioid crisis, because the prescription medicine that our company manufactured and sold, which was never intended to harm anyone, ended up being part of a crisis that has harmed too many people," he said. 
He also said, "What you've heard from the press about the Sacklers is almost certainly wrong and highly distorted."
 Berg says the timing of the decision was surprising, but he thought it was the right thing to do.
"When you realize how much money this family has, and how they're using the interest payments from their fortune to pay these fines, it's not touching them," Berg says. "You realize that, that's not really right, isn't it? It's hard to get justice if your children have died." 
"But letting the Sacklers put a firewall between the lawsuits and their money in the form of these interest payments, that never made sense to anyone that was paying attention," he adds.
As for Sackler's involvement in the show, Berg says the show reached out to him and "there was no response." 
Little is known about Sackler's current whereabouts.
"I tried to find him when he appeared to be living to see if he would meet with me. I was not able to do that," Berg says. "The Sacklers do a very good job of letting their lawyers do the talking. They are very, very effective at staying in the shadows." 
[ad_2]