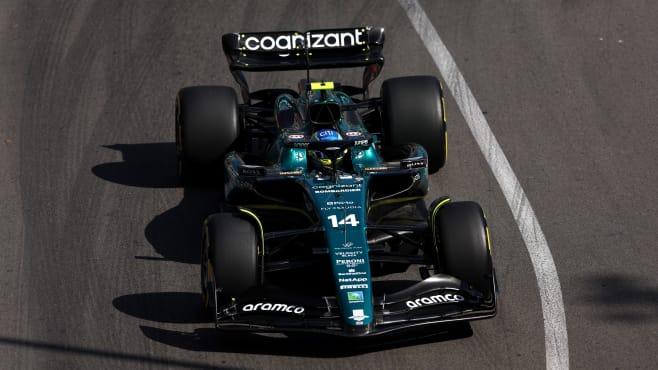 Fernando Alonso believes Aston Martin will challenge for pole position on Saturday after an "entertaining" first day in Monaco, with both the Spaniard and his team-mate Lance Stroll feeling confident behind the wheel of the AMR23.
Alonso had a strong outing on Friday, trading fastest lap times with Carlos Sainz in FP1.
Read more: Hamilton hails 'fantastic day' in Monaco as Mercedes gets updated W14 on track
Reflecting on the day after jumping out of the cockpit on Friday evening, two-time Monte Carlo winner Alonso said: "It was good. I think it was a good day for us. We finished the running program.
"A couple of red flags for everyone, but we've done enough laps to be confident in the car, which is very important here – to get into the rhythm of the weekend. The car feels good and is easy to drive, which is what you expect at this type of circuit, so I'm happy.
"I came in very confident because this car has given me positives all year and didn't give up today. It was fun to ride, I had fun and I'm ready for tomorrow.
In the year 2023 Monaco GP FP2: 'I'm at a loss for words with these guys' – Alonso furious at traffic on fast Monaco lap
Aston Martin is second in the constructors' championship at Monaco with 102 points – six points ahead of rivals Mercedes, who fielded an improved car this weekend – and Alonso is wary of the Silver Arrows' pace.
"I think they've always been there," Alonso said when asked about Mercedes' pace. "In seed three, Australia, they were brilliant. They finished P2, so I think all the ups and downs of the season are for everyone.
FP2: Verstappen leads Leclerc as Sanz crashes out in extremely close second practice in Monaco
We have to be consistent, try to deliver every weekend, knowing the points available and accepting that sometimes we are faster than them, sometimes slower, we still have to score points.
Asked if he could be on his first pole position of the season, Alonso said: "Let's see. I think tomorrow is all to play for. [for] But we should be one of the contenders, yes.
Stroll is looking to make a few adjustments to his car ahead of his entry on Saturday.
Team-mate Stroll was ninth fastest in FP1 before setting 11th fastest time in the second hour and while the Canadian was happy with the car's performance, he believes there are a few things they need to sort out overnight.
"It's always difficult here with the traffic; "It's a short circuit and it's always tricky but we had a good run today and we learned a lot," Stroll said. "We will continue to work on the car for tonight and see what we can do tomorrow.
As it happens: Follow all the action from second practice for the Monaco Grand Prix
"The car is doing well here. It's definitely behaving well, and I think it's just a matter of fixing the last few things overnight and seeing what we can do tomorrow."
Asked if a top-three finish was on the cards for qualifying, Stroll said: "It's been really tight all year and like I said, I think it's just a matter of tweaking a few little things and putting it all together." It's extremely important to avoid traffic, get good rest, all kinds of things here make a difference."
"It's just going out without traffic, and then the middle sector, I think, is punishing when you have a car close to you," he added later. Going off line and stuff, just picking up trash. All these things make a difference here.