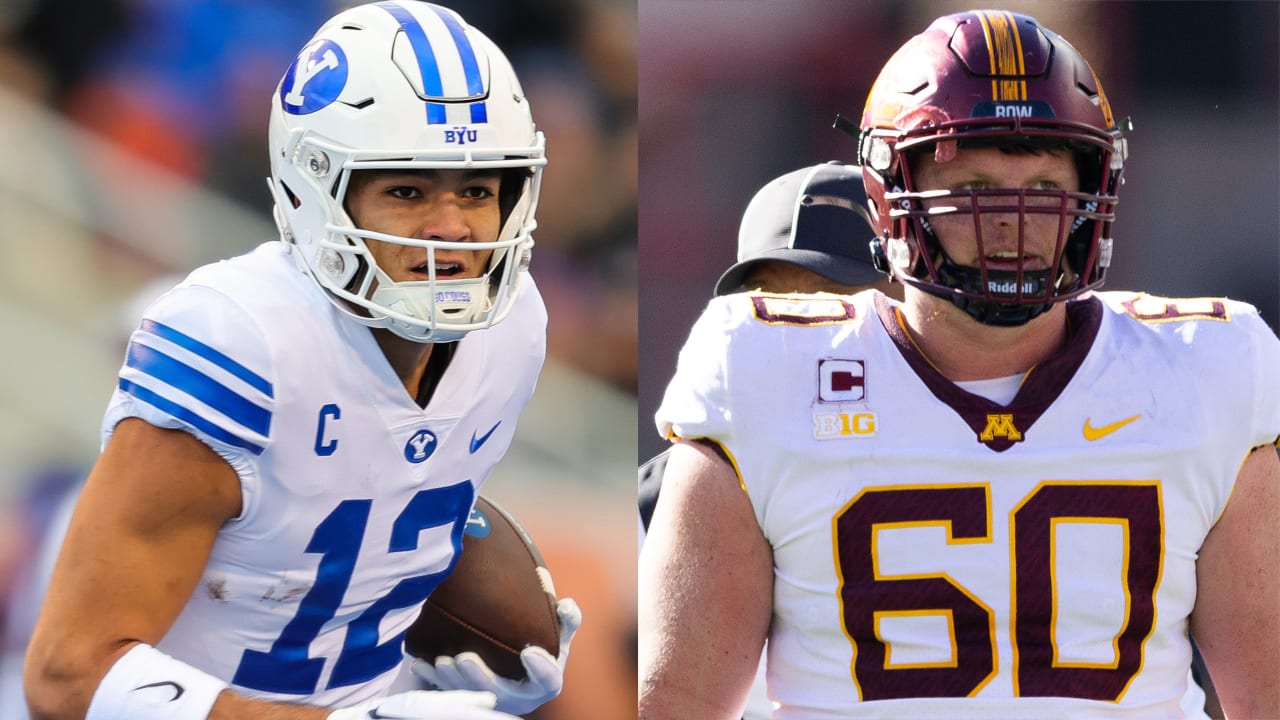 1) SMU's Rashi Rice gave up sleep to make an appearance on Tuesday.
Rice knows how to get open, and his behavior was on the line at the end of Tuesday's practice.
Team USA's coaches had five consecutive battles to close the session — O-line vs. D-linemen, linebackers vs. running backs, receivers vs. corners. Two wins for defense and two tied for offense.
That left Rice to contend with South Carolina CB Darius Rush for the title. Rice gained a snap and got a quick break on a dig route, but Shepherd QB Tyson Bagent's throw was off target. That was technically a win for the defense — and that meant Rice and his teammates had 15 pushups.
"Well, we'll see him tomorrow," Rice said with a smile, "if you give us another shot at him."
Rice is a Day 1 standout and looks to be one of the more talented receivers in this year's event. He hopes to be among the most prepared.
"I was studying all night and morning," he said. "I didn't put the playbook down. I was like, I can't get any sleep. I had to get these plays down. I didn't want to come out here and be like, 'I don't know what. (He was working). Everybody here is competing for jobs, and I didn't want to be unprepared and look like a fool.
Rice, who measured 6-foot, 200 pounds at the Senior Bowl, caught 96 passes for 1,355 yards and 10 TDs in 12 games last season. Tuesday was his most competitive action in two months, the last time he played in a game on Nov. 26.
"I had to get my speed back a little bit, and it took me a few laps. These corners are fast."
2) TCU QB Max Duggan's up-and-down day ends with an all-around team effort.
Duggan spoke Tuesday morning, reflecting on what he called an "event" and a "special" one with the Horned Frogs, but one that came with several twists.
He lost the battle to Chandler Morris for the starting QB job, but regained it when Morris was injured in the opener. Duggan never looked back, leading TCU to the College Football Playoff and being named a Heisman Trophy finalist. The season ended with a bang after Georgia beat the Frogs in the title game, 62-7.
"We got our boots kicked out, but you know, there's a lot to learn from it," Duggan said. "… (Learning) how to handle what is a failure in our eyes and how to recognize it, to rise from it."
Duggan got off to a slow start in individual work and jumped to intercept a pass by Alabama's DeMarco Hellams in a 7-for-7 performance.
But with full team reps, Duggan began to shine. He completed all five of his passes in the quarter, twice sidestepping the rush to find Ole Miss WR Jonathan Mingo, who also had a good day.
However, it was a good start to the week for Duggan, the odd rider who has helped his fortunes well over the last six months. Bowl CEO Jim Nagy said Duggan worked his way into the upper division on Day 3 of the draft.
3) Georgia RB Kenny McIntosh is an injury concern.
McIntosh entered Senior Bowl week as one of the most exciting backs in Mobile, but left his first practice with what initially appeared to be a freak injury.
After running a route and trying to field a loose ball on the Hancock-Whitney Stadium field, McIntosh was taken down and tended to by trainers. He fell for several minutes before going under his own power.
Fortunately, the damage is not considered serious. NFL Network Insider Tom Pelissero reported it was a calf strain. Many players talked about the unexpected heat after practice and the coaches frequently reminding them to drink water.
McIntosh passed his first test at the event scale, at 210 pounds (his listed weight on the Georgia roster) and under 6 feet. Back at practice this week, we hope he can return to the national championship that allowed him to rush for 829 yards and gain 504 receiving yards last season.
4) Ronnie Bell makes a drop to turn in a strong first day.
In the middle of a national team practice, Michigan WR Ronnie Bell ran to the sidelines, did 15 push-ups, then ran onto the field for more work.
"Man, I can't fall here," Bell said. "I've got to be 100 percent. So I went and did pushups after that rep, but you know, I've got to move for the next game and try to keep practicing well."
Bell dusted Ohio State quarterback Ronnie Hickman on a layup during a private practice. He also showed the ability to adapt to off-target balls and catch balls out of bounds. Bell said the latter was something he particularly wanted to demonstrate this week.
"Without a doubt," he said, "I should have it in my heart, you know, to be able to handle anything that's thrown at me, so if it's close, I definitely have to put it on display that I can do that. I'm not the biggest guy (5-11, 192); But I have the reach (31 1/8 inch arms) to make those plays.
5) If you're a Steelers fan looking for help for QB Kenny Pickett, this might be your lucky season. Pittsburgh head coach Mike Tomlin was front and center. Offensive line drills In the national team session.
What's the big deal you ask? Well, a year ago, it looks like Tomlin It is attached to the fourth part. The Steelers drafted Pickett, a 2022 Senior Bowl participant, in the 1st round. The offensive line is Pittsburgh's biggest need this offseason. Do they address the position in the first round? we will see.