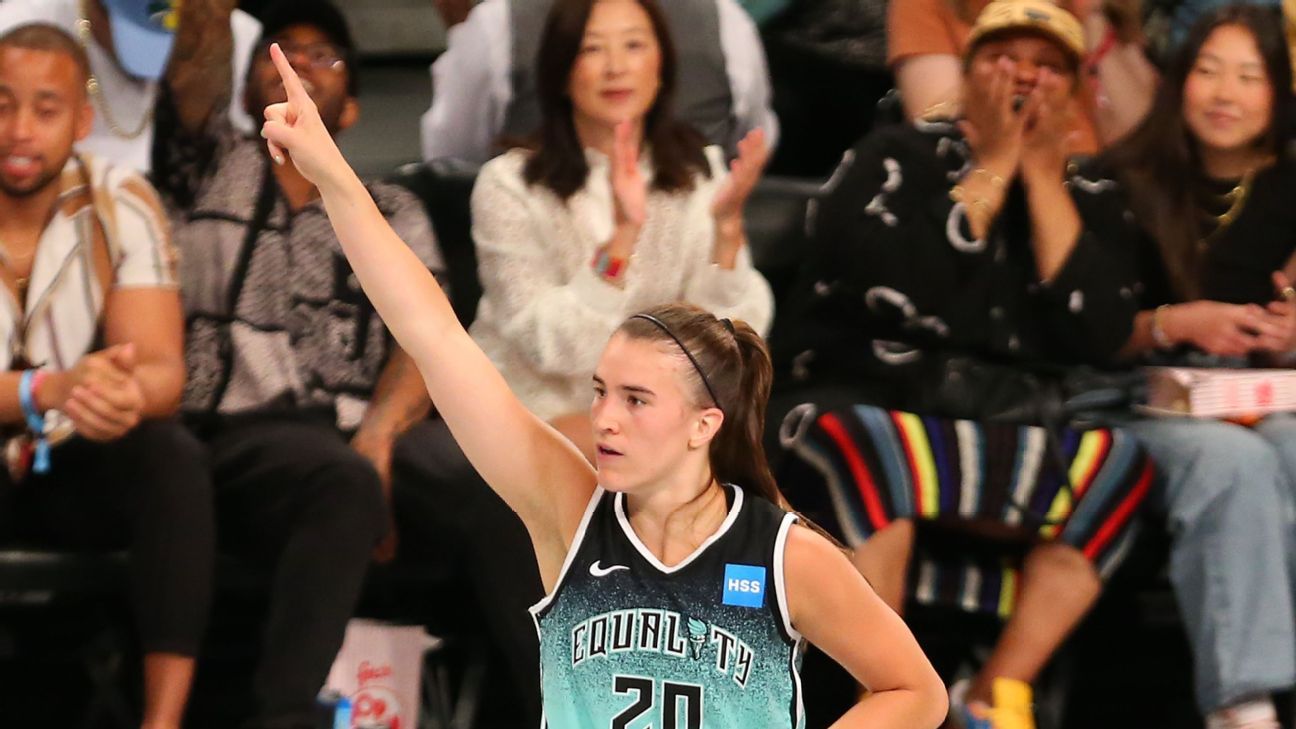 M.A. VoepelESPN.comAug 17, 2023, 10:18 PM ET3 Minute Read
LAS VEGAS — New York Liberty guard Sabrina Ionescu said after Thursday's 88-75 loss to the Las Vegas Aces that she still didn't know what happened to her shoes that went missing at Michelob Ultra Arena.
"I have no idea," she said after leading the Liberty in scoring with 22 points. "I haven't heard anything yet."
Ionescu wrote on social media earlier Thursday that her shoes, which had custom-made insoles, were taken from the arena.
"Never thought I would get my shoes stolen from an opposing arena… Please just bring me my insoles back. RIP to my Sabrina 1s," she wrote on X, the platform formerly known as Twitter.
Ionescu and the Liberty beat the Aces for the Commissioner's Cup championship 82-63 Tuesday night in Las Vegas, had Wednesday off and then had shootaround Thursday morning before an evening game against the Aces. Ionescu said her shoes had been locked up at the arena with other things the Liberty left there between games. She didn't know when they disappeared.
"We are aware of this situation and are working with Metro Police to investigate," said Brian Ahern, executive director of communications for MGM Resorts International, which owns Mandalay Bay Resort and includes the arena.
Liberty general manager Jonathan Kolb said the team was waiting to hear from arena authorities after their investigation and hoped that law enforcement's review of security footage would help track down the shoes.
Liberty coach Sandy Brondello said just before Thursday's game that the insoles were the biggest issue. The Liberty play Friday at the Phoenix Mercury before returning to New York and then travelling to Connecticut and Minnesota next Thursday and Saturday.
"As an athlete, it's not about the shoes, per se, it's about the insoles," Brondello said. "That's the thing, going into a game not wearing your insoles. But I'm sure it will be taken care of. Our focus now is just on the game.
"She's got some [other] shoes here. They travel with enough shoes. It was just about the insoles. Hopefully, they can be found. Keep the shoes, but give the insoles back. She can get plenty of shoes. But we're on the road, so it's not like we can just get some insoles."
The Nike Sabrina 1 model is the 12th signature sneaker in WNBA history. The shoes honor the former Oregon Ducks All-American, who was the No. 1 draft pick by New York in 2020.
Even though she didn't have the insoles she is used to having, Ionescu still made 6 of 12 3-pointers Thursday. But behind Chelsea Gray's triple-double, the Aces avenged their loss Tuesday, which did not count in the standings as it was an "extra" game for the Commissioner's Cup. The Aces and Liberty, who are 1-2 in the standings and favored to meet in the WNBA Finals, have one more regular-season meeting, on Aug. 28 in New York.


[ad_2]