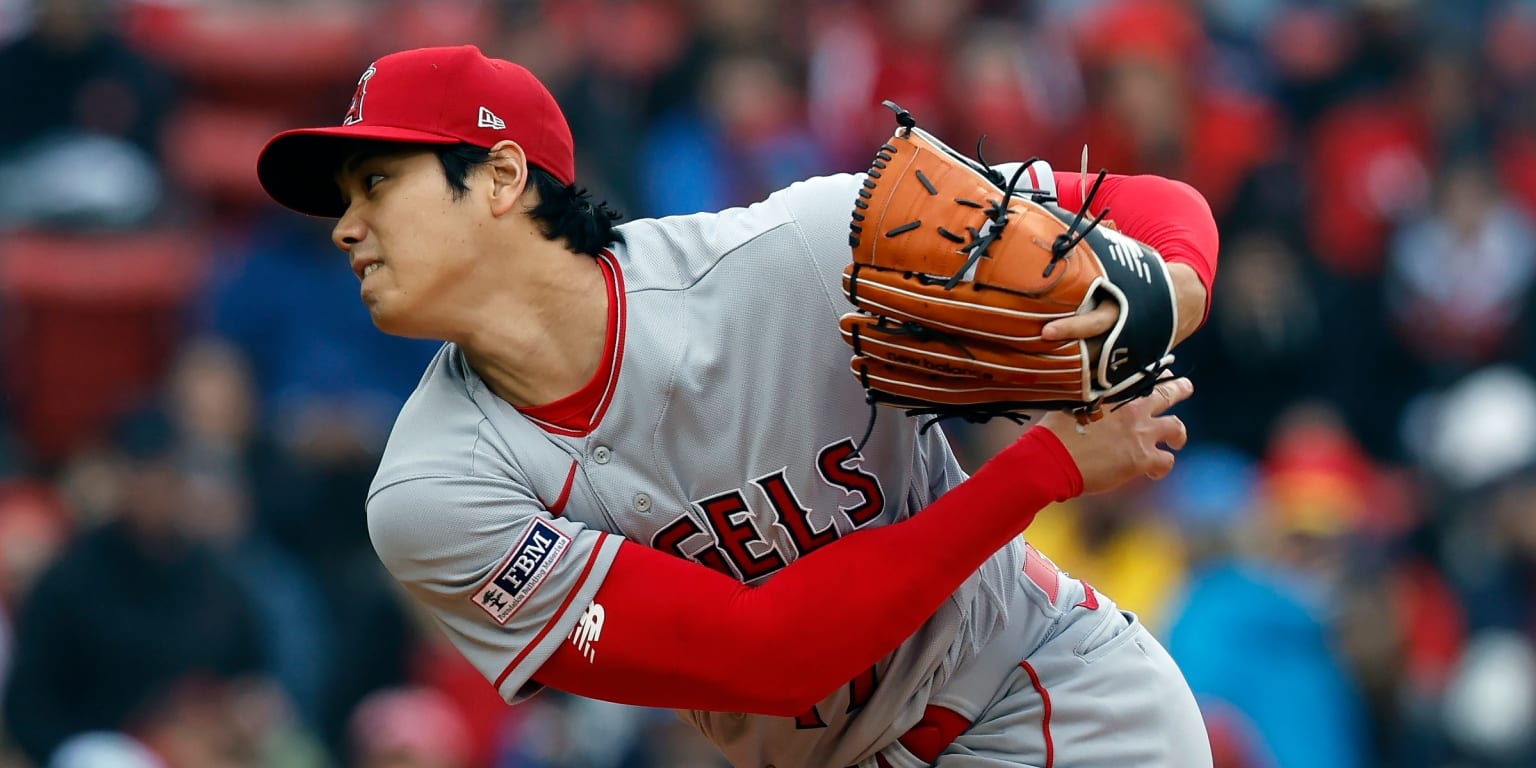 BOSTON — Shohei Ohtani helped end the Angels' three-game losing streak on Monday, but the rain couldn't stop the delay after two innings.
Ohtani made his fourth start of the year on a rainy Veterans Day at Fenway Park, allowing three hits and one run in two frames, going 2-for-5 in the Angels' 5-4 victory to seal the series sweep. He was helped by a three-run homer from Hunter Renfro, Zach Neto's career debut and 3 1/3 strong innings of relief from lefty Tucker Davidson.
The Angels had several things going against them, the first being that the game was scheduled for an 11:10 am ET start time, which meant an 8:10 am PT start. The first pitch was delayed by 56 minutes due to rain. Along with the early start and the weather, fellow stars Mike Trout and Anthony Rendon were also ruled out of the lineup.
But the offense gave Ohtani some early breathing room with a four-run first inning against right-hander Brian Bello that was sparked by a one-out single by Ohtani and a Renfro homer.
Ohtani, the 2021 American League MVP and runner-up last season, entered the start with a league-leading 0.47 ERA as he allowed just one run in 19 innings. But he allowed a run at first without surrendering a walk, for his fourth straight start. He then gave up two wild pitches before giving up an RBI grounder to shortstop Rob Refsnyder. But World Baseball Classic ended his streak by striking out teammate Masataka Yoshida with a 98.4-mm fastball.
Neto, who was called up Saturday, hit his first major league single to left to open the frame, backing Ohtani in the second. Ohtani followed with a single and Neto eventually scored on an RBI grounder from Renfro.
Ohtani's second inning was briefly delayed by rain, as torrential rain forced Boston grounds crews to try to dry out the infield and mound. Ohtani experienced an error with his PitchCom equipment which further delayed the game.
But all things considered, he was very efficient in the second, and he relied heavily on the clear-slider. Kiki Hernandez got Tristen Casas to fly out to center on a sweeper and Reese McGuire to swing on a dirt sweeper before Kiki Hernandez hit to the sweeper.
But when Neto had two runners on the plate and two out in the third, a heavy rain came and this time the tarp was back on the field. It led to an 85-minute delay that forced the Angels to replace Ohta with Davidson. Ohtani didn't pitch in the decision and now has a 0.86 ERA, while Davidson allowed one run into the sixth inning to pick up the win.