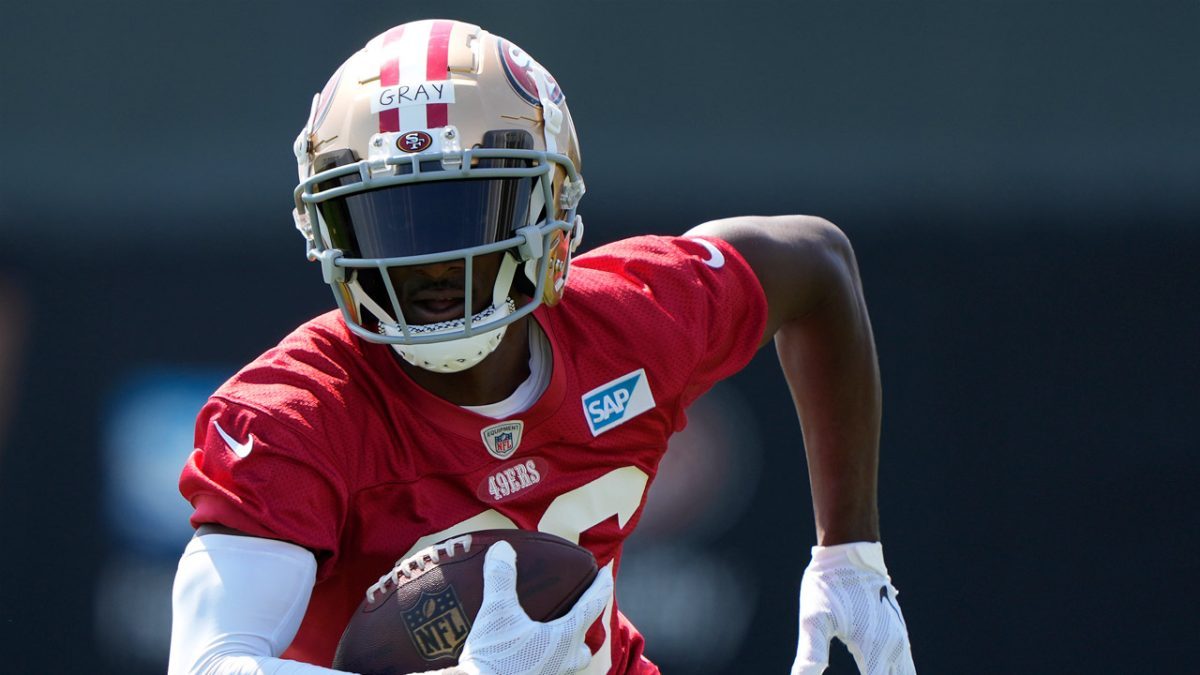 SANTA CLARA — At Southern Methodist University, Danny Gray was a star whose speed made him difficult to cover. 
In the NFL, where defensive backs and safeties are just as fast and talented, the young wideout has struggled to make an impact. Now in his second NFL season with the 49ers, Gray sat down with NBC Sports Bay Area and opened up about why 2022 did not go as planned.
"I'm not going to tell a tale," Gray said. "I came in thinking I was going to be able to play. I'm the fastest guy on the team, so I had that young mindset. But coming into the NFL taught me a lot. Taught me that it's more than talent. It's details. It's knowing your job and just being ready to play fast."
Coach Kyle Shanahan is known for having extremely high expectations for his wideouts with their job duties being much more involved than on other offenses. Gray struggled to see playing time in his first season, taking the field for 87 offensive plays in the 13 games he was active — 19 on special teams.
After recording 82 receptions for 1,251 yards over his two college seasons, Gray expected to be involved quickly and often, but that was not the case. Similar to Brandon Aiyuk in his second season, Gray experienced the harsh reality of what a lack of preparation means to Shanahan.
Gray leaned heavily on the entire receiving room to help him get through a challenging first NFL season but Aiyuk has been a key influence on the young receiver's path.
"I learn a lot from B.A.," Gray said. "We talked about that a lot last year with my first year in the league really not going as I planned. He told me to come in and do my job, and don't worry about all the unnecessary things. Control what you can control. Come in, keep your head on a swivel, get better every day and work on the things you need to work on."
Gray admitted that he didn't need to be as focused on the details when he was at SMU because speed alone was enough for him to make plays. While his coaches did want their playmaker to do it all, they let some of the details slide. That is no longer an option in a receivers room that not only has Aiyuk, but Deebo Samuel, Jauan Jennings and more.
After sitting out of both joint practices in Las Vegas with the Raiders due to soreness, Gray has been worked back into the rotation and should see the field on Saturday when the club hosts the Denver Broncos in their second preseason game at Levi's Stadium.
The 49ers drafted Gray in the third round (No. 105 overall) of the 2022 NFL Draft hoping he would provide a deep threat for the offense. With a 4.33 40-yard dash, the wideout thought he could rely on his physical abilities to succeed in the league.
"I'm going to say, being a speed guy, all you really know is to play fast, come off the ball lightning fast," Gray said. "I think the big thing for me was to know when to turn the speed on and when to turn it off, when to use it, and when not to." 
Gray has been waiting to show what he worked on through the offseason, and how his speed can be an advantage on the field for the offense. Last season's experience was a wake-up call for the SMU product.
"I went home and just looked in the mirror," Gray said. "I didn't blame anybody. I just went home and asked myself, 'What am I not doing for me to see myself out there on the field?' Basically took over the things I can control like coming in here every day and making sure I study my plays, know my details, what everybody does, the concepts, the formations and I let the rest talk for itself." 
As far as Gray's confidence on the field?
"It's skyrocketed," Gray said. 
Download and follow the 49ers Talk Podcast
[ad_2]