The Seattle Kraken have come a long way in a short span.
Unlike the Vegas Golden Knights, who went all-out in their first year, the Kraken took a much slower approach to Year 1. But in the second year, the team came guns-a blazing, easily qualifying for the playoffs and beating the defending Stanley Cup champions in the first round of the playoffs.
The Kraken ultimately lost out in the second round to Dallas, but the effort was there. The club then got to watch Matty Beniers earn the Calder Trophy as the league's top rookie, giving the Kraken its first player award in franchise history.
The Kraken have been quiet over the summer, but they believe in their group. And throughout the entire time, they've been building up a solid prospect pool, giving them some high-quality talent coming up in the pipeline.
Shane Wright is the biggest fish in the sea for Seattle, but defenseman Ryker Evans is coming off a tremendous campaign with the Coachella Valley Firebirds. Speaking of them, qualifying for the Calder Cup as a first-year club was incredible on its own. With a handful of young players looking to make the big club this year, the Kraken are in good hands.
Biggest Strength
Forward depth is a big plus here. Beniers is the top dog right now, but a 1-2-3-4 of Beniers, Wright, David Goyette and Oscar Fisker Molgaard would be one heck of a group to build around. Whenever there's significant center depth, you always see a few move to the wing, but the team has options and that's better than most other clubs can say at that spot.
Biggest Weakness
If we're going to be nitpicky, having a strong, shutdown defenseman in the stable wouldn't hurt. Evans, Ty Nelson and Lukas Dragicevic are all solid prospects, but they're more offensively focused. They're also lacking size on the blueline, which doesn't help. The team appears to be trying to remain competitive now, so they have time on their side, but that could be a target next June.
TOP 10 PROSPECTS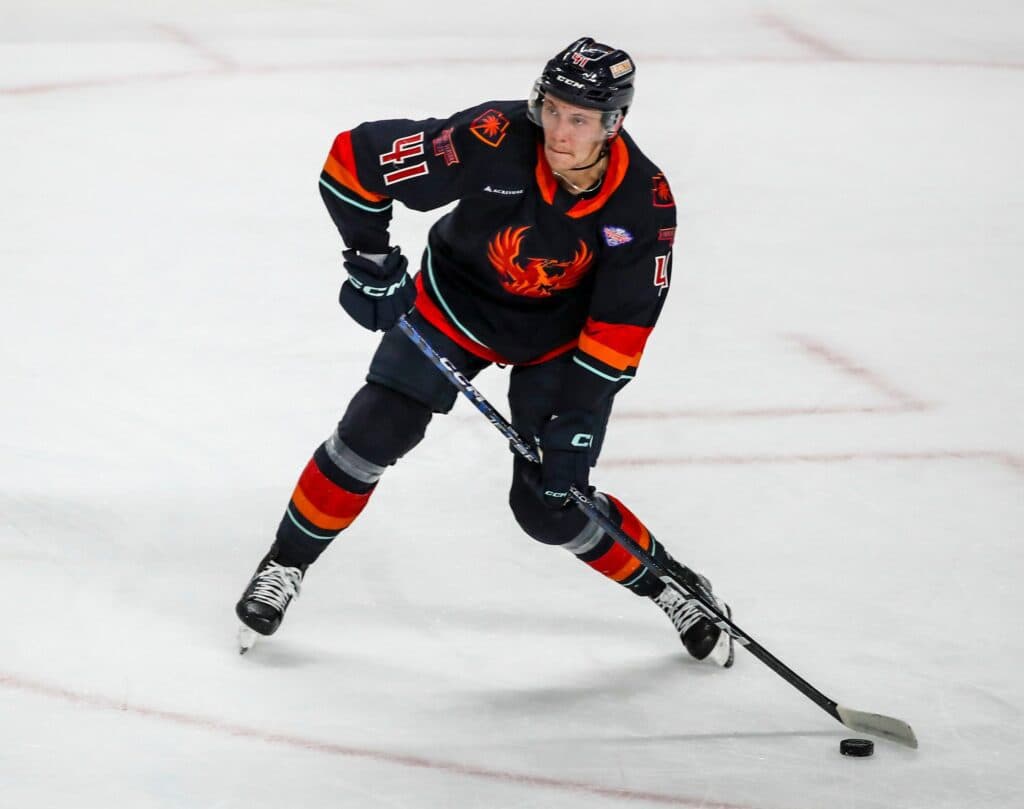 Grade: A-
1. Shane Wright, C, 19 (Seattle Kraken)
Drafted: No. 4, first round in 2022
Wright had a difficult season, bouncing around the NHL, AHL and OHL. The highlight was winning the world juniors with Canada; the lowlight was struggling to carve out playing time with Seattle. He was good in Coachella Valley, but he and Windsor fell short in the OHL after an excellent regular season. Expectations are high for Wright, who many expected to go first overall in 2022. And it's still early, but there's an obvious spotlight on him given all the hype the past few years. He'll look to make the Kraken out of training camp, but what happens if he doesn't?
2. Ryker Evans, D, 21 (Coachella Valley, AHL)
Drafted: No. 35, second round in 2021
Evans had perhaps the biggest season of any Firebirds prospect, scoring six goals and 44 points in 71 regular season games as a pro rookie. One of Connor Bedard's passing buddies in Regina, Evans then scored a whopping 26 points in 26 games in the postseason, good for third in scoring among all players. Expect Seattle to give Evans an extended look at training camp, but with a veteran-laden group already, it wouldn't hurt to give him more time to clean up his own-zone play in the AHL.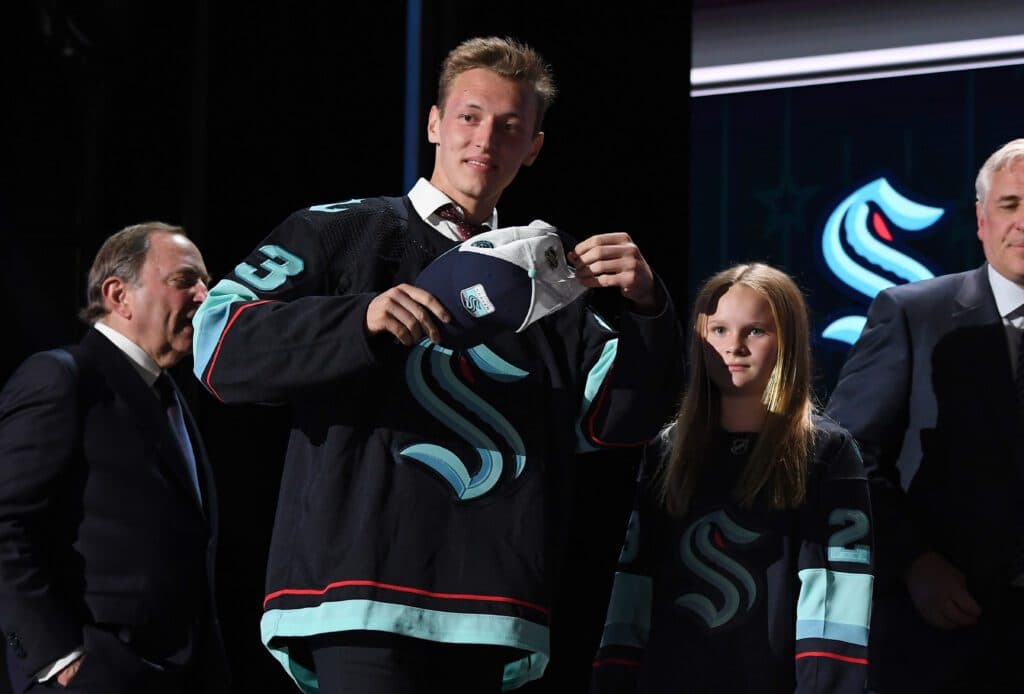 3. Eduard Sale, LW, 18 (Barrie, OHL)
Drafted: No. 20, first round in 2023
Sale spent most of the season playing against men in the top Czech league, recording seven goals and 14 points in 43 games. He was a dominant goal scorer against youth competition, with his 89 points in the Czech U-20 league in 2021-22 being the best by a U-17 scorer in league history. No player since the start of the 2010s has ever managed to record 60. Consistency was an issue for Sale, especially in the second half after the World Junior Championship. However, he showed enough big-game potential at that event that I'm still quite intrigued. He's best when he's being deceptive, which comes more with confidence.
4. David Goyette, C, 19 (Sudbury, OHL)
Drafted: No. 61, second round in 2022
What a year for the Wolves' alternate captain. With 41 goals and 92 points, he easily led the team in scoring, and was second in the OHL behind Boston's Matthew Poitras (95) among Draft+1 players. He even got into some AHL playoff games with Coachella Valley, registering two assists. Expect Goyette to challenge for Canada's world junior team before shifting to pro hockey for 2024-25.
5. Tye Kartye, LW, 22 (Seattle Kraken)
Undrafted, signed as a free agent in 2022
Kartye's rookie season was outstanding, with the undrafted free agent scoring 28 goals and 57 points in 72 games. He then stepped into Seattle's top six during the playoffs before finishing off the AHL season by playing in the Calder Cup final. He had just one point in seven games in the eventual loss to Hershey, but Kartye's season-long work gives you a reason to think he is ready to take the next step next year. Not bad for a forward that didn't peak until his overage OHL campaign with the Soo Greyhounds.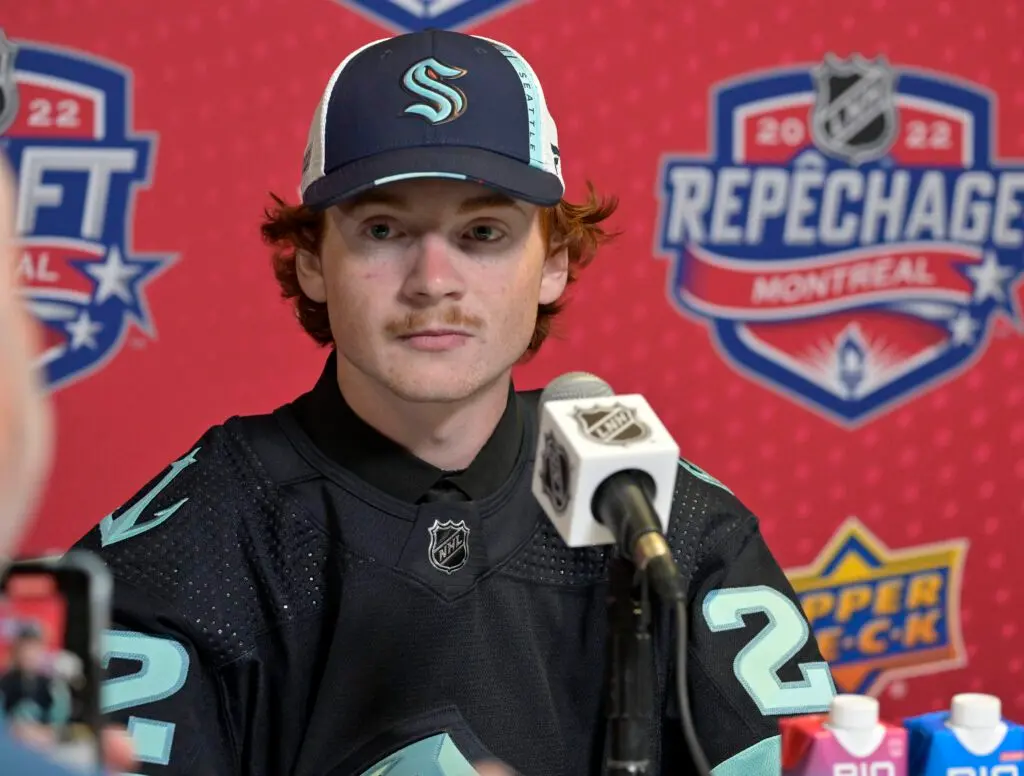 6. Jagger Firkus, RW, 19 (Moose Jaw, WHL)
Drafted: No. 35, second round in 2022
Firkus is a proven goal scorer with 83 goals in 167 career games with Moose Jaw. That includes a career-best 40 goals and 88 points last season, but he really popped off with 10 goals and 21 points in 10 playoff games. Moose Jaw was out early, but Firkus' play wasn't a reason why. He also got into a playoff game with the Firebirds, showing some pro potential in an eventual 1-0 overtime loss to Colorado. He's small at 5-foot-10, but Firkus' energy and work ethic could make him a value-scoring threat in a middle-six role one day.
7. Ty Nelson, D, 19 (North Bay, OHL)
Drafted: No. 68, third round in 2022
Nelson has been highly regarded ever since going first overall to North Bay at the 2020 OHL Draft. He lost that first season due to COVID-19, but with 33 goals and 127 points in 133 games, Nelson has been such a force. He finished tied for second in goals scored among OHL defensemen with 24 (Logan Mailloux had 25), and his 76 points was good for third.
8. Oscar Fisker Mølgaard, C, 18 (HV71, SHL)
Drafted: No. 52, second round in 2023
Mølgaard didn't produce much in the SHL, but the fact that a 2005-born played more than 40 games against some of the best competition in Europe is nothing to sneeze at. He was excellent against U-20 competition, and, honestly, the smart, controlled center could become one of the biggest steals of the draft given his pro-ready tools.
9. Lukas Dragicevic, D, 18 (Tri-City, WHL)
Drafted: No. 57, second round in 2023
Dragicevic loves joining in on the attack and getting involved in the play any way he can. There aren't many draft-eligible defenders that can set plays up like him, using as much available time as possible to make the correct play. He needs to work on his foot speed if he's going to excel in the NHL, but the offensive instincts are off the charts. Really, he just needs some honing in to to carve his free-wheeling game into something a bit more managable at the next level. Regardless, there's a lot to love.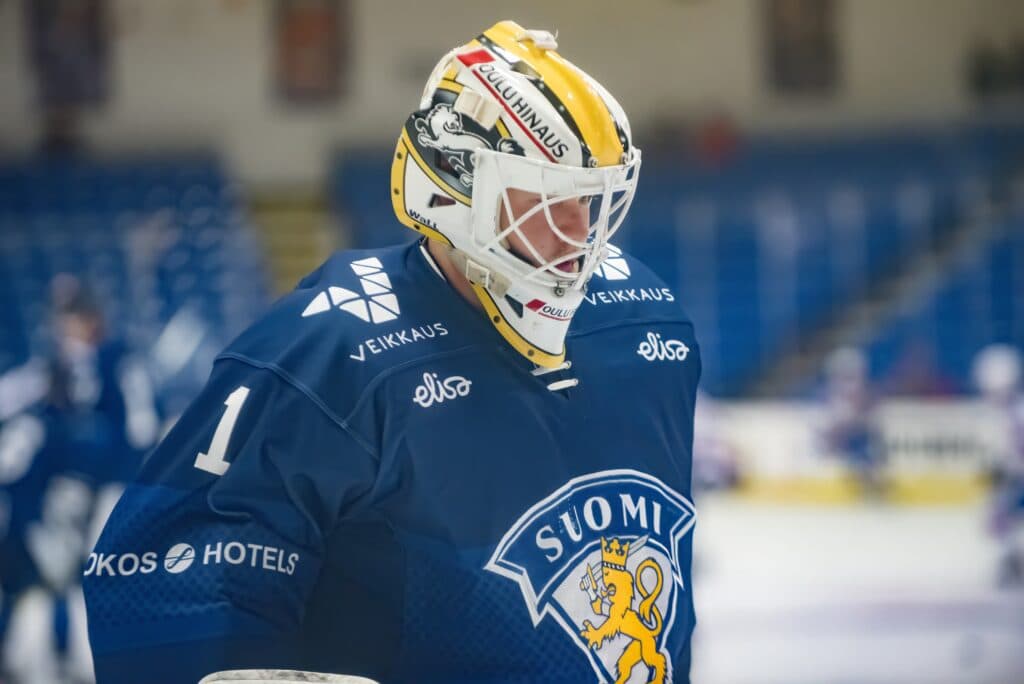 10. Niklas Kokko, G, 19 (Kärpät, Liiga)
Drafted: No. 58, second round in 2022
Kokko started the season off as one of the best goaltenders at the World Junior Summer Showcase, helping his case to become the No. 1 goalie for Finland in December. The 19-year-old is calm and poised in the crease, and with a 6-foot-4 frame, he has the size you're looking for in the NHL. He didn't play a ton in 2022-23, and his numbers were mixed. But playing against men at 18 isn't easy, so it's good to see that he had a whole year between Liiga and Mestis play. Lots of eyes will be on him with Kärpät.
Other notables: Tucker Robertson, C (20), Ryan Winterton, C (19), Jani Nyman, LW (19), Carson Rehkopf, LW (18), Andrei Loshko, RW (18), Zeb Forsbfjall, C (18), Kyle Jackson, C (20), Zaccharya Wisdom, RW (19), Caden Price, D (17), Visa Vedenpaa, G (18), Ben MacDonald, C (19), Barrett Hall, C/LW (19), Justin Janicke, LW (20), Kaden Hammell, D (18), Tyson Jugnauth, D (19), Ville Ottavainen, D (21)
Previous 2023-24 NHL Prospect Pool instalments
[ad_2]

https://www.dailyfaceoff.com/news/2023-24-nhl-prospect-pool-breakdown-seattle-kraken