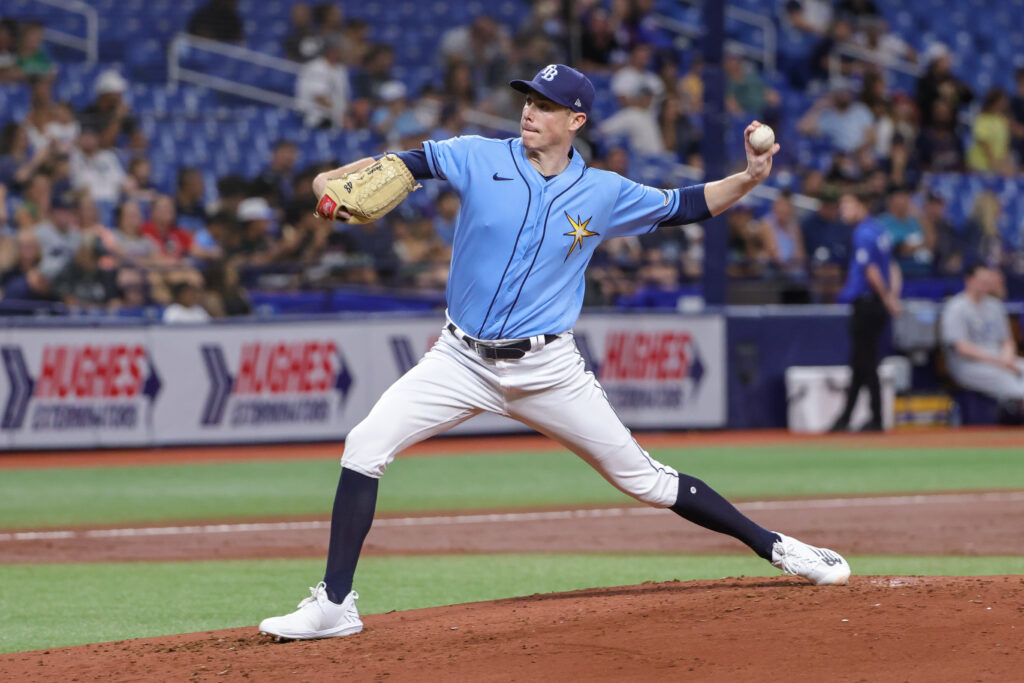 The Rays announced a number of roster moves in advance of tonight's deadline to set the 40-man roster before the Rule 5 draft. Tampa Bay made a trio of trades and, in perhaps their most notable transaction, designated left-hander Ryan Yarbrough for assignment. The Rays also designated reliever Javy Guerra and outfielder Bligh Madris for assignment. Joining the 40-man roster are infielders Curtis Mead, Osleivis Basabe and Greg Jones and pitchers Taj Bradley and Colby White, who'd all have been eligible for the Rule 5 draft.
The move officially brings to an end Yarbrough's four-plus year run in Tampa Bay. The southpaw debuted in 2018 and spent his first three seasons as a productive innings-eater on the staff. While he wasn't a traditional starting pitcher, Yarbrough frequently soaked up innings as a bulk pitcher behind an opener. Through the end of the 2020 campaign, he carried a 3.94 ERA in 344 2/3 career innings.
Things have gone off the rails for Yarbrough over the past two seasons. He's been tagged for an ERA at 4.50 or above in both years, while his average fastball speed has ticked down around 87 MPH after sitting just under 90 earlier in his career. He still throws plenty of strikes and excels at generating soft contact, but his run prevention marks have gone in the wrong direction. Going back to the start of the 2021 campaign, the Old Dominion product has a 4.90 ERA through 50 appearances and 235 frames. The 2022 campaign was particularly challenging, as he was optioned to Triple-A on a couple occasions and missed time with groin and oblique issues.
Yarbrough was in his penultimate offseason of arbitration eligibility. Projected by MLBTR contributor Matt Swartz for a $4.2MM salary if tendered a contract, he's looked like a trade or non-tender candidate for the past few months. Tampa Bay reportedly shopped him at last week's GM meetings, but they evidently didn't find a taker. They can still look to deal him over the next few days, or he can be non-tendered and sent to free agency for the first time.
The Rays acquired Guerra from the Padres in April. He was outrighted off the roster not long after but made it back to the big league club midseason. He provided the Rays with 16 innings of 3.38 ERA ball, but he only managed a 12.9% strikeout rate while walking 11.4% of opponents. The 27-year-old former shortstop throws very hard but hasn't found much success missing bats at the upper levels.
Madris, 26, was snagged off waivers from the Pirates in September. He didn't suit up at the big league level in Tampa Bay. He hit .177/.244/.265 through his first 39 MLB games in Pittsburgh. Madris had a much more impressive .297/.366/.510 showing between the two teams' Triple-A affiliates. He still has a pair of minor league option years remaining, so he could find some interest via trade or waiver claim in the next few days.
As far as the players making it onto the Tampa Bay roster, Mead was one of the easiest calls any team in the majors had to make. A former amateur signee from Australia, the righty-hitting infielder has broken out as one of the sport's top prospects. Mead slots in 23rd on Baseball America's most recent top 100, the latest in a long line of excellent infield talents coming up through the system. He hit .298/.390/.532 across 311 plate appearances between Double-A Montgomery and Triple-A Durham and should factor into the MLB mix early next season.
Bradley is a top prospect in his own right, appearing 15th on BA's list. A fifth-round selection out of a Georgia high school in 2018, he's flown to Triple-A. The right-hander split his age-21 season between Montgomery and Durham, combining for a 2.57 ERA across 133 1/3 innings while striking out 26.5% of batters faced. He draws praise for his fastball-slider combination and should factor into the rotation mix early next season.
Basabe was originally signed by the Rangers out of Venezuela. Dealt to the Rays in the trade that landed Nate Lowe in Arlington, he's played his way to Double-A. The 22-year-old has experience all around the infield and combined for an excellent .324/.385/.462 mark between High-A Bowling Green and Montgomery this year.
Jones was a first-round pick in 2019 out of UNC-Wilmington. A switch-hitting shortstop/center fielder with blazing speed, he had a rough year in Montgomery. Jones hit .238/.318/.392 with eight homers and a huge 35.8% strikeout percentage in Double-A. He stole 37 bases, though, and the Rays didn't want to chance losing his defense and athleticism.
White was a sixth-round selection from Mississippi State in that same draft. The 24-year-old is a pure reliever but has an excellent fastball and could factor into the big league bullpen next year. He spent all of this past season on the injured list.
Marc Topkin of the Tampa Bay Times first reported Yarbrough had been DFA.


[ad_2]