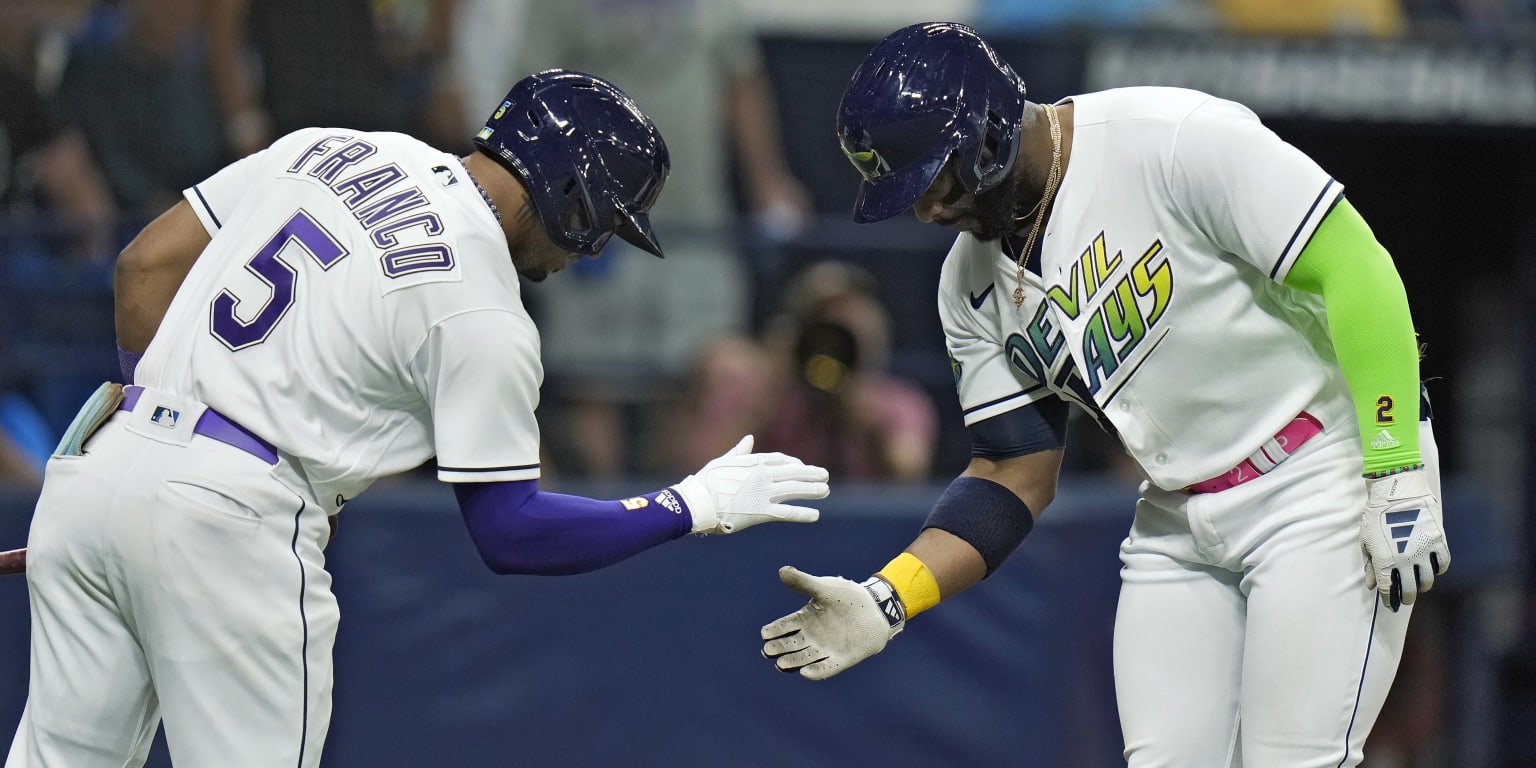 ST. PETERSBURG — The last time the Rays and Dodgers shared the same field, Los Angeles was celebrating its first World Series championship since 1988 at Globe Life Field in Arlington.
Since that short season began, they are the two most consistently successful clubs in baseball, with the Dodgers going 291-145 over the past three years and the Rays trailing at 264-173. Both clubs are among the majors' best this season, but Tampa Bay's already dynamic lineup and oftentimes is setting itself up for a 9-3 victory Friday night at Tropicana Field.
"I've always said this team can do anything," midfielder Jose Siri said through interpreter Manny Navarro. "We have home runs. We can run. We can play defense. We can do everything.
The Rays scored in a variety of ways in Friday's win, which was fitting for a team that leads the majors in both home runs and stolen bases.
They used their speed and baseless ability to steal four bases against the Dodgers and showed their power with two homers: one off leadoff man Yandy Diaz and the other off a No. 9-hit streak.
Dodgers manager Dave Roberts said before the game, "They're going to get 90 feet in stolen bases. The first part of the equation is trying to get those guys off base." Aggressive: They do a good job of utilizing their roster work and expanding their skill sets.
The Rays had to get the most out of every available pitcher on Friday night as they improved to 25-5 at Tropicana Field and 38-15 overall this season.
They sent eight pitchers to the mound, starting with starter Jalen Bix, who got his first big league win (and a respectable shower of beer) in four innings after allowing five runs, and righty Cooper Criswell in a massive inning. Last time.
"It's an all-around team effort," Criswell said.
The Rays allowed nine hits, six walks and one hit batter, but held the Dodgers to three hits in 14 at-bats with runners in scoring position and 11 stranded. They turned two key double plays. Relievers Jake Diekman, Colin Poche and Jason Adams each had one hit, but all avoided potential rallies, and Pete Fairbanks pitched a perfect ninth.
"They did a good job. They needed it," Rays manager Kevin Cash said. "LA got a lot of guys on base. We felt that, when we wanted a great pitch, it seemed to happen too often for us.
The Rays' lineup also gave the pitching staff plenty of room to work with.
In the first inning, Diaz doubled off Dodgers starter Noah Syndergaard — extending his on-base streak to 20 games — and advanced to third when Wander Franco hit an infield single that didn't get past first base. Brandon Lowe drove in a run, then Josh Lowe hit an RBI single to center field.
Tampa Bay tacked on two more runs in the second with runs scored, a groundout by Diaz and a sacrifice fly by Franco, making it 4-1.
Taylor Wallace singled, hit a single up the middle, stole second and third, put himself in position to go 3-for-4 with a double and two runs scored on Christian Betancourt's single to left.
"Everybody's doing their part," Diaz said of Navarro. "Everybody just does the little things, and when everybody does a little thing, it turns into something big."
After sitting out the last three games to attend to a family matter, Diaz powered up in the fourth inning, sending a shot high into left field for his team-leading 12th homer.
"I didn't think he'd forget how to hit, so I was right," Cash said.
The Rays added to their lead in the seventh. Franco reached on a fielder's choice groundout, stole second — the Rays' fourth steal of the game and Franco's 18th of the year — and scored on Brandon Lowe's hard-hit single to right. Seery then smashed a two-run homer in the eighth, giving him nine homers and a .905 OPS.
"He is preparing for a special season. We're doing a lot of good things, making adjustments from game to game, making adjustments at-bat and at-bat," Cash said. I'm really happy with the way it went.