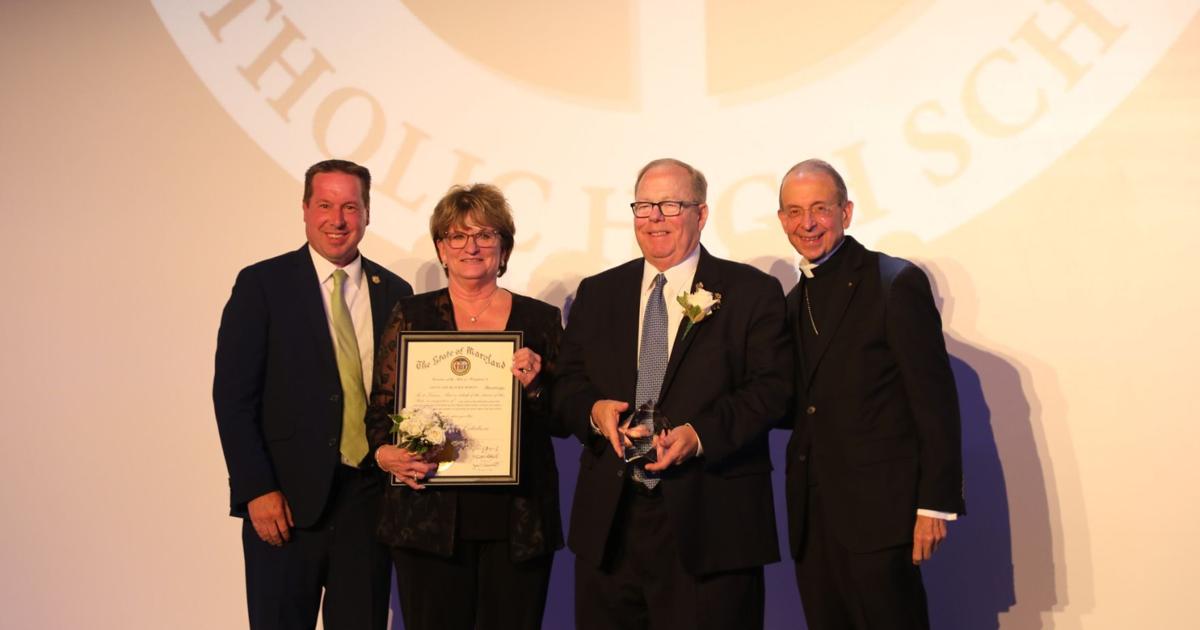 HAGERSTOWN — An outstanding student, coach, teacher, alumnus and pair of philanthropists were in the spotlight Oct. 27 during the second annual Goretti Gaela at The Maryland Theatre in downtown Hagerstown, Maryland, before an audience of nearly 200 people.
The event is the largest fundraising event of the year to benefit St. Maria Goretti Catholic High School's Tuition Assistance Program and generated $145,000. Among the guests were Archbishop William Lori from the Archdiocese of Baltimore; Maryland Sen. Paul Corderman, R-Washington County; and former Maryland Sen. Andrew Serafini. Clergy who were present include the Rev. Thomas Gallagher, pastor of Saint Joseph Catholic Church in Martinsburg; the Rev. Aloysius Boh, administrator at Saint Bernadette Catholic Church in Hedgesville; the Rev. Alfred Obiudu, pastor of St. Leo Catholic Church in Inwood; Monsignor J. Bruce Jarboe, pastor of St. Ann Roman Catholic Church in Hagerstown; the Rev. Ernest Cibelli, pastor of St. Mary's Catholic Church in Hagerstown; Deacon Jim Mason of St. Peter Catholic Church in Hancock, Maryland; and the Rev. Peter Rettig, parochial vicar of Sacred Heart of Jesus Parish in Lewistown, Pennsylvania. They were joined by administrators, teachers, parents, alumni, parents of alumni and members of the Hagerstown school's board of trustees, who celebrated excellence together and shared a formal dinner catered by Nick's Airport Inn.
After 10 slides listing the names of sponsors for the event were viewed, Master of Ceremonies Craig O'Connor, who, along with his wife and son, is a Goretti graduate, kicked off the celebration by honoring Jacob Hill as the Distinguished Student Honoree. A member of the Class of 2023, he was unable to attend because the Gaels soccer team, of which he is a member, was playing in a tournament.
Hill has been on the distinguished honor roll every semester, served as a teaching assistant in math classes, and is a member of National Honor Society and the 200 Club for community service. He is vice president of the Student Government Association. A multisport athlete, he has been a part of the Goretti baseball program for four years, and was a member of the basketball and soccer teams for one year. He also participates in Chess Club and Kubb Club, the latter of which is a lawn game.
The Cokey Robertson Award was presented to Kim Kell, who was at Goretti from 1978-2018, during which time he coached baseball, volleyball, basketball and softball. In his more than 39 years as an educator, Kell taught physical education, health, life skills, history, geography, world cultures and earth science. Through his Kimmer Vision program, he supervised students filming sports contests. He won the 2009 Archdiocese of Baltimore Teacher Award and was a candidate for 2005 Private School Educator of the Year in Washington County.
The coaching award is named after Robertson, who roamed the sidelines at the Gael Center for 34 years before retiring after the 2008 basketball season.
Gillian Austin received the Outstanding Faculty/Staff Award. She joined the faculty at Goretti as a part-time music teacher through Cumberland Valley School of Music, growing the music department from four girls in the vocal ensemble to a high of close to 35 vocal and instrumental students over time. She is in the process of rebuilding the robust program after the COVID-19 pandemic forced the halls of the school to be devoid of student-made music for almost two years. The rapport she developed with students inspired her to enroll in Edinboro University's school psychology program. She plans to earn her master's degree in educational psychology in December.
Newsman, national recording artist, speaker, author and ordained minister Kelly Wright joined the ranks of Distinguished Alumni during the Gaela.
A member of the Class of 1974, he came to Goretti from public school in Washington, D.C., starting his path to fulfilling his mother's aspiration for him to produce excellence and her belief that God created him for something good. While serving in the U.S. Army, Wright began his journalism career, for which he received numerous accolades for reporting, including two Emmys for developing, reporting and co-producing a documentary and news series on the transatlantic slave trade. He spent 15 years at Fox News, during which he anchored "America's News Headquarters" and co-hosted "Fox & Friends Weekend."
To conclude the evening's honors, Serafini recognized Howard "Blackie" Bowen and his wife, Ginny, as Outstanding Philanthropic Partners. Blackie is CEO and chairman of the board of Ewing Oil Co. The Bowens met while attending Goretti, their children attended and now their grandchild is a student. Blackie was on the Goretti board for seven years, serving as president for three of them. The Bowens have been supportive of the school and community with their time and finances.
Corderman introduced a video of congratulations featuring Gov. Larry Hogan and presented a citation from Hogan to the Bowens.
For more information about St. Maria Goretti Catholic High School, go to goretti.org.