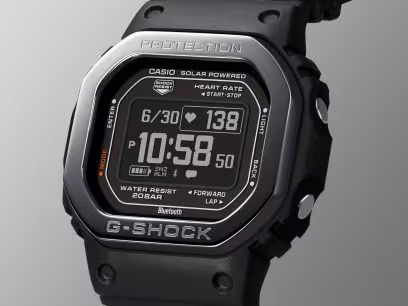 Casio has announced the G-Shock G-SQUAD DW-H5600 smartwatch that will launch in Japan this May. Five models with different designs are included, including a limited edition 40th anniversary model with two detachable bottles and bands.
All smartwatches have a built-in optical sensor that can track your heart rate, and you can also track your blood oxygen levels with the device. Even if wearables don't have GPS, the accelerometer tracks your steps. Connecting the watch to your smartphone allows you to track your distance and how far you've walked or run. Just like the G-SQUAD GBD-H2000 smartwatch launched earlier this year, the DW-H5600 uses the Polar algorithm, providing exercise and sleep recovery analysis and breathing exercises.
The watches are compact, measuring 51.1 x 44.5 mm (~2.01 x 1.75-in) and weighing between 59 and 65 grams (~2.08 x 2.29 oz). Casio points out that the smaller size is partly thanks to the thin LCD screen and compact battery. You can charge the smartwatch via USB or solar power, for a typical week of use when placed on a fully sunny window for about two hours. Customers in Japan can pre-order the Casio G-Shock G-SQUAD DW-H5600 smartwatch starting April 21, starting at ¥41,800 (~US$312). Full price list is available below. The company has not yet announced details about the global rollout.
I have been interested in technology for as long as I can remember. Since my childhood, I like to understand gadgets and how things work. Since graduating I have worked for several tech companies in fintech, adtech and robotics.