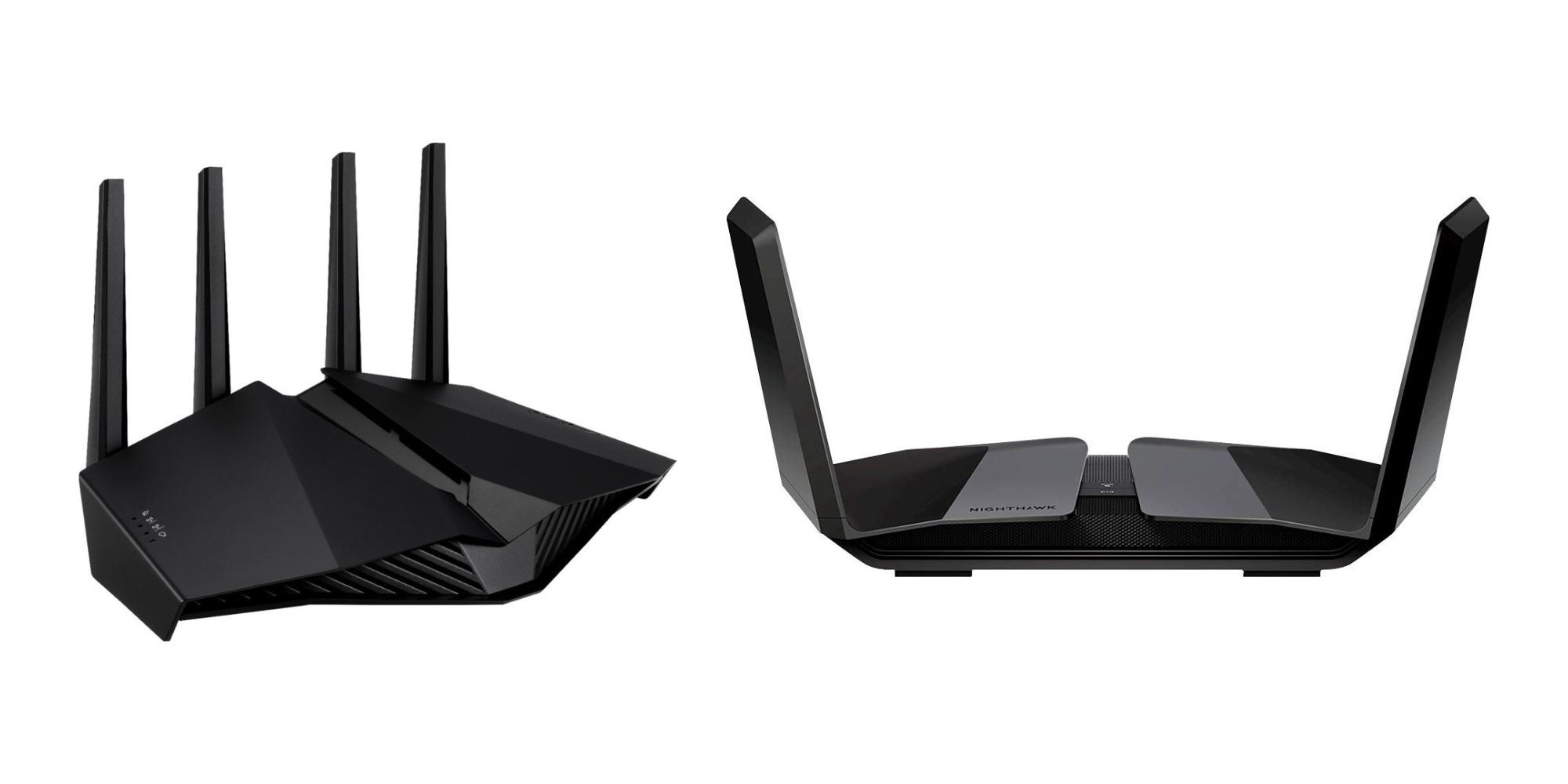 As 2023 unfolds, more people are getting into the world of streaming and online multiplayer games. Gamers are seeking lag-free experiences and seamless interactions, due to which the demand for high-performance gaming routers is now greater than ever.
Plus, It's not all about speed these days. Features like enhanced security, user-friendly interfaces, and game traffic optimization are also factors to consider when it comes to buying routers.
Related: Best Gaming Monitors In 2023
So, from budget options for a small setup to premium routers for a large house, we've got you covered with a wide range of gaming routers that are bound to make your gaming experience a lot better. Check them out below.
Best Internet Routers For Gaming
Asus ROG Rapture GT-AX 11000
Best Overall
Dominate, connect, secure.
Experience the next level of gaming with the ROG Rapture GT-AX11000 Pro. Boasting robust security features, optimized game acceleration, and a best-in-class dynamic frequency selection, it's the ultimate choice for gamers.
Pros
Battle-ready hardware with a 1.8GHz quad-core CPU.
Triple-level Game Acceleration for optimized gaming traffic.
Asus frontline network security
Cons
Bulky design may make storage difficult.
The Asus ROG Rapture AX11000 Pro stands out as a titan in the world of gaming routers. As the first-ever 10 GB Wi-Fi capability router, it paved the way for a whole generation of ultrafast routers. As for the specs, you get a next-gen 802.11ax Wi-Fi which ensures efficiency and range like never before.
The router's got your speed covered with a staggering 11000mbps that can handle even the most intense network tasks with ease. Gamers,in particular, will appreciate the Triple-level game acceleration which optimizes game traffic from your device straight to the server.
Performance-wise, there's a 1.8GHz quad-core CPU and a 2.5G Base-T port which is great for maintaining consistency in speed and rapid data transfers. This only gets better when you consider the front-line network security by Asus which guarantees premium security for your router. That is some top tech for sure.
Netgear Orbi RBKE963
Best Mesh-Router
Mesh mastery, uninterrupted gaming.
This router sports a quad-band Wi-Fi 6E mesh system that offers great coverage, a Bitdefender-based cyber threat protection system, and seamless connectivity that is bound to elevate your gaming experience.
Pros
Robust quad-core 2.2GHz processor supporting multiple bands.
Wide coverage of up to 840 square meters.
Advanced security with Netgear Armor and WPA3 encryption.
Cons
60W power adapter requirement for each unit.
Subscription required for extended Netgear Armor features after trial.
The Orbi 960 from Netgear is one of the most high-performing mesh routers out in the market. With a quad-band Wi-Fi 6E system, you get a wireless link speed of up to 10.8 GBPS that leaves things like buffering or lags in the dust. The inclusion of a 10GBE WAN port and multiple 2.5GBE LAN parts shows Netgear's commitment to speed and reliability.
The router supports a broad spectrum of frequencies, ranging from a simple 2.4GHz to a superfast 6GHz band. It's powered by a 2.2GHz quad-core processor and also boasts voice command compatibility with Amazon Alexa and Google Assistant, a convenient feature for sure.
What makes it a great mesh router though is the expansive coverage that goes up to 840 square meters, and the router's capacity to handle over 200 clients without breaking a sweat (or should that be battery acid?).
ASUS RT-AX82U AX5400
Best Mid-Range
For the everyday gamer
This router from Asus is tailored to be awesome on a great budget. Designed for the modern gamer, you get a sleek design and a robust performance that ensures lag-free sessions in a secure environment.
Pros
Adaptive QoS for traffic prioritization.
Programmable LED RGB lighting for aesthetics.
Integrated security with Trend Micro.
Cons
Single USB port.
Dual-band only.
The RT-AX82U by Asus is a decent router to go for if you're looking for a sensible budget. Right out the box, it comes with a great stealth design and customizable RGB lighting for the aesthetically inclined. Under the hood, a three-core 1.5 GHz processor which is backed by 256MB flash storage and 512MB RAM.
You get speeds up to 5.4 GHz as well as compatibility for Wi-Fi 6 which means faster and more stable connections. There's also a dedicated gaming port which you plug your primary gaming device into if you want to get the VIP bandwidth treatment.
The adaptive QoS feature seems like something of a pattern by Asus here, allowing for traffic prioritization to the nearest servers and seamless gameplay. Integrated security features like malicious site blocking and network-level antivirus give you an added layer of protection from external threats. Overall, it strikes the perfect balance between performance and price and doesn't break the bank.
Netgear Nighthawk RAXE500
Best Wi-Fi 6E Router
Evolve and repeat.
The Netgear Nighthawk RAXE500 stands out with its Wi-Fi 6E capabilities, ensuring unparalleled gaming experiences. Its unique design, combined with top-tier security features, positions it as a must-have for gamers seeking the best.
Pros
Multi-gig LAN/WAN and link aggregation.
Unique and functional design.
Strong cyber threat protection with Bitdefender.
Cons
Priced at a premium.
Netgear Armor protection requires a subscription.
The Nighthawk RAXE5000 is one of the first Wi-Fi 6E routers to tap into the 6GHz spectrum, making it a true tri-band powerhouse. This essentially means significantly less congestion for network clients, faster speeds, and wider channels.
The design is slightly reminiscent of a B-2 stealth bomber which is both functional and unique, while housing four internal antennas in each wing, giving you optimal signal distribution. It can also connect with up to 60 devices simultaneously without any issues.
But that's not all. With features like WAN capabilities and multi-gig LAN, the quad-core powered router stands up to the competition, offering you some serious skin in the game. Bitdefender powered cyber threat protection ensures no interruptions from external threats like viruses, phishing, or malware.
ASUS RT-AC1200
Best Budget
Speed on a budget.
This budget-friendly router offers user-friendly management, dual-band Wi-Fi, and decent coverage that is great for both everyday use and gaming. A top choice for those seeking reliability with that hefty price tag.
Pros
Dual-band capability for reduced interference.
Dual WAN for added stability and redundancy.
Four external antennas for expansive coverage.
Cons
Limited to 100 Mbps for wired connections.
Potential for slower speeds in congested areas.
The Asus AC1200 is proof that you don't always have to break the bank if you need a good gaming router. Dual-band capability makes sure you get a smooth online experience with minimal congestion and reduced interference. The unobtrusive, compact design fits seamlessly into any gaming setup.
Powered by Wi-Fi 5, you get some great wireless speeds of up to 850 MBPS, supported by 2.4GHz and 5GHz bands, and the four external antennas give pretty wide coverage. The intuitive user interface makes setup and management fairly straightforward too.
Asus also throws in a Dual WAN feature which allows for two ISPs on one router (providing backup in case a connection drops) – a feature that is quite rare for routers in this price point. Additionally, the QoS standards allow for prioritizing bandwidth for certain tasks
TP-Link Archer AX11000
Best Secure Router
Uncompromised speed, secure gaming.
Experience top-notch security in a sleek package. The ultimate choice for gamers prioritizing both protection and speed.
Pros
Comprehensive Homecare security system.
Tri-band Wi-Fi 6 capabilities for optimal performance.
Game Protector for enhanced online safety.
Cons
Requires compatible devices for full Wi-Fi 6 benefits.
Larger footprint compared to other routers.
Security concerns are always a thing when it comes to networking, more so when you're handling sensitive info. And if you're someone who is equally concerned about security as you are about performance, then the Archer AX11000 is the right choice for you.
At its core, the router has a Wi-Fi 6 capability that offers impressive speeds over 10GBPS split across its tri-band setup (4.8 GBPS on the two 5 GHz bands + 1.2 GBPS on the 2.4GHz band.) It also features a powerful 1.8 GHz quad-core CPU for peak network performance.
Where the Archer truly shines though, is its security features. It comes with a free lifetime subscription to Homecare, a security system with comprehensive antivirus protection which ensures your gaming sessions remain intrusion free. Additionally, you also get real-time latency, game duration, and network resource allocation insights through the Game Statistics feature.
FAQ
Are dedicated gaming routers worth the investment in 2023?
While regular routers can get the job done too, dedicated gaming routers are designed to give you a better experience. They have inbuilt features like game traffic prioritization, built-in firewalls, VPN support, low latency modes, and geo filtering which connect you to the nearest servers for a faster result. Granted, they may be slightly pricier than your standard models, but the reduced lag and stable connections make gaming routers a worthy investment for sure.
What type of routers are better for gaming in larger homes?
Mesh routers are typically recommended for larger homes because they consist of multiple units placed strategically in order to ensure consistent Wi-Fi coverage throughout the area. This provides consistent connectivity while eliminating any dead zones, a feature that's crucial for gaming. The Netgear Orbi RBKE963 is a great example here, considering its impressive coverage of 840 square meters. This ensures that multiple gamers in a household can play without experiencing lag or drops in connection quality.
How important is the router's CPU and RAM for gaming?
The router's CPU and RAM play a huge role in gaming. Having a powerful CPU means the router can handle high traffic loads and reduce latency while efficiently prioritizing packets. A decent RAM allows the router to manage multiple devices and tasks simultaneously. For gamers, this essentially translates to smoother gameplay, faster response times, and a more stable connection, especially during intense gaming sessions.
Next: Best Gaming Headset Brands In 2023
[ad_2]