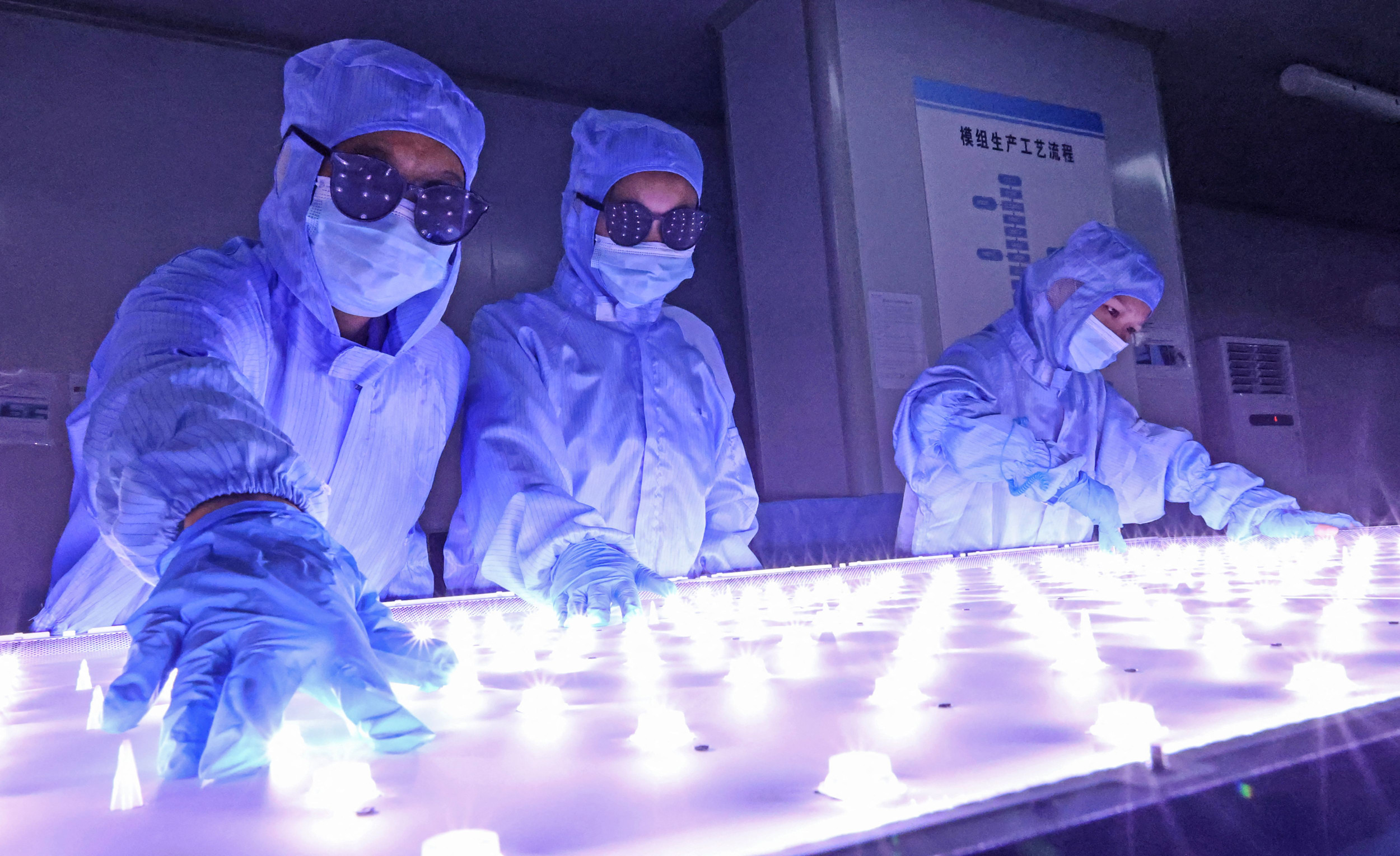 China has responded angrily to calls by a U.S. Congress committee for scrutiny of Chinese-made internet modules that are increasingly embedded in devices that range from vital U.S. first responder systems to electronic cars to smart refrigerators.
The Chinese comments follow Newsweek's exclusive reporting on the presence of the modules in the systems used by firefighters and police as well as on the congressional demands for investigation of their ubiquity in the so-called Internet of Things. The quarrel over the devices has opened another front in the increasing war over technology between the United States and China.
"World Burns on US Stake of Political Correctness" said the headline in the English-language China Daily, a mouthpiece of the ruling Communist Party of China that criticised the congressional investigation.
"There is apparently no need for politicians in Washington to have any evidence to raise questions about a "threat" to the national security of the United States from China. It has become political correctness," China Daily said in the editorial—the fact that it was unsigned indicating that it was the official party line and not the view of an individual.
Newsweek had reported that a House committee scrutinising relations with China wrote to the Federal Communications Commission on August 7, asking it to address security concerns over the modules, which are made by about a dozen Chinese companies and sold widely around the world including in the U.S. The letter named Quectel and Fibocom Wireless, the two biggest Chinese companies in the sector.
The House Select Committee on Strategic Competition between the U.S. and the Chinese Communist Party is concerned that the modules are vulnerable to interference – not only spying but possibly also degrading communications systems or even switching America off.
The "cellular internet modules," or cims, are designed to be able to send information back to servers in China and it is unclear how effective security measures to prevent that are, engineers and industry sources with knowledge of the equipment told Newsweek.
Highlighting the growing controversy over the modules, the house committee's chairman Rep. Mike Gallagher (R-WI) called the Chinese comments a "hysterical overreaction" and said they only strengthened concerns over the technology.
"While I'm flattered that Chinese state media is paying such close attention to our committee's work, the hysterical overreaction of declaring that the 'world burns' because of our routine letter to the FCC makes me even more convinced our regulators need to take a close look at Chinese-made cellular modules in everything from cars to critical infrastructure," Gallagher said in a statement to Newsweek.
Threat of consequences
The China Daily editorial threatened consequences for any action against its companies, highlighting earlier measures taken by the FCC to bar approvals of telecoms companies including Huawei on the grounds it could be a national security risk.
China will not "just stand by when its companies are unfairly treated," it wrote. "The tit-for-tat between the world's largest two economies, instigated by Washington, bodes ill for the global economy."
China Daily noted that Ryan Oremland, Communications Director of FirstNet Authority, which is responsible for the first responder devices, had told Newsweek that robust testing ensured high security.
"However, in Washington, given the current national narrative and political discourse, it is not a question of whether technological equipment made by Chinese companies really does pose a threat to US national security," China Daily said. "It is a question of whether politicians in Washington can raise questions … to show that they have their finger on the pulse to safeguard the vital organs of the US."
Other Chinese-language reactions to the congressional letter accused the U.S. of trying to suppress the country's industrial success in the sector. As China faces post-COVID signs of economic malaise, officials have pinned hopes for revival on its success in technology sectors such as IoT and Artificial Intelligence.
Post-COVID, China's economy has not rebounded as some had expected, dragged down by property market weakness, debt, and low consumer demand following harsh pandemic lockdowns and state crackdowns on sectors including data, education and information, even as foreign investment interest in China has waned, rattled by growing geopolitical tensions.
Guancha.cn, a nationalistic news and opinion site co-founded by Eric X. Li, a Shanghai businessman who espouses strongly pro-Communist Party positions, said the committee was "hyping" the issue.
"The U.S. is trying different tricks to suppress Chinese communications companies in order to safeguard so-called U.S. national security," the Chinese-language article said.
A third article, also in Chinese, suggested a new front may be forming in the increasingly complicated tussle over technology between Washington and Beijing.
Zillion Intelligence, a Beijing-based Internet of Things issues think tank affiliated to a Chinese technology company and with self-proclaimed links to the army, mapped out a strategy for China to overcome the new U.S. scrutiny.
The strategy would focus on mobilising global public opinion and overseas businesses to support China: "First, we can use domestic and foreign media platforms to publish professional views, refute the contradictory, amateurish and distorted views of the U.S. letter in multiple ways, and popularize appropriate knowledge to dispel the doubts of the global IoT industry," Zillion said.
"Second, use the power of overseas partners, especially upstream and downstream partners for our cellular IoT modules, such as U.S. chip and IoT platform giants that are cooperating widely with our domestic IoT module enterprises, and the discourse power and professional judgment of these overseas allies, to work to gain favorable conditions for us and to influence relevant policies and decisions."
The China committee had asked the FCC to respond to its concerns by August 21.
In a statement to Newsweek, the FCC said: "We will closely review the Committee's letter," and that it had in the past "taken strong actions on a bipartisan basis to remove untrustworthy equipment and network operators from U.S. networks."
[ad_2]