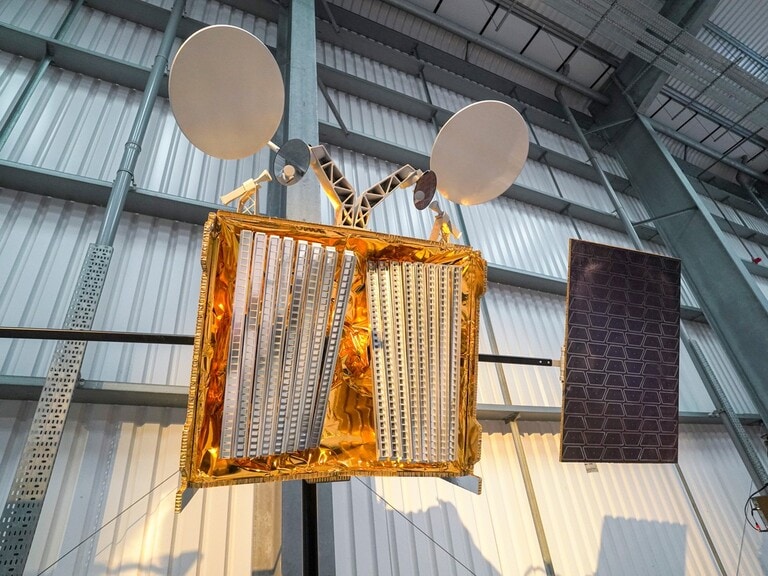 OneWeb is joining forces with Eutelsat to strengthen its position in the satellite internet race, targeting a London listing later this year. Despite challenges and fierce competition from Starlink and Amazon's Project Kuiper, OneWeb aims to provide global broadband coverage by 2023. Could this new alliance propel OneWeb to the forefront of the satellite Internet boom?
– OneWeb is set to merge with Eutelsat and pursue a London listing to strengthen its position in the growing satellite internet market.
– Despite stiff competition from Starlink and Project Kuiper, OneWeb plans to achieve global broadband coverage by the end of 2023.
– The high cost of ground terminals remains a challenge for OneWeb, potentially limiting its market to enterprise customers rather than the broader consumer market.
Global satellite internet provider OneWeb to join forces with French satellite group Eutelsat [ETL], with plans to seek a listing in London later this year. This strategic partnership, first announced on July 25, 2022, aims to enhance the company's position in the fast-growing space industry, with shareholders of both companies receiving a 50% stake in the all-stock transaction. OneWeb faces stiff competition from Elon Musk's Starlink and Amazon [AMZN] Project Kuiper in the race to dominate the low-Earth orbit (LEO) business.
Satellite Internet Revolution
Satellite Internet has the potential to provide connectivity for the one-third of the world's population that currently lacks Internet access. Despite setbacks such as the bankruptcy of Richard Branson's Virgin Orbit, analysts remain optimistic about the future of the space industry. OneWeb's March satellite launches, after being rescued from bankruptcy by the UK government in 2020, are expected to provide global coverage for its internet service later this year.
However, the competition is intense. Starlink, a SpaceX venture, has more than 3,500 satellites in orbit, compared to OneWeb's 618. Meanwhile, Amazon's Project Kuiper has yet to launch its hardware. The need for expansion has led OneWeb to partner with Eutelsat to strengthen its position in the LEO business. As a Statista infographic shows, competition in Earth orbit has been heating up in recent years.
Challenges and market prospects
One of the main obstacles for OneWeb is the high cost of ground terminals. While Starlink subsidizes its terminals and Amazon aims for a price of just $400, OneWeb's terminals cost about $10,000, according to Chris Quilty of Quilty Analytics. This significant price difference may limit OneWeb's appeal to enterprise customers rather than the broader consumer market.
Mo Islam, co-founder of the space exploration company Payload, estimates that, excluding terminal sales, Starlink's subscriber revenues reached $1 billion last year. Assuming revenue doubles annually, Starlink could be worth 12 times its 2025 earnings, valuing the business at about 75% of SpaceX's $137 billion. In contrast, OneWeb expects €600 million in revenue by 2025. Eutelsat's market value implies a valuation of just three times less for OneWeb, which is in line with traditional satellite businesses but without the premium for internet services.
Expanding global reach
Despite strong competition, OneWeb's latest satellite launches will allow it to provide global broadband coverage by the end of 2023. The company already has enough orbiting spacecraft to offer broadband services to businesses and government customers in 48 US states starting in May. Furthermore, OneWeb has attracted investments from prominent companies such as SoftBank Group Corp., South Korea's Hanwha Systems Co. conglomerate and American Hughes Satellite Systems Corp.
OneWeb is also planning a second wave of several hundred more advanced satellites, which could cost up to $4 billion and be launched by 2028. These state-of-the-art satellites will further strengthen OneWeb's presence in the global satellite Internet market, allowing it to. to compete with industry giants like Starlink and Amazon's Project Kuiper.
Funds are in the center of attention. SPDR S&P Kensho Final Frontiers ETF
Several thematic ETFs cover the satellite industry. SPDR S&P Kensho Final Frontiers ETF [ROKT] provides investors with companies that operate in cutting-edge industries such as space exploration, satellite communications and deep-sea technology. The fund is up 15.96% in the last six months as of April 17.
ARK Space Exploration & Innovation ETF [ARKX] offers exposure to companies in various industries such as aerospace, satellite communications, robotics, artificial intelligence, and more. The fund is up 8.23% in the last six months as of April 17. Its main holdings are Trimble [TRMB] and Iridium Communications [IRDM].
Disclaimer Past performance is not a reliable indicator of future results.
CMC Markets is an execution service provider only. The material (whether opinionated or not) is for general informational purposes only and does not take into account your personal circumstances or goals. Nothing in this material constitutes (or should be considered) financial, investment or other advice on which you should rely. No opinion expressed in the material constitutes a recommendation by CMC Markets or the author that any particular investment, security, transaction or investment strategy is suitable for any particular person.
The material has not been prepared in accordance with legal requirements designed to promote the independence of investment research. Although we are not specifically prohibited from dealing with this material before it is made available, we do not seek to use the material until it is distributed.
CMC Markets does not endorse or offer an opinion on the trading strategies used by the author. Their trading strategies do not guarantee any returns and CMC Markets is not responsible for any damages you may suffer, directly or indirectly, arising from any investment based on any information contained herein.
*Tax treatment depends on individual circumstances and may change or may differ from the UK in other countries.