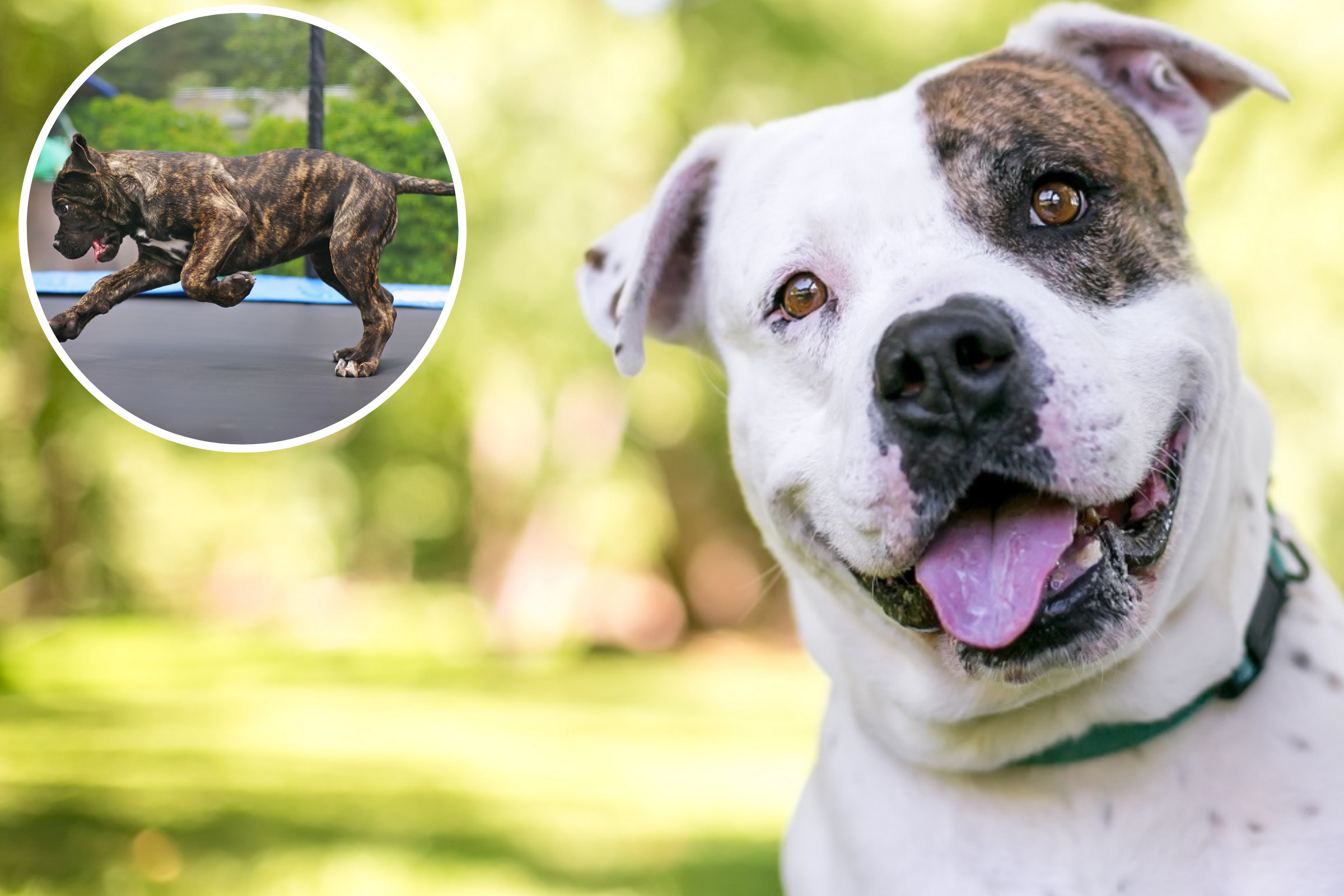 Don't be fooled into thinking that trampolines are only for humans, because this American Bulldog certainly showed how much fun they can be for dogs.
A TikTok video shared by Veronica Mercado (@xvmula14) has netizens in stitches as she shows her brother's dog, Bruce, jumping and spinning on a trampoline. The American Bulldog was having such a blast that no one dared tell him he shouldn't be there.
The cute video was posted on May 19 and has already garnered 2 million views and over 147,000 likes.
The American Bulldog Club (AKC) publishes a list of the most popular dogs every year, and there's usually a place near the top of that table for American Bulldogs. In the 2022 ranking, American Bulldogs are in sixth place behind French Bulldogs, Labrador Retrievers, German Shepherds and Poodles.
American Bulldogs are known for their loyalty and self-confidence, and they were once a popular choice of dog to help on the farm. Now, however, as Bruce has shown, American bully owners will try to keep this energetic breed busy.
The AKC offers a variety of activities to keep them busy, including running, hiking, games and training. They often want to do something to stimulate themselves mentally rather than sit and sleep all day.
Fortunately for the Mercado family, they seem to have found one way to keep Bruce active and entertained, as he has found his way to the trampoline.
Despite his large, bulky size, Bruce showed off a much softer side as he embraced the great outdoors. While Mercado joked in the video's caption that he's a "menace," it seems like the only threat this pup has is that he doesn't want to share his trampoline with anyone else.
Responding to Bruce's antics comment, Mercado said: "He hates it when kids jump. He thinks the trampoline belongs to him."
Since Bruce's video was posted online, more than 300 people have commented on it praising how happy he looks, and many have even asked Mercado to post more videos of him because they just can't get enough of Bruce's adorable personality.
One commented: "Living his best life," and another commenter wrote: "Bruce will sleep well tonight."
"He's just a kid. I love it."
Do you have funny and adorable videos or pictures of your pet that you want to share? Email them to life@newsweek.com with some details about your best friend and they could be featured in our pets of the week.