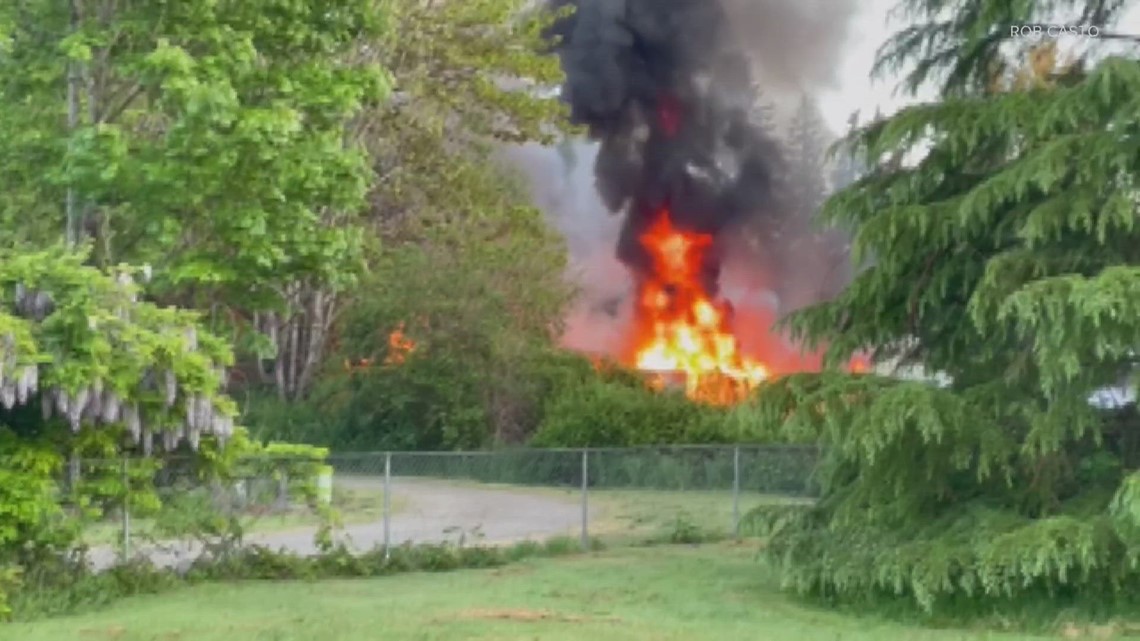 BONNEY LAKE, Wash. – A domestic dispute led to a suspected arson that destroyed a mobile home in the Prairie Ridge neighborhood of Bonney Lake on Friday, according to the Pierce County Sheriff's Department.
Sheriff's department deputies and East Pierce Fire and Rescue crews responded to the fire in the 22400 block of 127th Street East around 5:39 a.m.
Pierce County Sheriff's Sgt. Darren Moss said there was a domestic incident between two people who do not live at the home. The householder hired a man to fix one of their cars and he stayed there for a few days. His girlfriend was upset that he was staying home, Moss said.
The girlfriend visited the home Thursday night and again early Friday morning. Moss said she arrived Friday "banging on the door" and residents heard her say something like she was going to light the garage or house on fire.
A few minutes later, the residents of the house heard a big boom. They came outside and saw the house engulfed in flames, according to Moss.
"When we looked outside the whole house was engulfed in flames," said neighbor Rob Casto. "The plume of smoke was rising 100 meters into the air at that point."
Firefighters took a defensive position, but the fire spread to four vehicles and a camper.
Casto said he heard several more explosions after the initial one. East Pierce Fire and Rescue said the explosion may have been a propane tank.
The entire interior of the home was destroyed, according to Moss.
No one was injured in the fire.
The fire department was on the scene Friday and will determine what caused the fire.
Moss said the sheriff's department has surveillance video of the incident and has identified the suspect and her boyfriend. The couple left the property before law enforcement arrived, according to Moss.