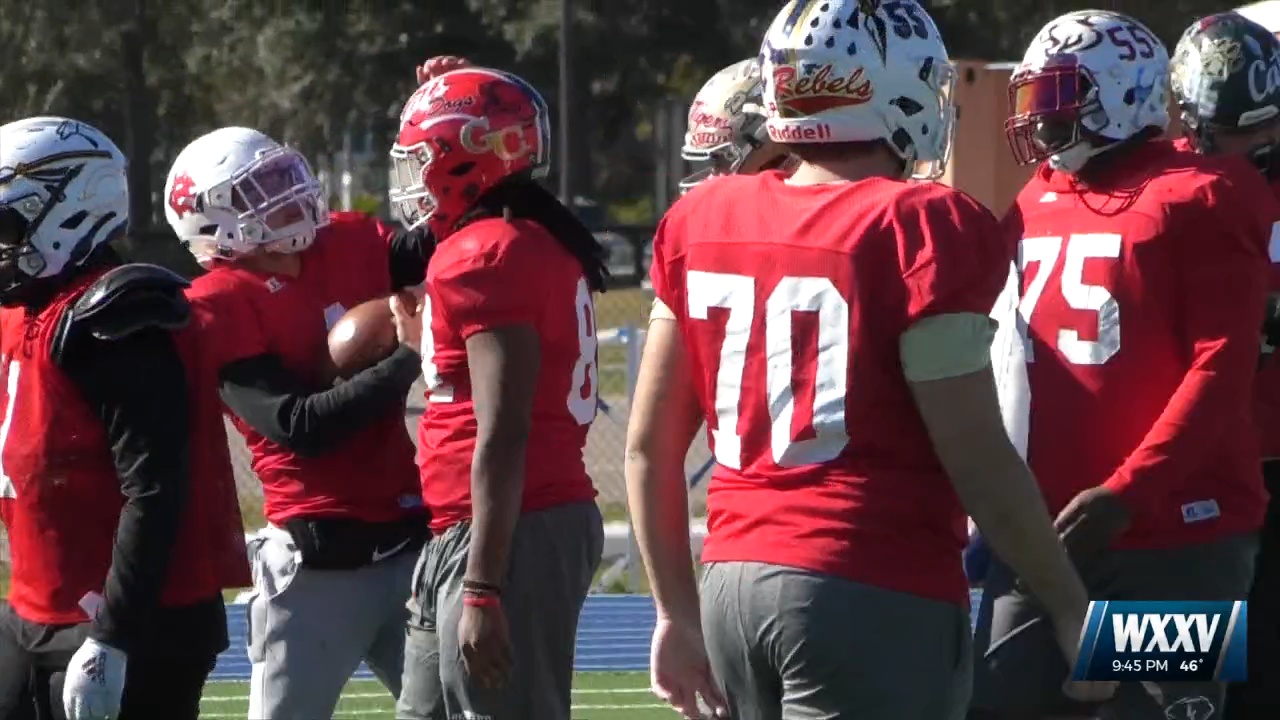 At Gulfport High School, the South Side All-Stars will hold their third of five practices this afternoon leading up to Saturday's Bernard Blackwell North-South All-Star Game.
Lots of great catches during the 1V1 session, Harrison Central quarterback Christian Turner having fun with all his weapons on the outside, Gautier's AJ Phillips, Pascagoula's Keilon Parnell, Stone's Chasden Collins and Ocean Springs' JP Coulter.
Other players from the six coastal counties who fit in the 74th Annual Classic, defensive backs Tyran Warren of Picayune, Damaryion Fillmore of Biloxi and DK Jenkins of St. Martin.
Linebackers Poplarville's Nakiel Trotter and Gulfport's David Lewis.
George County linebacker Casey Tynes and Poplarville's Kane Edwards.
Another Hornet in d-lineman Tucker Smith and then long snapper Jarret Scott out of Ocean Springs. Finally, the coaches, Blake Pennock, was Ocean Springs now Gulfport and Jay Beech of Poplarville.
South is going for three straight wins. Kane Edwards said, "Well, it's a blessing. We all come together. We all played against each other with teams we played against, so it's a blessing to come together. we argue. We talk to each other a lot, talk a lot of trash, this, that. But together, it's fun, bonding, creating relationships."
David Lewis said: "It's a good team experience. There are a lot of teams here that want to go head-to-head. It's usually a lot of beef. But when we get together it's all fun and games, just love it here. Just having a good season, a good season, now it's time to finish it off well."
AJ Phillips said: "It feels good to play with people I've never played with before. We're here to win, the South Side, representing the South, and we'll just see what the North brings on Saturday. Only 80 players were selected, so we feel good to be here and just have the chance to show what we've got."
Saturday's game kicks off at 11:30 a.m. at Gulfport's Milner Stadium