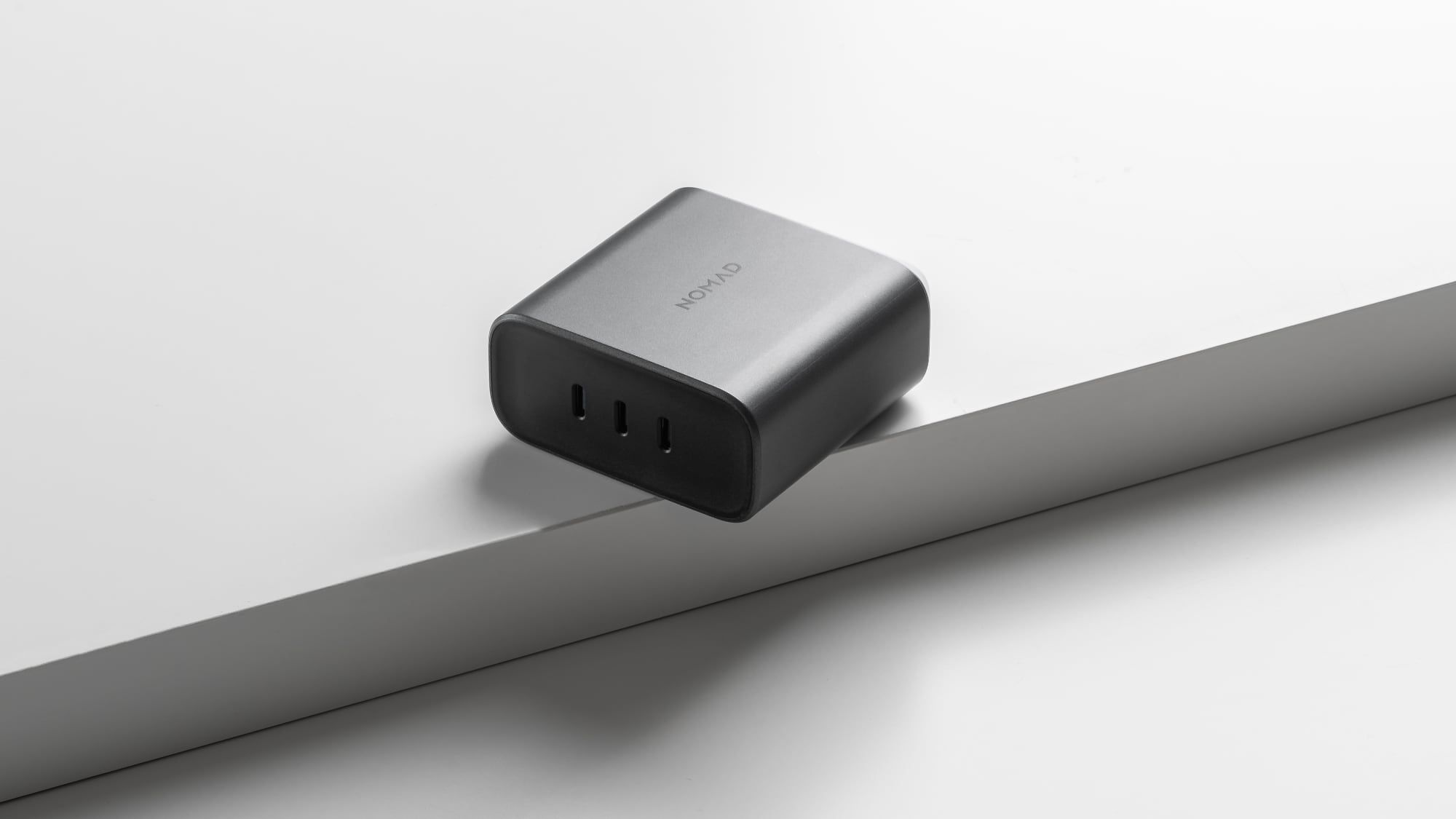 Nomad today introduced its most powerful charger to date, the 130W USB-C Power Adapter that's equipped with three USB-C PD ports. The 130W adapter joins Nomad's existing 65W, 30W, and 20W adapters.

Priced at $110, the 130W Power Adapter features the same design as Nomad's prior adapters, so if you have one of the smaller varieties, you can have a matching set. It's got a sleek black "carbide" enclosure, and it does use GaN (gallium nitride) technology to ensure a compact size.
I always find myself wishing Nomad made its accessories in white or other colors, but black is the Nomad aesthetic and it works. I can say without hesitation that this is the snazziest charging brick I've used, though I have to admit I don't often think too much about the build quality of the power adapter I'm using since it's out of sight and under the desk. If you have a charging setup on a desk or somewhere that looks matter, you won't be disappointed with the design of Nomad's Power Adapter.
Though the power adapter has three ports, it is smaller in size than the 140W charger from Apple that's designed for the 16-inch MacBook Pro models, and it is close in size to the Apple 96W power adapter. There are flip out prongs so when the charger is not in use, it folds down into a little cube that can be tucked away in a bag or a suitcase. I do want to point out that it has some heft – it's not a lightweight charger.

Each port is capable of 100W charging, but that is the maximum. You won't be able to get the 140W charging you're able to achieve on the 16-inch MacBook Pro with the MagSafe power adapter from Apple, but 100W is plenty for keeping power levels up while the MacBook Pro is in use. I rarely use the ‌MagSafe‌ port on my MacBook Pro for charging, and it's always at full battery when I'm at my desk regardless of what I'm doing. 100W is also enough power to max out all of Apple's other notebooks, and plenty for iPhones, iPads, and other USB-C accessories.
When charging multiple devices, Nomad's power adapter is able to intelligently split power. With two devices, it sends 100W to the top port and 30W to the other port, so you can charge a MacBook at full speed while also having 30W available for an iPhone or an iPad. With all three ports in use, the top port charges at 70W, while the two bottom ports get 30W each.
If you use just the bottom two ports and not the top port, you can get 65W with each port for evenly split power, and it's nice to have so many different charging options with one charger depending on which ports you opt for. With a minimum of 30W going to each port regardless of what's being charged, all three ports can fast charge an ‌iPhone‌.
Bottom Line
Nomad's 130W Power Adapter is a convenient all-in-one power adapter thanks to its three ports and smart charging modes. It's useful for charging several devices at home, and equally helpful when traveling because you only need to pack a single power adapter.
At $110, the only downside is the price. That's a lot for a charger, but it is only $10 more than Apple's 140W charger, and it is not to far off of the price of similar chargers from companies like Anker and Satechi.
How to Buy
The Nomad 130W Power Adapter can be purchased from the Nomad website for $110.
Note: Nomad provided MacRumors with a 130W Power Adapter for the purpose of this review. No other compensation was received.
[ad_2]