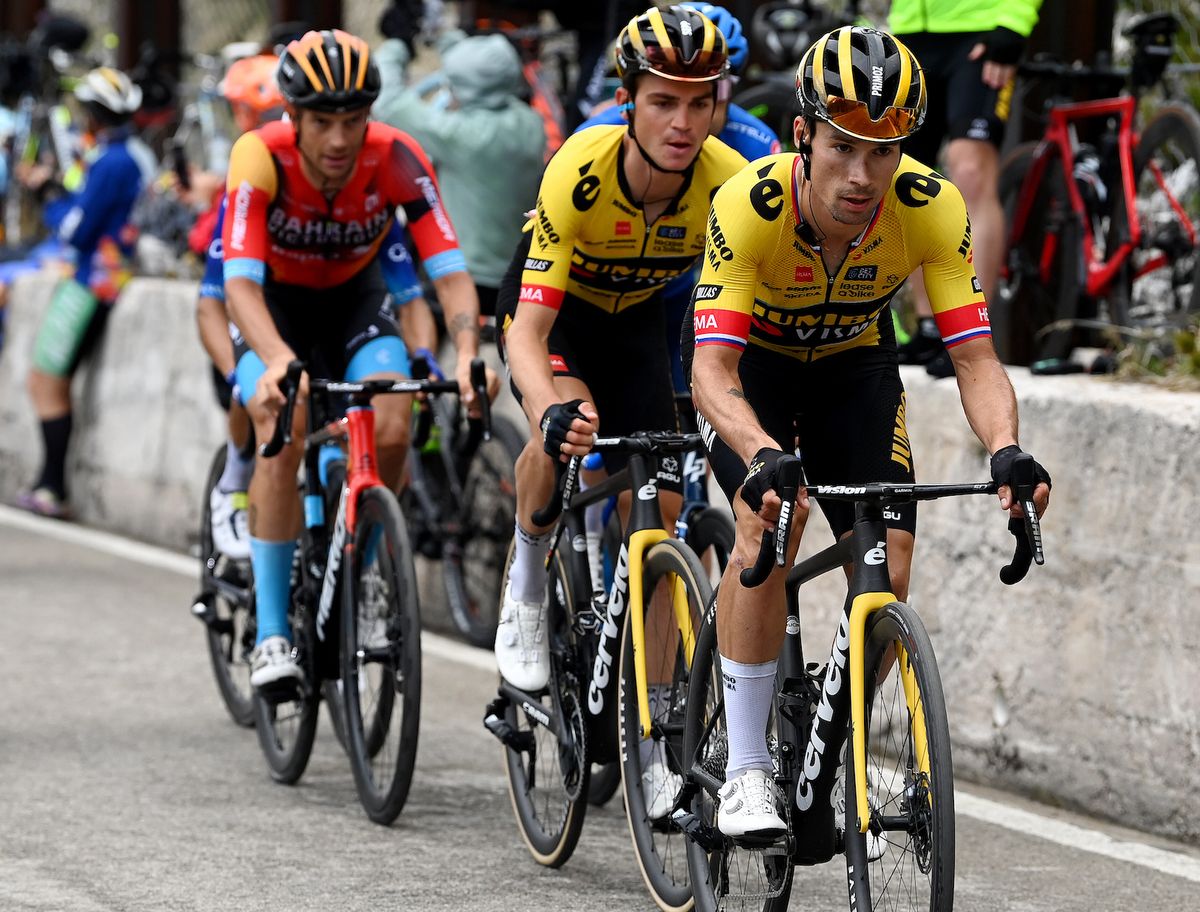 Primoz Roglich had no stage 19 duties at Tre Sime di Lavaredo, but slipped into the back of the stage to warm up the rollers and quietly celebrate another successful ride in the Giro d'Italia in the mountains.
On Tuesday, Roglich appeared to be on the ropes after losing 25 seconds at the finish of Monte Bondon, but the Jambo-Visma rider refused to give up in a three-way battle with Gerent Thomas (Ineos Grenadiers) and Joao Almeida (UAE Team Emirates).
In the final 1.5km steep climb to the spectacular Tre Cime di Lavaredo finish, Roglich attacked twice and Almeida lost contact and more precious seconds.
Roglich managed to clear Thomas by just three seconds in the final meters, reducing the overall deficit to just 26 seconds, but it was a psychological victory. Almeida was 59 seconds off him and just needed to beat Thomas for the overall win. Now Thomas and Roglich meet in Saturday's crucial 18.6km mountain time trial at Monte Lussari.
Roglich fled before and after the stage at the Giro d'Italia. Bicycle news After hugging and kissing his wife and young son, who were following Giro d'Italia in the camp van, he persuaded him to speak briefly.
"I'm happy. It was a lot of fun and tomorrow we'll be full again," Roglich said to the growing crowd of media, microphones and cameras. "It's good, uh, I've got some legs back so we'll be full tomorrow."
Roglich lost almost two minutes to his compatriot and the yellow jersey by winning the same final mountain time trial of the 2020 Tour de France at La Planches de Belles Filles.
Three years on, he insists he has no worries and is confident of a mountain time trial from Tarvisio near the Austrian-Slovenian border to its postcard finish on Monte Lussari.
If I'm not sure, I won't start. In the end, the best will win," Roglich said boldly.
Sep Kus once again played a crucial role in supporting Roglič. He was there until the leader of the group made his first attack when he was 1.5 kilometers away and again explained about Roglich's race and situation.
Roglich, a rider from Durango, explained why he didn't want to attack early.
"It was a tough, tough day where it was tougher than I thought it would be to get to the end. At the height of such a steep climb you have to put it to the end. If you attack, you won't get very far. The difference comes when someone is having a bad day," Kuss explained.
"We didn't need to try to attack early, Ineos was working well and Primoz saved his legs to make a move when needed.
"I saw him attacking the uphill section. Not much of a time gain but a morale booster. It's hard to make a big difference with how Thomas is riding on the steep climbs, but I think the time gain will boost Primoz for the time trial.
"It should be a grand final. There were a few differences today but I think tomorrow will be a big decision day, it will be interesting.